The anti-ageing industry is at peak demand and recent research by Trinity College Dublin has even shown that how you see yourself ageing can affect brain ageing. As a result, the beauty industry is getting to know you and tailor products to your skin's changing needs.
A popular cosmetics example is the No 7 'Match Made' services available from Boots. These offer bespoke colour consultations allowing you to find out which precise makeup shades suit your unique skin tone. After all, nothing will age you quicker than bad makeup.
On the skincare front Kiehl's recently launched its Apothecary Preparations, a 'personalised skincare service'. Following an in-store one-on-one consultation with one of their customer service reps, facial concentrate serums are recommended to your individual skin type and concerns. This involves a base 'strengthening concentrate' to which additional preparations are added by you at home, each one designed to tackle a specific issue - wrinkles, clarity, enlarged pores etc etc.
These are undoubtedly positive steps that can help skin to look its best, but when it comes to truly understanding your skin, they still seem fairly superficial.
What I've been exploring this week takes the personalisation concept to the next level and, after 10 years in development, the UK's first DNA-based skincare has now landed. It is also partnering with Selfridges to bring an exclusive quick-turnaround service to shoppers.
I'm frequently invited to try new beauty treatments and product ranges but this is the first one that's ever involved having a DNA test. That, along with a brief lifestyle questionnaire, quickly and easily completed on an iPad, is what my consultation comprised at Geneu, the futuristic skincare company leading the way in taking a genetic approach to beauty.
Having completely forgotten to ask anything about how I should arrive, I turned up makeup-free and had even picked my nail varnish off en route in case they wanted to examine my nails. I mean I've seen CSI and am fully aware of how DNA is taken but clearly driven half mad with excitement about finding out if my numbers had come up on the genetic lottery, I somehow decided this was the way to go.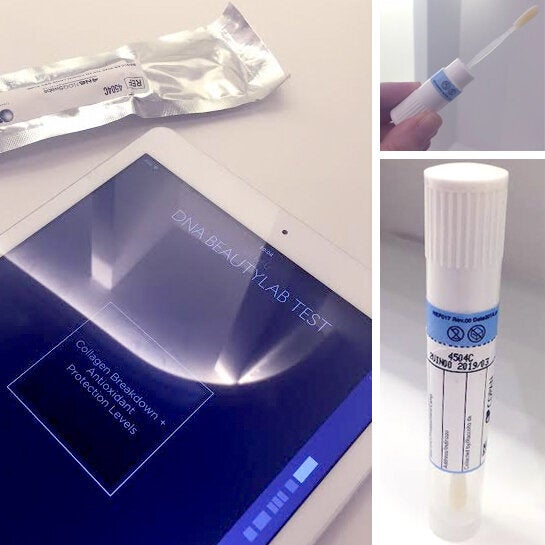 After arriving at the swish yet futuristically medical studio Sarah Brown MSc, the wonderful scientific advisor who took my consultation, assured me many people do the same. It's such a new concept after all - swabbing the inside of each cheek then your gum lines with what looks like a lip gloss applicator is hardly what we're used to doing when deciding upon new skincare.
Sarah, like all Geneu's experts, has a background in science so was able to answer all my queries about DNA's effects on skin ageing - the primary concern the brand's current product line addresses. She studied at Imperial College London - the same prestigious university where Geneu's lab is based and where my DNA sample would be heading off to.
So here's what I learned during my consultation: 60 per cent of how well our skin ages is down to genetics, with 40 per cent being down to environmental factors including smoking and sun exposure.
'Free radicals are minute chemicals produced in response to environmental factors and can be thwarted by the skin's natural defences found in our cells, known as antioxidants,' explained Sarah. 'Collagen keeps your skin firm, supple and youthful. Enzymes called collagenases coded by our DNA degrade collagen throughout our lifetime. How active these collagenases and antioxidants are depends on the genes you have inherited.'
Using the information gathered during your consultation to produce two serums tailored to your skin on a genetic level is what makes Geneu so different. Within 48 hours of my appointment at their Mayfair store I had a set of custom serums waiting and a full report on my skin's DNA profile in relation to the only genes they test for - those connected to antioxidant protection and collagen breakdown (there's no chance of them cloning you - fear not). For those who really can't wait, the new Geneu pop-up in Selfridges Oxford Street, which runs in the Beauty Workshop until 9th October, offers same day test results for those whose samples are submitted by 2.30pm.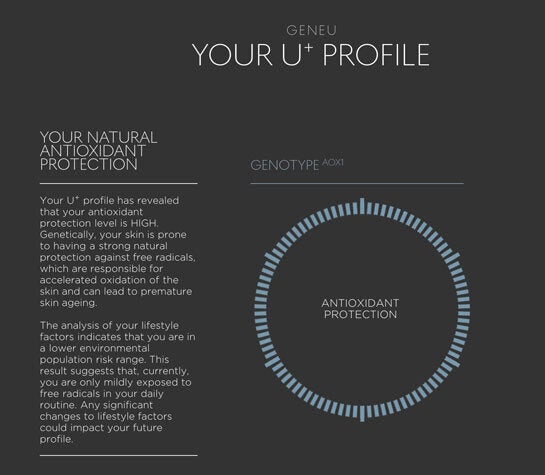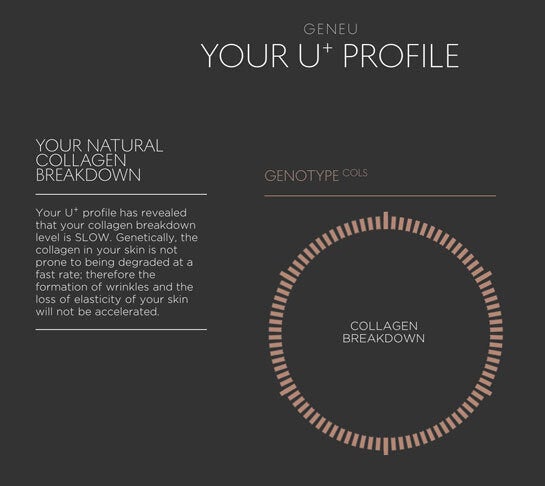 Some of my results are pictured above (thank you mum and dad) and although you can return to Geneu - either at their standalone clinic or the Selfridges pop-up concession - to be talked through the findings and pick up your products, or have them sent out to you, I found the report sufficiently comprehensive so had my partner pick them up for me as I had already picked out my choice of casing for the serums and couldn't wait to get my hands on it all.
My kit came with two sets of serums - AOX1 and COLS. The AOX1 serums are hydrating and plumping, formulated to assist the skin's natural antioxidant protection levels, decreasing fine lines. This contains hyaluronic acid, photo-protective peptides and japanese bloodgrass (a plant extract that helps to combat wrinkles). The COLS serum is the one that deals with the turnover of collagen in the skin. It contains vitamins A,C and E, oligopeptides and marine collagen to deal with bigger wrinkles and help the skin appear smoother and healthier.
You apply two pumps of each, AOX1 first - this gives a sticky base which initially put me off but Sarah confirmed this is meant to be the case so that the second follow up COLS serum can grab on easier. Once the second serum goes on the stickiness disappears and the skin takes on a velvet-y texture. You can then apply your normal moisturiser (if you want to - I've found I don't need to every time) and make up, as usual.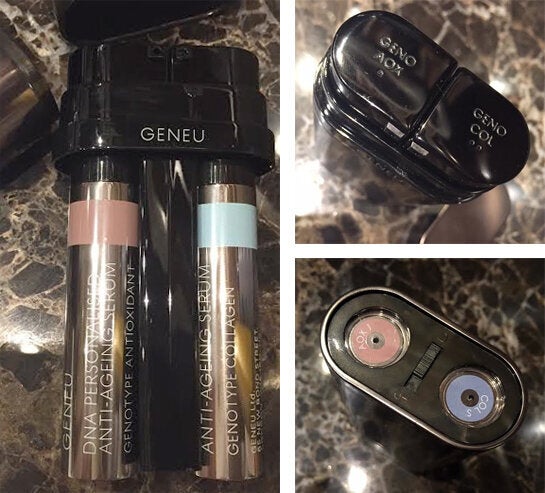 The actual packaging that the serums are contained within looks seriously cool and gadget-y, with a satisfying chunkiness. Available in a choice of three colours - white, black or gunmetal grey - I think the longest part of my consultation was spent trying to decide between them (I went for the grey in the end and even my boyfriend thinks it looks cool). Not gonna lie, fitting the brushed steel-like tubes into the 'lock and load' casing totally makes you feel like a badass scientist. It looks like the kind of thing Lara Croft would strap to her belt.
Another thing that's pretty damn badass is the promised results. Within 1 week of starting your Geneu regime they expect you to notice a more refined skin texture, that looks smoother and better hydrated. Within 6 to 8 weeks fine lines and wrinkles should diminish whilst hydration, skin tone and brightness should increase. With 12+ weeks' use - and this is the bit I'm really looking forward to - your skin's contours should become more defined while expression lines and age-related pigmentation decreases, in addition to the skin having a more 'firm and lifted' appearance overall. Nice.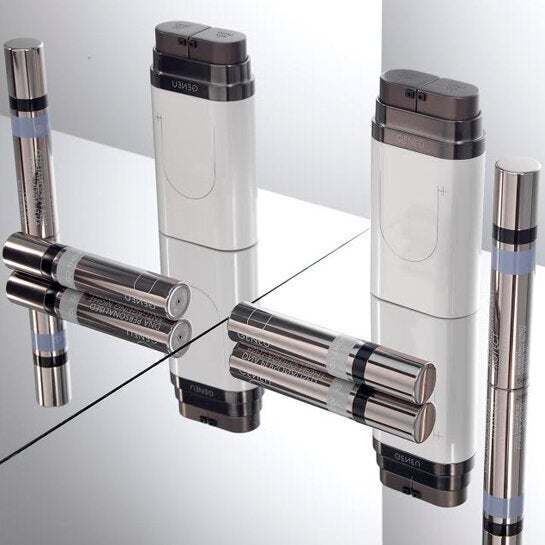 I'm usually sceptical of beauty product claims because who isn't? Thinking about it though, if something is expertly designed to tackle the underlying cause rather than the surface effects, why wouldn't it be effective? I've been using my serums twice per day for five days now and, despite having taken an international flight during that time, my skin already feels bizarrely silky - as if I'm wearing a makeup primer - even straight after washing. I'll post updates as I go on my instagram page for anyone who's interested in seeing the progression.
Aside from the whole genetics mind-blowingness and the fact that it's totally non-invasive (read: pain free), plus doesn't inhibit facial movement botox-style, to me the most impressive part of the Geneu offering is that neither the product nor any of its ingredients are tested on animals. Massive props to them for that. For where it sits in the beauty market I also find the price to be completely reasonable, especially when compared to the types of treatments and procedures many people use on top of their regular skincare products in order to achieve the promise of 'youthful' results.
So could Geneu be part of some Cocoon-style movement to reverse the signs of ageing? It can't hurt to find out...
Geneu is available in-store at 12 Lancashire Court, New Bond Street, London W1S 1EY or from their pop-up in Selfridges London Oxford Street which runs until 9th October. They also offer a home-testing option. The DNA test is £89 and prices start at £200 for the custom serum packages. Find out more at geneu.com