The disused warehouse style location for Nike's European Media Summit which took place in London this week looked just like a set from a Spider-Man film. Turned out it was an apt setting given the mind blowing Oscorps type sports technology shizzle they unveiled, designed to help even ordinary sport muggles like me get a bit closer to fitness super hero status - or at least look a bit like one.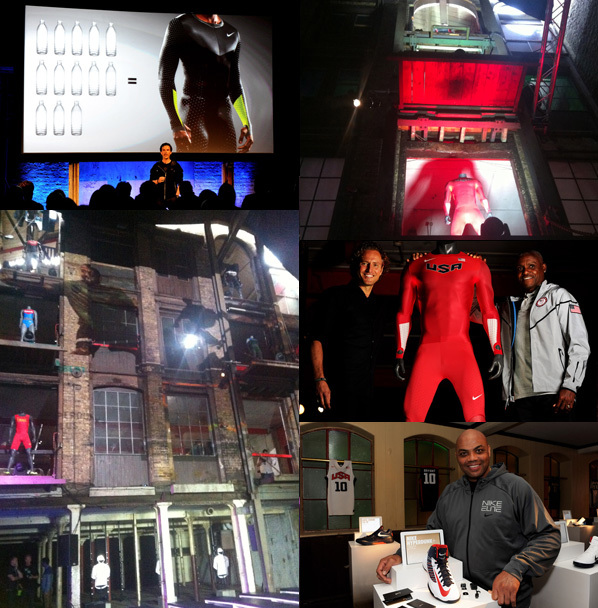 An environmentally-friendly athletics suit made from recycled water bottles that's more aerodynamic than skin, football boots partly made from castor beans that are so light I've lifted heavier pieces of cardboard, basketball shorts engineered to remove a whole can of Coke's worth of weight from the fabric - Nike are pushing some serious boundaries here and, as the suppliers of Olympic kits to countries including China, Russia, Canada and, of course, the USA, it will definitely add an extra dimension to seeing who gets those podium places.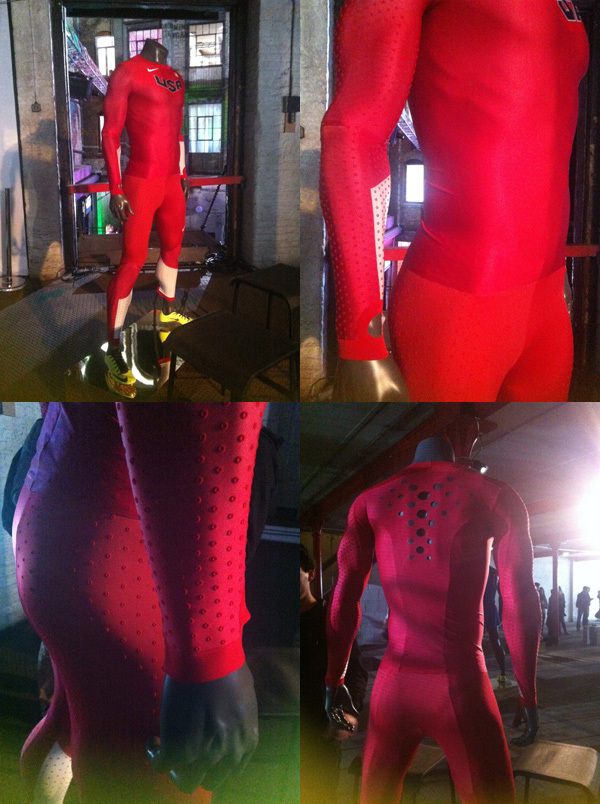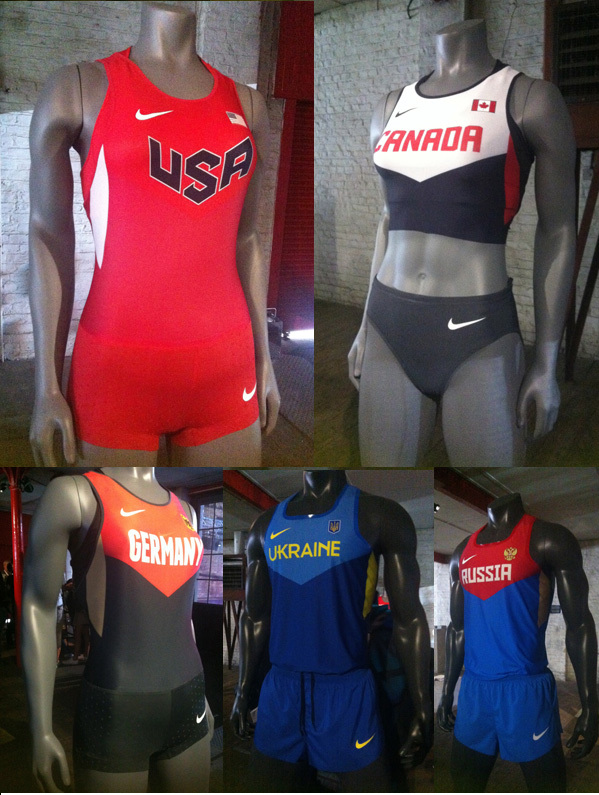 Whilst a Spidey-style body suit with a golf ball-inspired texture probably isn't for most people (although I'd love to see competitive parents in them at sports days), the Nike+ Fuel technology was something that, as a bit of a gadget geek, I totally loved. I have one of their Fuelbands which in the most simple terms combines an advanced pedometer, a calorie burn counter and a watch to boot. Cased in an understated black rubber wristband - the Fuelband - tiny lights along the top chart your progress against your self-determined goal, progressing from red to green and visible at the push of a button.
The clever bit is that, after inputting your height and weight into the Nike+ website and setting up your profile, this information is combined with the readings on your wristband and transformed into 'Fuel' - a reading you can see via your wristband as well as through a free mobile app which gives you pretty detailed information as to your progress. These already launched in January of this year but a new Nike Fuelband Ice launches at Selfridges on 27th July (more about the Nike House of Innovation at Selfridges in a sec..).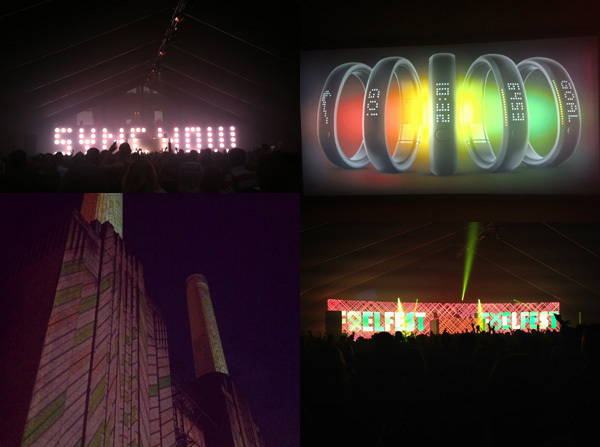 By way of example, I tried mine out at the Nike Fuelfest - a concert inside Battersea Power Station where all the guests wore Fuelbands and were encouraged by Magnetic Man, DJ Zane Lowe and Tinie Tempah to move as much as possible to earn loads of Fuel in a Girls v Boys battle of the fittest (or at least most fidgety). The more you moved, the more fuel you earned then when you registered this by syncing your wristband at the terminals throughout the hall or with your app via Bluetooth, this powered projections over the front of the venue - an impressive sight and lots of fun.
It's a discreet tool but a powerful one and really cool for those of us who aren't really into sport but do like some props for whatever efforts we do make and also want our kit to look good. I've definitely started making more of an effort to hit my goal every day since getting one even though, I freely admit, fitness motivation is not something that comes easily to me. The Nike Fuelband is totally addictive in the best possible way and if the Government are still pushing that whole 'Eat Less, Move More' initiative to combat the obesity problem, they would do well to get Nike involved.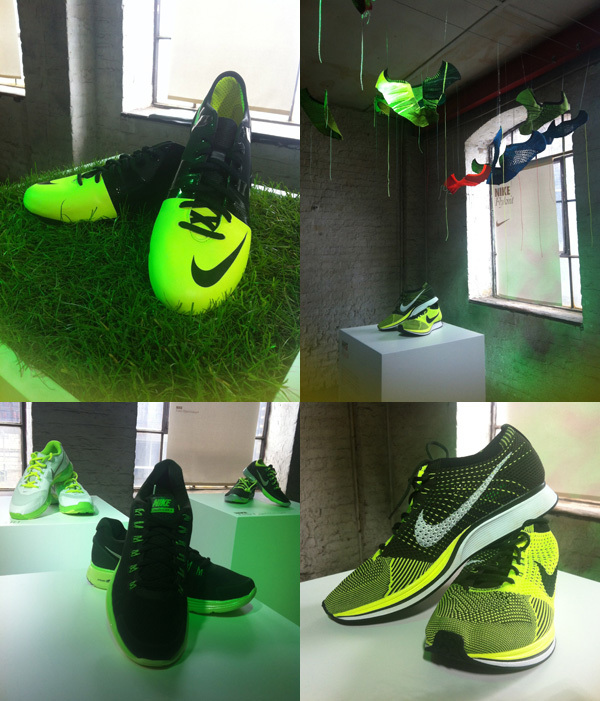 As a shoe enthusiast, I can't go without mentioning the latest footwear innovations. So, firstly there's the new Nike GS football boots (pictured here, top left) - the lean, light, neon-toed numbers I mentioned before which weigh just 160 grams for a size 9. The lightweight development was developed after footballers said they wanted to be able to feel the ball more for better control. With a traction plate (the sturdy component under the foot which provides strength and flexibility) is made almost entirely from castor beans, a 100% bean-based sock liner and the laces, lining and tongue all made from a minimum of 70% recycled materials, these are the most environmentally friendly football boots available. Impressive stuff and fitting for London 2012 which is being dubbed 'The Green Games'.
Then there's the new wave of second-skin Fly Knits (pictured above right) - trainers that are strung together to form a lightweight, dynamic support system for your feet which allows you to feel more, in keeping with the barefoot running trend. Amazingly the Nike FlyKnit Racer trainers weigh an incredible 19% less than the Nike Zoom Streak 3 sneakers which were worn by first, second and third place athletes in the men's marathon at the 2011 World Championships.
Building on the Fuel band technology, there are loads of sports-specific Nike+ systems built into shoes and hook up to dedicated mobile apps so those who take their training seriously (or if you just geek out over gadgets), can get sophisticated performance data sent straight from your feet to your phone. How crazy is that? I'm pretty new to all this but it sounded incredible to me and watching Leon from the London School of Basketball demonstrating how the Nike+ Basketball app linked to the Sport Sensor in his Hyperdunk shoes relayed all kinds of information mapping his speed, pressure and even allowing him to record a video of his dunk which he could share over social media, was fascinating. Former NBA star and USA Dream Team legend, the Round Mound of Rebound, Charles Barkley, who was in attendance alongside Olympic gold winner and athletics icon Carl Lewis, gave it a big thumbs up too.
The Nike+ Training app is a total crowd pleasure as the training packs have something for everyone - with drills from some of the world's top athletes including LeBron James, Rafa Nadal, Manny Pacquiao, Allyson Felix and Hope Solo, you can practice pretty much any kind of exercise - jumping, skipping, running - and chart your progress by wirelessly connecting the Nike+ technology in your shoes (like the Lunar HyperWorkout+ Sport Pack sneakers pictured above left) to your app.
This has genuinely really piqued my excitement so the next step will be heading down to Selfridges Oxford Street's Wonder Room to check out the Nike House of Innovation where you can have a play with all these amazing new products and gadgets, try them for yourself and check out a bit of Nike's history so you can see how far sports technology has evolved. On now until 12th August. For more information on any of these products check out Nikestore.com