Good sunglasses and el cheapo fashion ones you get on the High Street (or, worse, festival stalls) are worlds apart. I never believed in 'proper' sunglasses, preferring to chop and change between throwaway fashion pairs, until I fell in love with some Chanel frames.
Simple, chic and classic black with a small, understated Mother of Pearl double C on each arm, these exquisite shades suckered me in and, after a month of trying them on every lunchtime, finally the spendy glasses store had a sale on and I snapped them up for an eye watering £225 and began to understand the difference between quality over quantity.
In addition to their timeless style, I found I could actually see clearly through them - no soft focus or smeary plastic scratches - and didn't have to squint in bright sunlight. For ages I barely took those sunglasses off, even at night, I was so taken with their sleek, expensive-feeling beauty. Sadly, so was someone else as some total bastard stole them out of the case inside my handbag one night, putting me back off expensive sunglasses for a very long time.
Recently I've become bored of my staple Ray Ban Wayfarers and Aviators, both classic styles which have served me very well, as it's been a long time now and my style eye has started to wander. Looking ahead to Spring I have been looking into super cool, quality sunglasses (that all cost less than my dearly missed Chanels) - peep my top picks below...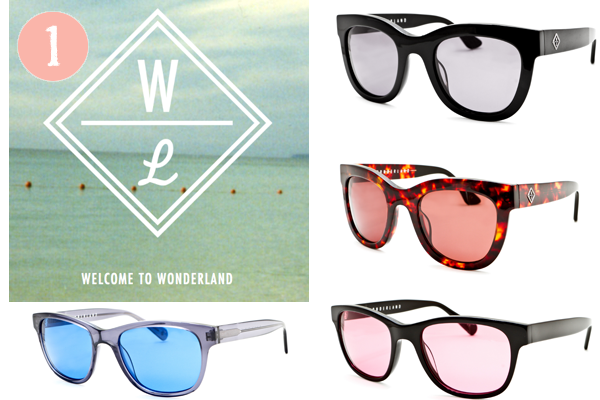 California doesn't just know how to party, it also knows a thing or two about sunshine so it makes sense that new Southern Californian brand Wonderland gives good sunglasses. Their claim to be a brand "formed on an appreciation for nostalgia...about capturing the feeling you get when looking at old photos" may be a cute marketing gimmick for the Instagram generation but when you try these glasses on, you also actually get what they mean.
The tinted, 100% UV lenses add rose or blue tinges to your outlook, putting your own dreamy filter on life and, as a complete bonus, the premium acetate frames look waaaaay more expensive than they are (they're all between $100-$125 - prices in dollars as it's a US site but they ship to the UK). A friend gave me a pair of their Parker sunglasses (because they have the same name as my cat) and I absolutely adore them. Cool, current, discreet branding and great, affordable quality. My top pick because they really do tick all the boxes.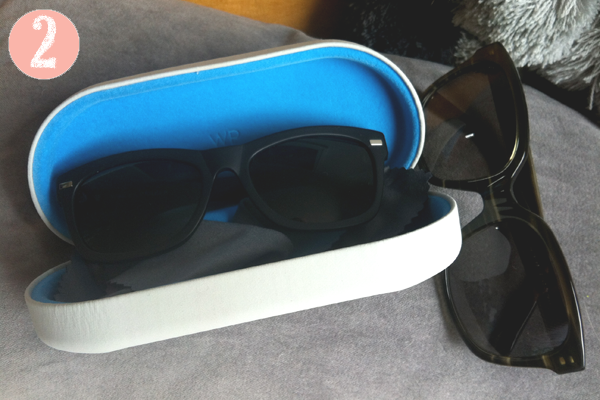 I wear Warby Parker optical frames and, despite the fact that my two pairs together cost a fraction of the price of my previous Prada specs, I am constantly stopped by people wanting to enquire where my glasses are from. I love them. Sadly they don't ship to the UK yet but, as I found on a visit to their NYC HQ over Christmas, where my boyfriend very kindly kitted me out as well as himself with new shades from their polarized lens sun wear range - Revolver Matte Black Aldous for him, Striped Evergreen Jules for me, both pictured - they are currently testing their international shipping so hope to be able to service the UK soon.
They're not only awesome in terms of fashion and function but are AMAZINGLY good value (my opticals were $85 each including prescription lenses, the sunglasses with non-prescription, polarized lenses were $95 each). And if that wasn't enough there's also the feelgood factor of knowing that for every pair of glasses they sell, Warby Parker donate a pair to someone in need around the world via partners like VisionSpring. I can't wait to welcome these guys to the UK.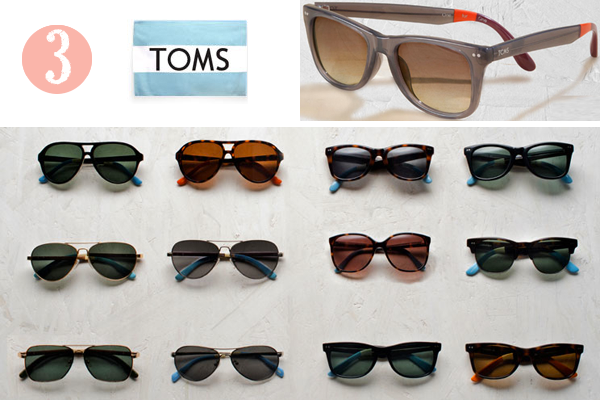 Everyone's heard of TOMS shoes - the fantastic footwear phenomenon whose company USP is that they donate a pair of shoes to someone in need for every pair they sell - but did you know they do glasses too? I have to admit, I didn't but I was pleased to find that they're not only cool but that they extend the same philosophy to their eyewear, helping to combat loss of sight in poverty stricken areas by providing glasses or funding cataract surgery to one person for every pair of sunglasses they sell - as they put it, 'one for one'.
They have a HUGE range, like seriously massive, packed full of gorgeous vintage inspired Pilot, Classic and Oversized frames for men and women in fresh, modern colour ways and a choice of regular or polarized lenses (takes a while to get used to looking at your iPhone in these if you're not used to them) while the conscious consumer element does soften the £100-£155 price tags.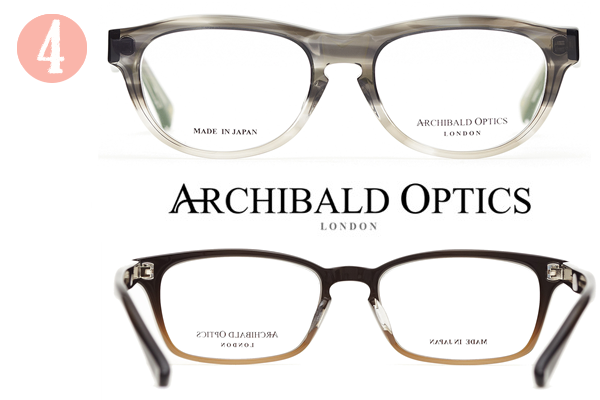 4 Archibald Optics London
OK so this is more of a PS because they don't actually do sunglasses yet but I'm hoping that, now their new webshop has launched, this might be on the horizon. Archibald Optics is basically a UK equivalent of Warby Parker with some seriously cool frames which are designed in London and made in Japan, for those of us who usually wear prescription specs. I'd love to see them start doing an option for photo-chromatic lenses as well as the anti-reflective, hard coated, 'Super Water Repellent' optical lenses from their Japanese Lens Laboratory (how cool does that sound??) that they currently come with.
For their current optical prescription ranges you can order online using visualisation tools and try up to three pairs at home for no extra cost, then if you place an order, your glasses will be delivered to you in around 8-10 working days. Plus, for every pair of frames sold, Archibald Optics donates a portion of the sale to help fund free cataract surgeries performed by Eyes for Africa. I would urge anyone using this site to check out the images of people actually wearing the glasses in the bottom right of each product page as the photography doesn't quite do these frames justice and seems to make all the frames appear squatter than they actually are.
Popular in the Community