Victoria Beckham recently revealed that she can no longer face wearing heels and as a hardened trainer-toter I'm happy to have Posh on my bus.
I've been collecting adidas since I was a kid and branched out into Nike about ten years ago too with Vans and Converse always making regular appearances. What I've only very recently succumbed to, however, is the lure of the luxury and/or fashion trainer - something I have previously poured purist scorn on for not being 'proper trainers' but due to their aesthetic allure I've basically just learned to get over it.
As the choice in sneakers widens apace with their sudden all-round social acceptance, if you put in the legwork you can now find styles that fit every foot, fashion trend and budget.
Here are a few new drops worth checking out...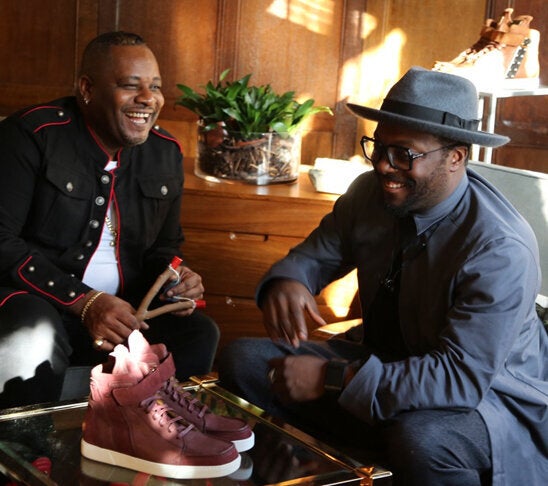 Pronounced twelve-oh-eight, this luxury sneaker brand is the brainchild of brothers Carl Gilliam and will.i.am. It features high end fashion kicks that are made in Italy but born from the hustle of their downtown LA roots. Liberty have a pop-up in their men's department which hosts a limited collection that includes the use of a one-off archive Liberty print collaboration the pair created by fusing their own paisley prints with an unused print block from the Liberty London archives.
The brothers say: '1208 Glennfield Court (MCCVIII) is the address where we were born and raised. Despite living in impoverished conditions, we were rich in values, morals and ethics, and spirituality. These principles were instilled in us through our ancestral pedigree and we made do with what little we had. We couldn't afford the riches, to compete with the riches, so we turned our rags into riches and the riches followed us. We were as original as our thumbprints, we created our own fashion trend AND WE OWNED IT!'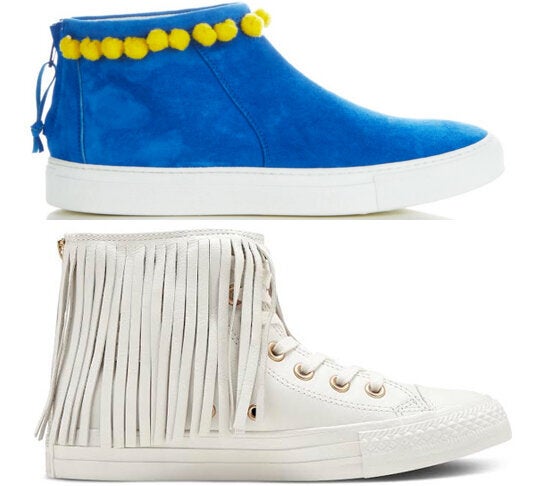 These super adorable zip-back fashion sneakers are adorned with pom poms and fringe for added instagram-ability. Whether you're looking for eye-catching 'street couture' colour, or a more neutral, Gingham-filtered Coachella-style approach, these beauties are on point, on trend and will very soon be on my feet.
Joshua Sanders Blue Suede Pompom Trim Hi-Tops £205 from Avenue32.com
Converse Chuck Taylor All Star fringed leather sneakers, £70 from Net-a-Porter.com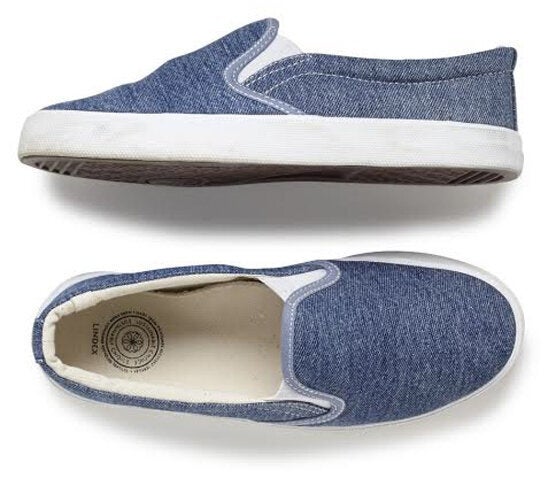 Lindex Sustainable Denim Sneaks
Swedish fashion retailer Lindex has dropped a new sustainable denim line that is made with responsibly sourced materials and processes that involve up to 45% less water than normal. In addition to the clothing and accessories, these cute, comfy and ultra-wearable spring kicks are also part of this range and employ reused materials for added eco points.
Lindex sustainable denim sneakers are £39.99 and available from their store at Westfield Stratford City or online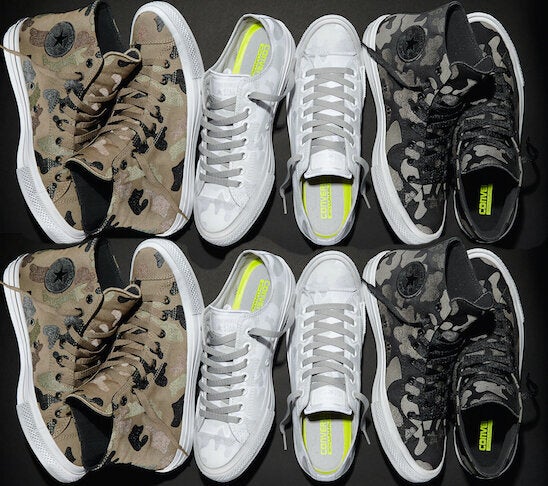 Converse Reflective Camo Chuck Taylor All Star II
Camo is one of those enduring, urban prints that will always add some edge to your look and never goes out of style. These new Converse Chucks are super cute and manage to combine street fashion and fully-functioning comfort with a fun twist - these babies feature light reflective elements hidden in the camo patterning.
The silhouette is that of the innovative 2015 rework of the old school Converse classic, the Chuck Taylor All Star, which made the iconic design more sturdy and comfy. Ditch the overdone Stan Smiths for these white low-cut camo kicks for a standout Spring look.
Converse Reflective Camo Chucks are available from Converse.com/uk and Schuh, priced £60-£65