I feel the need, the need for SXC. Or more specifically, the Denham x Space Exploration Corporation (SXC) collaboration which sees Denham the Dutch jeanmaker fuse classic Top Gun style with astronautical garment technology to make up the Training Kit collection which will be used by SXC's Future Astronauts on the first commercial space flights.
The denim brand's AW12 collection was inspired by high altitude which they then pushed to the ultimate extreme by designing SXC's Future Astronaut Training Kit. The brief was for Denham to fuse historical research with innovation and progression to create an integrated training kit for SXC's future astronaut program, keeping to the official SXC colour of Space Blue. Or as Denham's Design Director, Liam Maher puts it "Worship Tradition. Destroy Convention."
The SXC Space Programs sounds amazing - they're arranging the first commercial flights into space and, if you join the Founder Astronaut Program you could find yourself one of the first 100 regular people in space alongside Victoria's Secret model Doutzen Kroes, and deck botherer, Armin Van Burren.
The Denham SXC Training Kit has been designed for the Future Astronaut Program participants who will be next up into space on the flights following the Founders in 2014 or 2015 for US$100,000 a pop. Which basically makes these outfits sound like the space flight equivalent of British Airways' First Class pyjamas, but a lot cooler and much more practical. I wonder what little toiletries you get...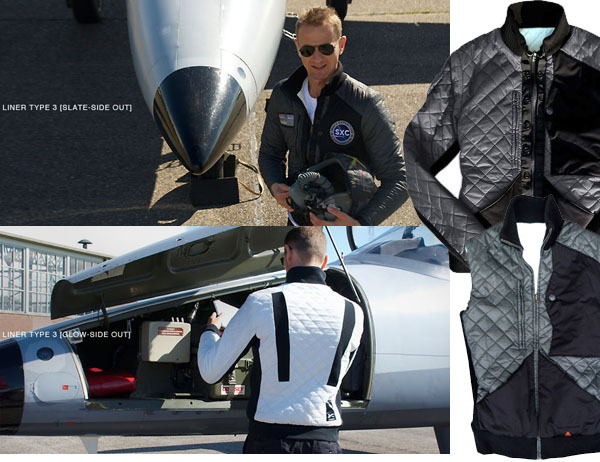 All Future Astronauts have to undergo rigorous preparation in a series of modules, similar to test pilot training. These take them from the classroom to airfields, exposing them to g-forces and a simulated space flight in an L-39 jet to recreate the feeling of space flights at lower altitudes.
The Denham SXC Training Kit has a similar modular theme, whereby the main training outfit is made up of three separate pieces - the Bomber Shell, the Modular Insulation and the Flight Pant - all of which can be worn together or individually. Each style has its roots in iconic shapes which were painstakingly researched, with help from specialist vintage dealers in London, LA, Tunbridge Wells and Bangkok.
The SXC Bernal Type 3 Bomber follows in the tradition of the classic US Air Force nylon twill MA-1 which is enjoying a trend resurgence at the moment. This outer jacket makes up the shell layer, albeit a slimmer, more tailored version of the heritage style which is a spin on the Denham Bernal biker jacket, with the progressive ability to 'plug in' the Modular Insulation Liner layer.
The Liner Type 3 Modular Insulation is a reversible layering garment which is, again, a slimmer fitting, MA-1 inspired piece with heat cut button holes that reverses from grey to glow in the dark.
The D-SXC Flight Pant draws on the lower half of vintage RAF heated flight suits, reworking and modernizing the classic design with anatomical patterning and dart-work, rugged reinforcement panels, added pockets and an adjustable 'pull up' system along the back of the calves to lift the heel cuff. Clever stuff.
You may not fancy Space as your next holiday destination but you can still get the look as Denham have incorporated black and grey versions of their official SXC designs into their AW12 collection, available from www.denhamthejeanmaker.com with prices from E.49.90 for T-shirts to E.199 for the Flight Pants (which are VERY cool), then body warmers and jackets starting from E.249. You can also buy from the Denham store in Shoreditch at 32 Charlotte Road, London EC2A 3PB (where they will helpfully have their prices in GBP).