Following on from last weekend's Valentine's gift guide for girls, here are a few ideas for the boys. Whether you want to whisk him off for a romantic weekend away, take him to see his favourite band or football team or just give him a night in, uninterrupted to play video games or watch terrible films on the SyFy channel, here are a few present ideas to let him know how much you love him.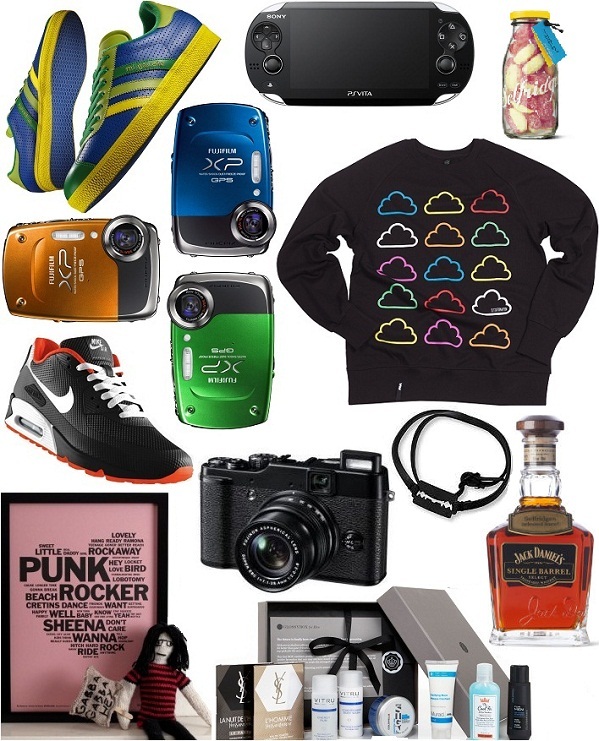 Got a sporty or fashion-forward kinda fella? Try customising him some kicks through MiAdidas or Nike ID. You can choose the fabrics, colours and even include some text - nothing too embarrassing though, keep it discreet with your initials or 'S4D' - you want him to wear them after all. There are tons of shoe styles available for personalising - the Adidas range includes the styles pictured throughout this post as well as countless others for adults and kids and a variety of football boots (like the Predators pictured here) where you can pick your studs etc. too. You can put your own spin on a range of Nike kicks from the Air Max 1, Air Max 90 and Air 180 to the Cortez, Dunk hi, Blazer and Toki. Prices vary depending on fabrics and the extent of customisation but work out at around £90 upwards for Nike ID and £75 and up for MiAdidas. Order online or instore - click here for Nike ID or go to http://shop.adidas.co.uk/miadidas
If your man is a Playstation addict, do yourself a favour and pre-order him a PS Vita - the next generation portable games console with Wi-Fi and 3G capabilities. He gets to play his games and you get the telly back so there's a lot less sulking on both parts - win/win. It's not released until 22 February but a handmade voucher in his card would more than suffice for Tuesday, I'm sure. £214.99 from Amazon and various stockists.
Sweets for your sweet? I love Selfridges' retro sweets in glass bottles - choose from the Rhubarb & Custards and Cola Cubes pictured here & below, Sherbert Pips and Strawberries & Cream boiled sweets, all £4.99.
As per my previous suggestions for girls' gifts, cameras are a great Valentines gift and can be used to lead into even bigger surprises. These cute yet rugged looking Fuji XP30 digital cameras come in various colours but are way more than just a pretty fascia, although for the hobbyist-to-serious photographer, their state of the art X10 model would definitely hit the spot, pairing old school design with new technology. See www.fujifilm.co.uk for details.
This super cool Formation sweatshirt in black featuring multi-coloured clouds by skate brand, Sutsu, £37.50, is a great gift on its own but even better when used as a lead in to tickets to sunnier climes, or as an IOU for a weekend away when the weather's better.
If your guy does jewellery, this McQ Alexander McQueen triple wrap bracelet with razor blade detail is a stylish pick (with emo undertones if you're that way inclined), £60, or if it's early days and you're still exploring each other's tastes, a bottle of Jack Daniels' Single Barrel is a solid choice, showing taste and a rock n' roll edge, as well as being a thing of beauty on the packaging front, £59.99 exclusively at Selfridges.
For the romantic musos, this A3 limited edition graphic letterpressed print by The Shop of Interest x Wasted and Wounded features the lyrics to the Ramones' anthem Sheena Is A Punk Rocker, set out in the shape of a heart - aaaaaah, £35 from www.CultureLabel.com.
Glossybox isn't just for the girls - for men who love a product and like to keep up with what's hot in the beauty world, this is an awesome gift, as well as being a great source of miniatures ready to take on holiday. Men's Glossyboxes are sent out quarterly for £15 + P&P and each contain samples of seven high end grooming products from the likes of Murad, Yves Saint Laurent and Vitru. Check them out at www.glossybox.co.uk/men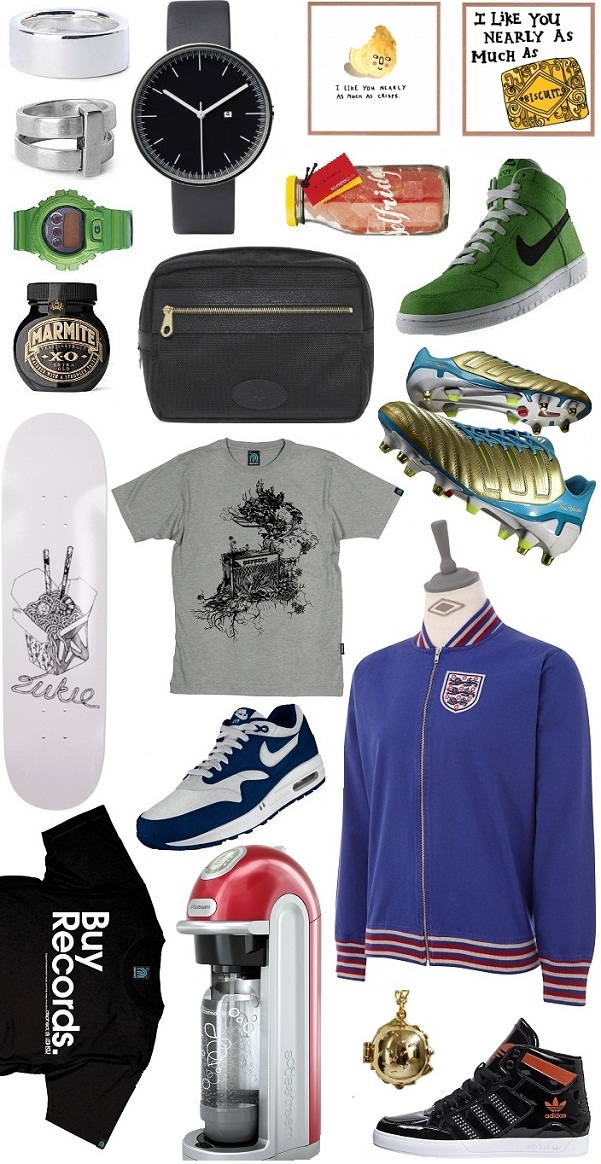 2012 is a Leap Year which means it's traditional for women to do the proposing. If you're planning on asking your partner to marry you, or if you just want to see your boyfriend's face when you whip out a ring for kicks, these silver rings - simple chunky single band. £95 by Seven London and double loop ring with cross bar, £280 by Maison Martin Margiela, both at Selfridges, would suit the occasion perfectly.
I can't get enough of the Lazy Oaf Valentine's Cards - these ones are also perfect for anniversaries and general friendship messages too - although telling someone you like them more than crisps is pretty serious in my book so make sure you're ready for that kind of commitment first.
He probably won't get the Gossip Girl reference but that's not necessarily a bad thing - make him a special breakfast in bed with some Marmite XO (xo). I have it on good authority that washbags are to men, professional sportsmen in particular, what fancy handbags are to women so soup up your boy's bathroom baggage with this Henry washbag by Mulberry, £150 both from Selfridges.
Taking him out for dinner? Say it with this Zukie noodles skateboard deck for down-with-the-kids cool (he can always wall mount it if his riding days are long behind him - it makes great kitchen art), £40 from www.zukieclothing.com
Surprise him by wrapping up some gig tickets, iTunes vouchers or CDs in one of these wicked tee's - Dephect's 'Amped' design in Heather, £24.99 or the black 'Buy Records' t-shirt both from www.dephect.com Or, for footie fans, the premium Umbro Icons Re-Issue collection has just dropped which includes this '66 Anthem Jacket based on the iconic World Cup design worn by England legend, Sir Alf Ramsey, £60 from www.umbro.com. Stick a pair of tickets to see his team play in the pocket for extra brownie points.
I have to admit, I don't really have a reason for including this Sodastream (£119.99) in this round up other than I saw it, I liked it and it made me remember the one we had as a kid which despite producing the rankest, sickliest syrupy pop ever tasted (I'm sure they've sorted that out by now...) it was the best thing ever. Fizzing your own drinks was so much fun I'm sure any kids of the 80s would go for this now as a bit of a nostalgia trip although it's probably even more fun now we're old enough to put booze in. www.SodaStream.co.uk
Make your fast food fan-boy smile with this Lazy Oaf burger locket, £25 - a side of actual homemade burger and chunky fries would be a real winner too. And lastly, if you don't fancy braving the customisation services but want to get your sneakerhead sweetheart some new kicks, the black Hard Court hi's, £69.99 from the Adidas Valentine's pack are a great alternative. Available exclusively at Footlocker.
If you're after something that will thrill your partner and be a total treat for you as well, check out some of the sassy, sophisticated and super sexy lingerie from chic underwear boutique, Coco De Mer (whose Covent Garden store will be staying open until 9pm on 13 February for last minute Valentine's panics!) - all available in store or online from www.coco-de-mer.com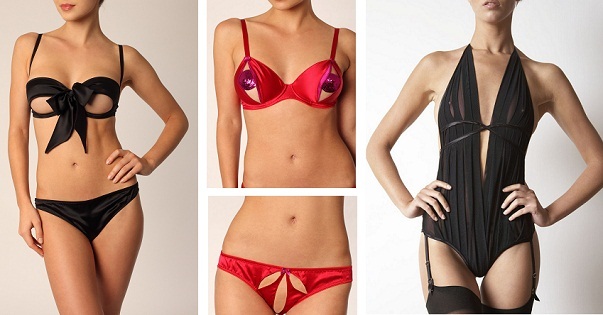 L-R: Coco De Mer's All Wrapped Up silk bra and knickers, Coco De Mer 'Love In A Mist' peep hole bra, sequin pasties and knickers, Lascivious Midori bodysuit.