With a slate of family visits across the UK looming and - fingers crossed - a weekend in Munich cheering on Chelsea in the Champions League Cup Final (how incredible was that semi?!), I've been taking a look at the latest in travel accessories.
I find trips away are a great excuse to trial new beauty products too and miniatures are so much easier to pack (and unused ones are brilliant for stashing in your desk drawers), so Glossybox - which I've written about previously - aside, I've also put together a few ideas below from products and packs that have caught my eye recently.
Psst - one other hot tip for you - if you're in the market for a suitcase that will stand out a mile at baggage reclaim or want a super cool case cover to deter thieves and protect your case, check out this bad boy from SuitSuit on my FightForYrWrite blog.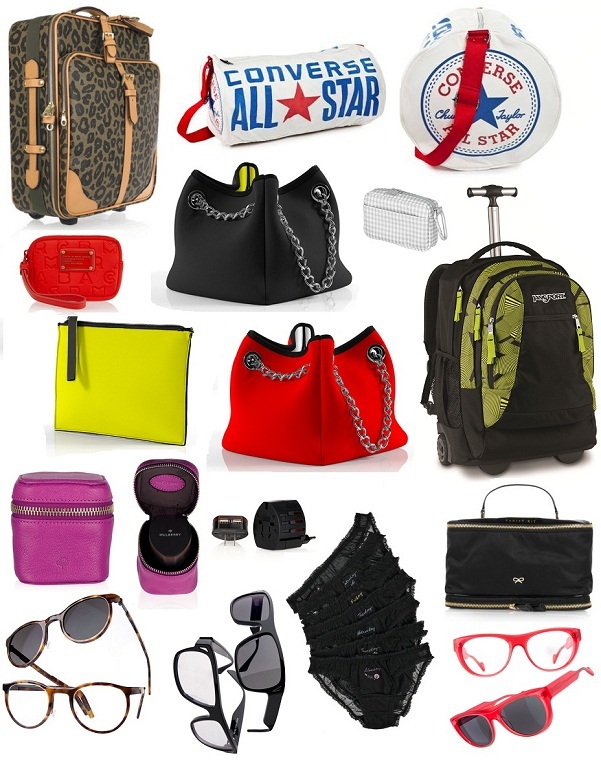 Above: LOVE this! Mulberry Leopard Trolley scotch grain suitcase, £850 from Net-A-Porter.com, Converse's cute Canyon barrel bag £40 from Shuch, Muji are the dons of affordable travel accessories - I can't remember what I did before them. Loving this grey/white gingham check camera case/purse £3.
Wheelie luggage is a must if you're going to be carrying anything else, or if you may end up bringing back more than you went with, try this Jansport Driver 8 backpack with tuck-away skate wheels and a retractable handlewww.jansport.com.
The neoprene trend isn't just for clothes, Italian fashion accessories brand Leghila, who specialise in neoprene bags, has just opened in the UK - loving the washable, squashable (for packing) Cube bags (£130-£140) and cases (from £40 - seen below in lime with black detailing) which come in a tonne of colours from www.leghila.com; Regular readers will know I'm never far from a MbM accessory! Lusting after this red neoprene Marc by Marc Jacobs Dreamy camera/iPhone wristlet case, £40 from Net-A-Porter.com, as is this incredible Mulberry travel adaptor which comes in it's own textured leather case - how major? £150.
Remember when you were little and pants came in multipacks? Stella McCartney's Knickers of the Week pack of seven black cotton and silk mix briefs with the days prettily embroidered on the front, £130, make last minute panic-packing a doddle. I'm so wanting a proper cosmetics case right now - this patent leather trimmed Anya Hindmarch Vanity Kit is tres chic! £225, both from Net-A-Porter.com.
When, in an attempt to cut down the amount of stuff I carry about, I mentioned wanting Ray Ban optical frames with reactor lenses that go properly black (not that weird grey/brown colour) a couple of years ago people scoffed but Transition lenses (which are available nationwide from most opticians) are making really cool ones now using some very clever technology that tbh I'm not really interested in, all I care about is that they look good and they work both as optical and sun glasses. These are some super stylish frames I found that they can be fitted in...(L-R) Lindberg frames, prices start from £315, black FaceaFace frames from £200 and neon coral THEO frames - these look so hot as sunnies! - which start at £260. Then you add £100 to the frames price for the Transitions Lenses www.transitions.com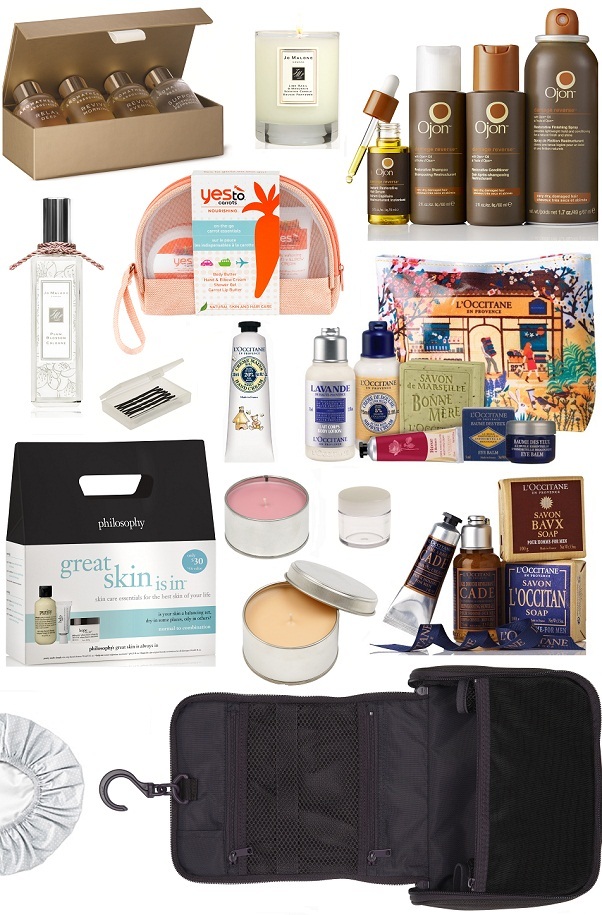 .
Above: Ward off stale hotel odours with Aromatherapy Associates' travel set of four different oil blends - Deep Relax, Revive Morning, Revive Evening and Support Lavender & Peppermint Bath & Shower Oil - which you can use individually or combine to make both yourself and your lodgings smell exquisite, £30 from www.aromatherapyassociates.com. Alternatively, grab yourself a travel candle like this classic Jo Malone Lime Basil & Mandarin scented one, £22 www.jomalone.com or one of the great Muji ones (pictured further down) in the silver tins with lids - I love the Japanese Pear (pink) and Almond and Caramel ones, £3.50 each from www.muji.co.uk
Getting away can give you a chance to relax and do all those things you never get time for otherwise, for me it's the constant battle with over-coloured hair. I found my haircare brand of choice, Ojon, do some great miniature sets - starter kits - for Damage Repair (pictured), Dry Recovery and Volume - usually £32.50-£34.50 but currently on sale for £19 each from www.ojon.co.uk
I noticed in the States that YesTo products are everywhere. This YesTo Carrots On The Go set (£14.99 from www.feelunique.com) with it's miniature body and lip care products and sweet little reusable pouch is a great intro to their range. 30ml perfumes are much better for travelling with, this new Jo Malone limited edition Plum Blossom fragrance, which launches next week, sounds just divine - another for my wishlist! www.jomalone.com Rummaging round for hairgrips that have gone all manky at the bottom of your bag? Me too. How simple a solution is this? Hairgrip case, 85p (their clear travel jars - as pictured next to the candles - are essential for travel too) from www.muji.eu
If you're not staying in one of the swanky hotels that stocks L'Occitane miniatures for its guests, bring your own! Shea Honey travel handcream (this is a great all rounder if you have dry skin and it smells delicious) £8; Their limited edition Provencal Spring Collection, in this adorable, rustic Provence-inspired splashproof washbag, is packed with travel sized products, £24; and, for the guys, the Cade 'Petit Men's Grooming' is always a winner and is currently on sale for £18, all from www.loccitane.co.uk
My favs Philosophy Great Skin Is In trial kit featuring three miniature products, available for normal to dry or normal to combination skin, £29.50 www.philosophyskincare.co.uk; Back to Muji again to round off with their super handy hangable nylon washbag which comes in small (£8.95) or large (£11.95) and, if you've had your hair done for going away and don't want to spoil it in the shower, remember a shower cap! Grey spotted design, £4.50 both from www.muji.eu