I was shocked to hear how environmentally unfriendly jeans are, recently. With its tough, hardwearing nature giving you more wears per wash I'd assumed denim was one of the greener fabric choices but how wrong I was...
This weekend I'm looking at some innovative, water-conserving jeans from Levi's and Replay and, on a similarly ethical tip, model Lily Cole's fab new cruelty-free make up line for one of the best known champions of human and animal rights, the Body Shop.
Did you know the average pair of jeans uses an astonishing 42 litres of water in the finishing process? I certainly didn't until I read about American denim titan Levi's' recently launched Water>Less™ Jeans initiative. Hooking up with partner Water.org, Levi's aim to educate and raise awareness of the amount of water wastage that goes into producing our clothes at each stage, from the cotton fields through to the final product - they've even started putting "Care Tag for Our Planet" labels in their jeans with care instructions based on reducing environmental impact - washing less, washing in cold water, line drying and donating when no longer needed.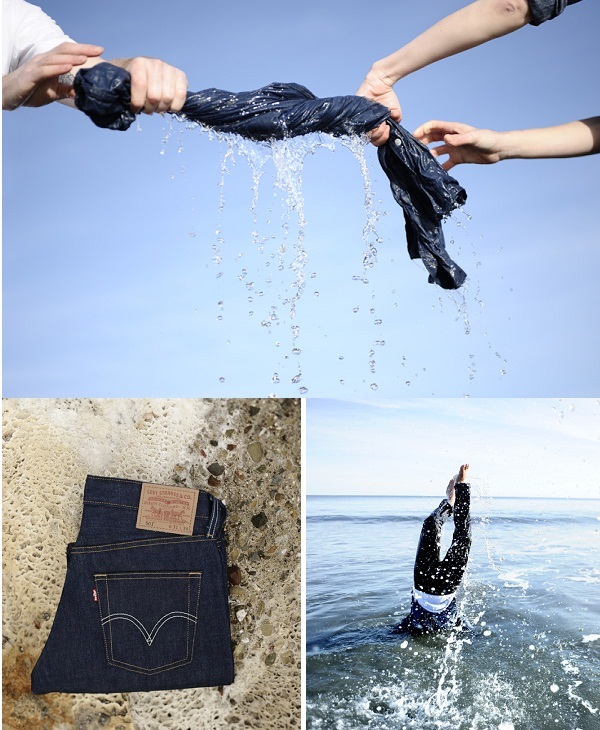 The brand has already made more than 13 million Water < Less™ products which has seen more than 172 million litres of water saved so far - that's enough drinking water for 157,000 people for one year, an amazing achievement in today's world where nearly a billion people still don't have access to clean drinking water. Obviously, if people stopped buying jeans this would be terrible news for the denim industry so Levi's is now providing informed consumers with a viable eco-conscious alternative to your average jeans without letting the aesthetics slip.
By making simple tweaks to how they finish their garments, the new Levi's® Water < Less™ jeans have reduced water consumption by up to 96%. The main changes include reducing the number of washing machine cycles used, incorporating ozone processing into garment washing and removing the water from stone wash finishes. Amazingly prices seem to be pretty much the same or only very slightly higher than the non-Water > Less versions - jeans start at around £75 with most pairs around £85 - which is a great step in getting people to make the switch. Check the special womens and men's Water>Less versions of Levi's designs - including Curve ID - out on this website for the UK or www.levi.com/waterless in the US.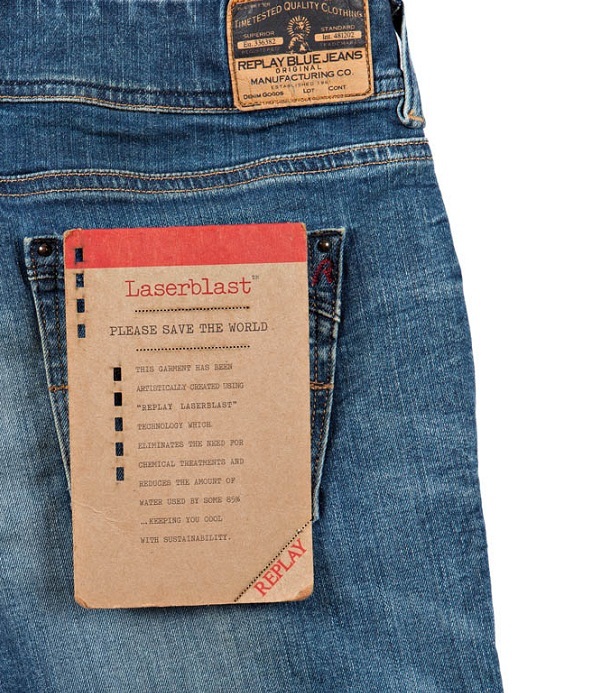 Italian label Replay is also getting in on the green scene with it's Laserblast collection which reduces water consumption by 85% as well as using a revolutionary low-impact technology in order to save energy in the process too. The mens and womens' jean designs for Autumn/Winter 2012 - already out now - see a return to a more artisanal, hand crafted approach with each piece being manually treated - emerized, torn or ripped, 'dirty washed' - then dried on special dummies for a 3D appearance.
The Laserblast collection comprises three men's styles in a variety of cuts (regular, regular-slim and slim fit) and two women's designs - bootcut and skinny - in a range of washes achieved through a combination of laser blasting - hence the name - and water friendly washes. Prices start at £115 and the collection is now available nationwide from Replay stores and their website www.replay.it
Somewhat naively I have to admit to having not given much thought to animal testing in beauty for a while now. Once front page news, with massive campaigns and media debates surrounding the ethics of testing on animals, it's not so prominent these days following the 2003 EU ruling to ban animal testing for cosmetics and their ingredients effective 2009, so I thought maybe we'd all dealt with it, people had seen the error of their ways and the bunnies could all be left in peace. Sadly, it seems not. You can download lists or search for companies who don't (or who do) test on animals on the PETA website but if in doubt, The Body Shop is one brand that has pretty much built its name on caring for both animals and humans and is always a safe bet.
Spokesmodel, actress and activist Lily Cole, has just designed a limited edition Beauty With A Heart collection for them which launches in Body Shop stores later this month. The super pretty range includes a set of make up brushes (£14.50) which uses artificial fibres instead of goat hair, Pearl Radiance Primer (£12, pictured second from right), Puff on Radiance (£16, pictured in the ball) and eye shadow Shimmer Cubes (£16, not pictured), all of which contain no bug shells (used by other companies to colour products) or shellfish (which can be used in beauty products to provide shimmer effects - groooo). Lily Cole for The Body Shop will be available for a limited time in stores from 24th May.