I've had a bad run of it recently with shoes. First my gorgeous new heels inexplicably went from a wonderful, glove-like fit to cutting off the circulation in my toes, then the triple height crepe soles of my beloved vintage pony hair creepers split in two (vertically - I KNOW - if anyone has any ideas where I can get these fixed, please do get in touch).
After that I threw out one half of my favourite pair of heels believing the other one gone for good only for it to turn up the second the other one was no more. I also had to ditch my best Van's plimsolls to make room in my suitcase for bargains acquired whilst visiting my granny, or more specifically, her local TK Maxx.
So it's safe to say my footwear collection has taken a battering of late and, with this in mind, I thought it was time to have a look at what footwear gems are out there and turned up these beauties...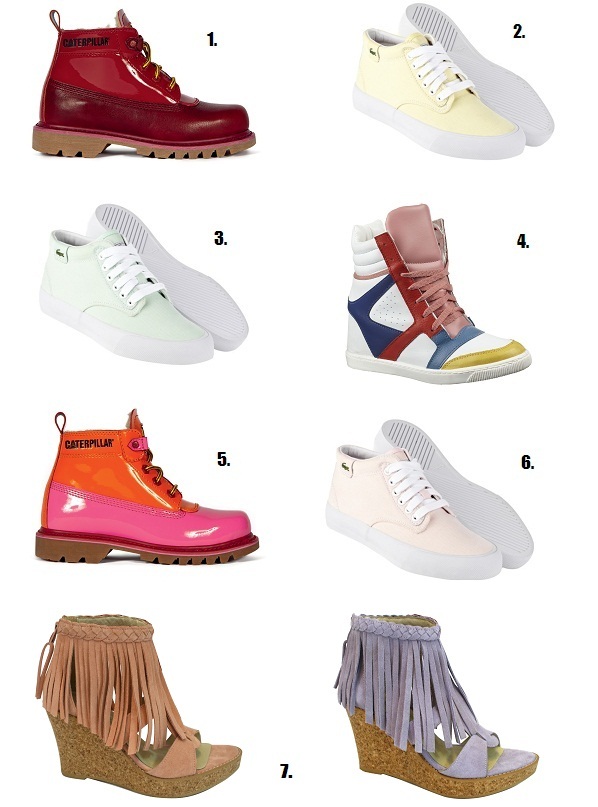 Some of my favs include: 1. & 5. CAT Footwear's LFW designer collaboration with menswear talent Martine Rose has produced these glossy Caterpillar boots for AW12 that look good enough to eat. They're not out for a while yet so keep checking back on www.catfootwear.com, 2. 3. & 6. Lacoste L!ve's Barbados Mid plimsolls come in a variety of super cute, on trend ice cream pastels and make a great replacement for my sadly discarded Van's. www.lacoste.co.uk, 4. No, they're not the awesome Marc Jacobs SS12 wedge sneakers that everyone's talking about - I did a double take too - they're River Island's 'hidden heel' version, £40 from www.riverisland.com. These suede fringed wedge heel babies by Muks (7) add summer hippy, folk style to any outfit, check the site for cute ankle boots with similar detailing too www.muklukstore.com.
Aldo Shoes' Designer Collaborations for Spring / Summer 2012, all shoes £125 from wwww.aldoshoes.com - top row all JW Anderson (LOVE these), middle row all Mark Fast, bottom row all Preen.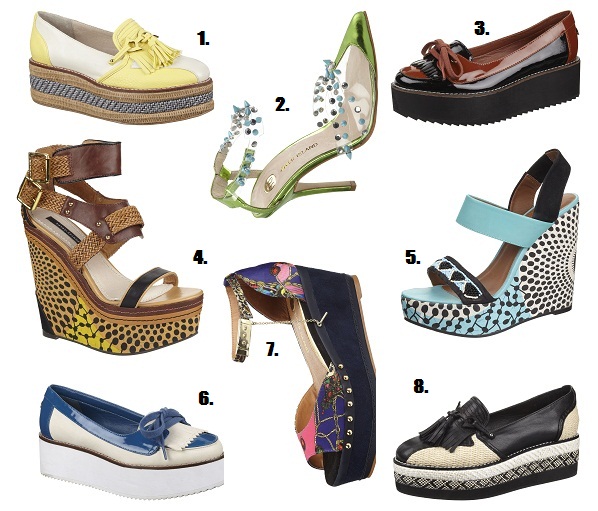 A selection of my top picks peeped in River Island - go to www.riverisland.com to shop the Spring/Summer 12 collection, also in store now. I particularly love the slip on flatforms (1, 3, 6 & 8) and the single strap wedges (7.)