This weekend I'm tracksuit shopping - old school Adidas tracksuit shopping, to be specific. I'm going all out for the classic three-stripe, totally man-made matching numbers that made such a lasting impression on me when the likes of Run DMC popularised them in the mid-1980s and have been sneaking into my wardrobe ever since.
Track tops and co-ordinating pants are big urban style statements again, whether they're hanging loose in an 80s hip-hop style, more fitted with a Britpop vibe or given a fun Sporty Spice flavour. Eccentric LA-based designer, Jeremy Scott manages to fuse 80s silhouettes with a pop-py 90s style in his collection for Adidas Originals this season providing some awesome takes on the matchy-matchy tracky - remember the white track suits with musical scales down the sides worn by Madonna's b-boys at this year's triumphant Super Bowl performance? They're his. And hopefully mine too, soon - although I think this little fella, Rocky, canine companion of one of my favourite bloggers, Luxirare, might fight me for one after getting a taste for the look in his custom Adidas tracksuit!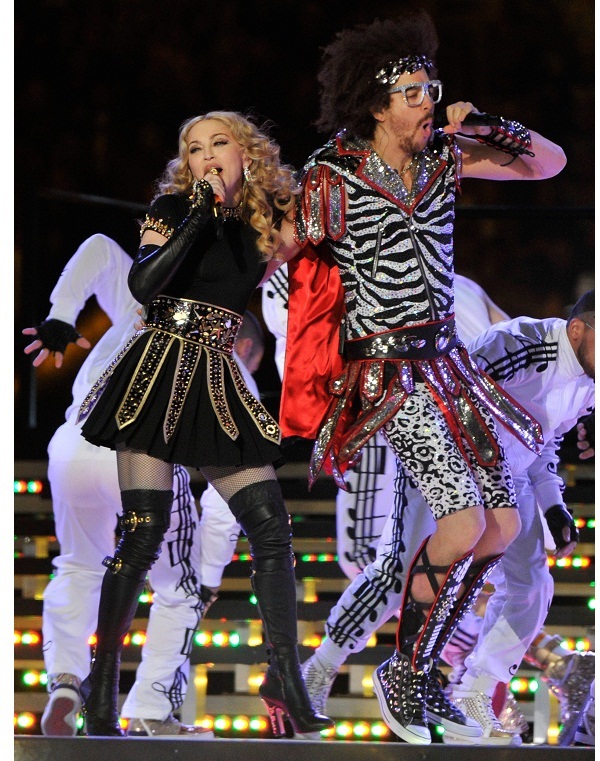 Image © epa european pressphoto agency b.v. / Alamy
Madonna & LMFAO perform at the 2012 Super Bowl with backing dancers in Jeremy Scott x Adidas Originals tracksuits, pictured below, right. Below left, Jeremy Scott for Adidas Originals tape measure track top £140 and pants £125; centre, the classic Adidas Originals Firebird tracksuit, track top £50, pants £42 available in men's and women's fit. All available from www.adidas.com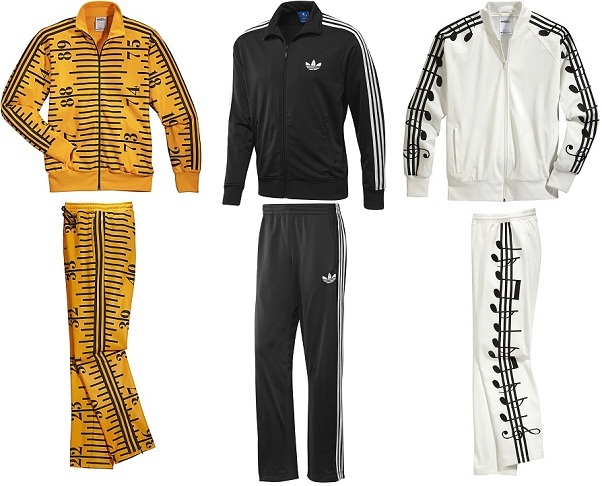 If you're looking for styling tips, I'm a huge admirer of fellow adi-fan, the super cool Fashion Stylist & TV presenter, Alexis Knox. You may have seen her on T4's New Look, Style the Nation but she's perhaps better known as the fashion director of Notion magazine in addition to hosting and DJing at Jodie Harsh's cult fashion club night Circus. This influential lady has some serious style credentials and a unique way with her adidas. Check out these exclusive images featuring Alexis and her inimitable hallmark, Harajuku-meets-East London personal style wearing pieces from her own Adidas collection, specially for this blog (thank you!!).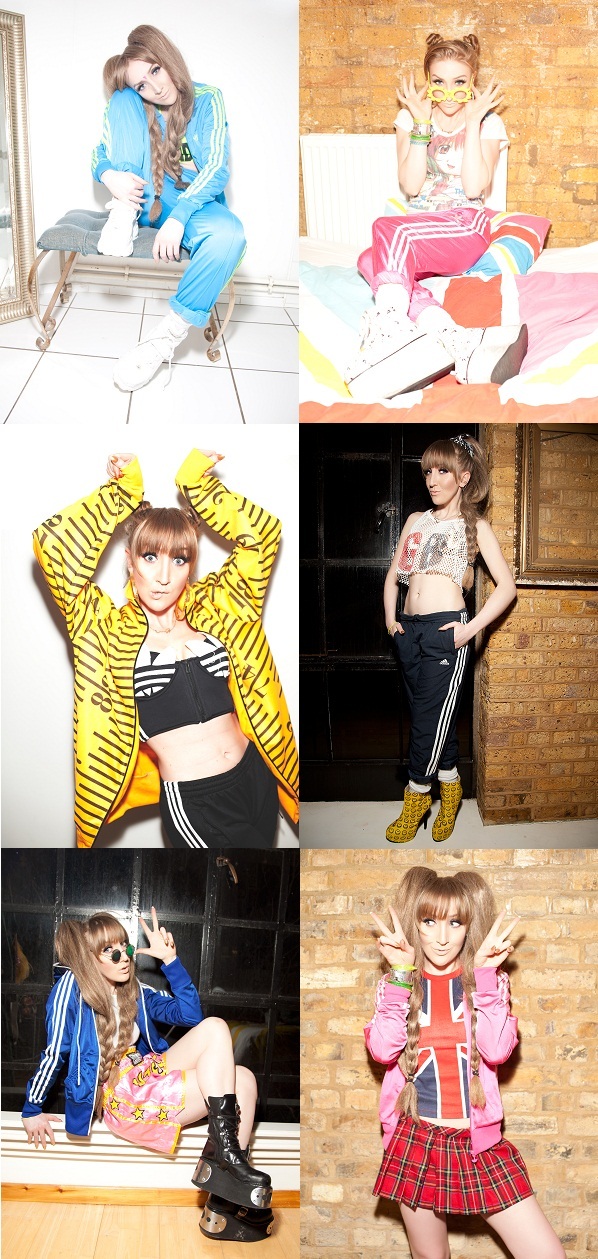 Fashion Stylist & TV Presenter Alexis Knox photographed by Gabriel Love.
Here are a few extra snaps taken from Alexis' brilliant blog showing you, using one of her own Firebirds, even more quirky ways to work your tracksuit pieces individually. Whilst I don't think I'll be pulling on an Armani coat with mine (below, top row, far right), the rolled up legs with heels look is a tried and tested winner and I've even been inspired to dig out my own '90s Buffalo stacks (those platform trainer boots the Spice Girls used to wear). Get over to her Facebook page or www.alexisknox.com if you want to see more.
Pictured below - top row: Pink and blue women's tracksuits with large trefoil logo back - Firebird top £50 and matching bottoms £42, Green men's retro Superstar track top with contrast side panels (also shown in blue below) £52, Superstar track pants £42; Bottom row: Purple with white stripes and navy with gold stripes Men's / Unisex Firebird tracksuit tops and matching bottoms as before, all available from www.adidas.com.