We went to Sharm-el-Sheikh in Egypt (small compilation of holiday snaps below) predominantly so he could study for his diving licences, whilst I, being a very pale, wintery type unable to cope with such crazy heat, used my dive widow time to try out various new beauty finds, mostly from the haul I panic-bought at the airport Boots.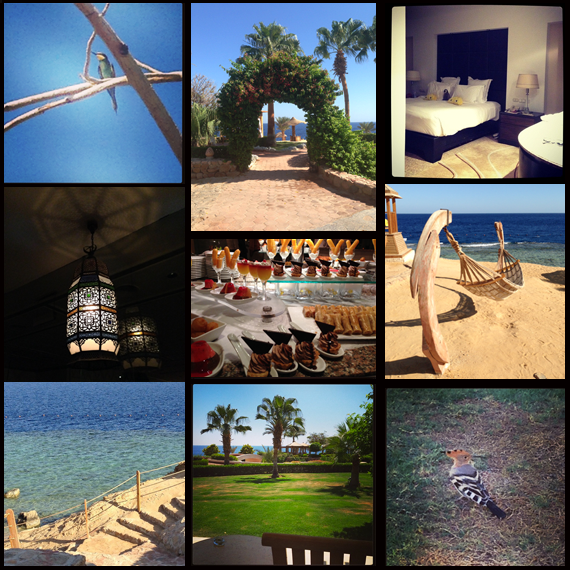 Views of our suite's garden, the resort's private beach, a Hoopoe and a Bee Eater - two stunning Egyptian birds, and the incredible dessert station loaded with the most fabulous miniature-sized sweet treats. I am still missing the amazing bed-making fairies...
Below are a few of my findings and, as an aside, if anyone's looking for some winter sun, I cannot recommend the Ritz-Carlton in Sharm-El-Sheikh and their faultless, friendly and above-and-beyond accommodating staff highly enough. Due to the current flight bans some countries have on flying to anywhere in Egypt, the tourist trade has been hit pretty badly which is really sad for the locals but, conversely, means great offers are available for anyone who can travel. We got a fantastic deal through Fleetway Travel and I understand there are currently some amazing offers available on stays at the Ritz-Carlton until around May 2014. Send my love to the spa - and the dessert station...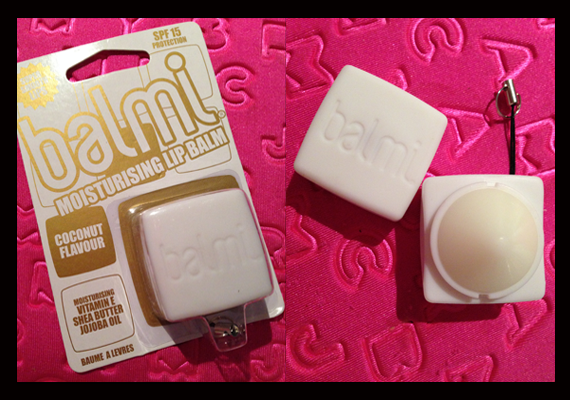 1. Balmi Cube Lip Balm in Coconut
I have been a huge hoarder of lip balms pretty much since I knew where my lips were, so have become quite the self-appointed connoisseur over the years. I'm a sucker for anything coconut-y, especially for holidays, so a coconut lip balm is a safe bet for me. What I particularly liked about this one is the weird pyramid shape once you unscrew the cute little square tub (which has a little cord so you can dangle it off zippers etc too - I always keep a charm lip balm on my bags 'just in case'). It's delicious, moisturising and smells amazing too. This stuff is brilliant.
Balmi Cube Lip Balm in Coconut, £4.99 from www.boots.com, also available in Mint, Strawberry and Raspberry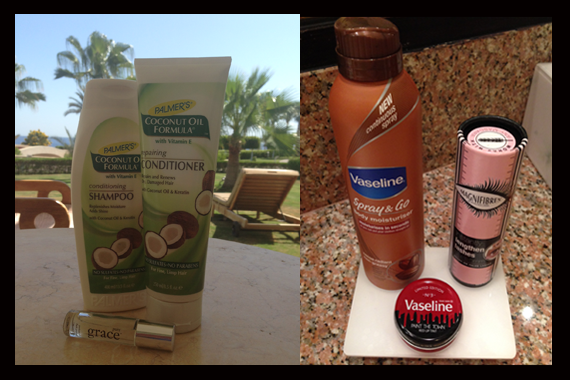 2. Palmer's Coconut Oil Formula Conditioning Shampoo & Coconut Oil Formula Repairing Conditioner
Grabbed this shampoo and conditioner a while ago because a) they're by the cocoa butter people, Palmer's, who are damn good at what they do, and b) they were both half price in Sainsbury's and I didn't want to have to queue up for just some hand wash. I completely forgot I'd bought them so was delighted to rediscover the tall, squeeze tubes just in time for our holidays. The coconut smell is gorgeous and stays for a little while though is by no means overpowering, but the main benefit of these super bargain hair products is that they kept my repeatedly bleached and coloured locks shiny and in fantastic condition, despite the added hair trauma of sun exposure. I rarely use cheap hair products, especially conditioners, because of how badly I treat my hair but these definitely impressed and were well worth the money. I love that they're sulphate and paraben free too.
Palmer's Coconut Oil Formula Conditioning Shampoo, & Palmer's Coconut Oil Formula Repairing Conditioner, £3.99 each - check here for stockists or buy online at FeelUnique.com
Also pictured, my holiday scent of choice, Pure Grace by Philosophy which smells like freshly washed linen mixed with baby powder. I believe this roll on may have been discontinued now but you can pick up the spray versions from www.philosophyskincare.co.uk (who I've just noticed have some fantastic deals on their website at the moment so do check out the site)
3. Vaseline Spray & Go Body Moisturiser - Cocoa Radiant
This was a last minute grab from Boots' 'Panic Alley' - that bit where you queue for the tills where you either pick up more bits or ditch things - based on the assumption I would probably end up sunburnt and a cocoa butter moisturising spray could come in handy. As it happens, it was mostly too hot for me to sunbathe but I applied this all over, every day anyway and really enjoyed the spray effect.
Vaseline Spray & Go Continuous Spray Body Moisturiser - Cocoa Radiant, £4.99 from www.boots.com
4. Vaseline 'Paint The Town' Tinted Lip Balm
More lip balm - and a Vaseline one to boot so you know it's going to be good - but this one's an evening one, a TINTED one! The effect is not as red as I'd hoped for although you can layer it on. It gives a wash of colour and comes in a super cute metal tin. This fruity limited edition is a great addition to the pockets, purses or lip balm drawers (just me?) of collectors and beauty buffs everywhere.
Vaseline 'Paint The Town' Tinted Lip Balm, £3.49 from www.boots.com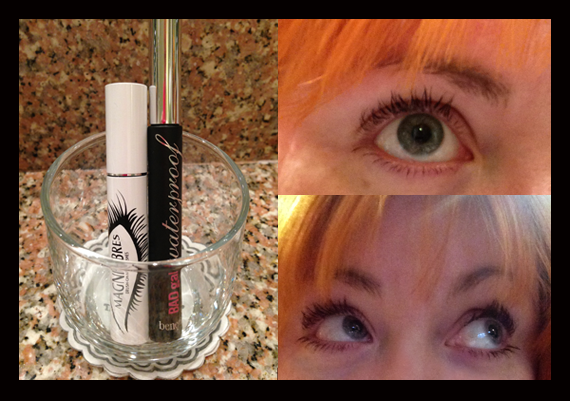 5. Magnifibres (Brush-On Lash Extender)
(Very) Basically, Magnifibres is brush-on fibres that make your eyelashes look longer and more lustrous so you don't need false lashes. The tube looks like a regular mascara tube except the brush head, which is just like a normal mascara wand, looks like it's covered in white fluff. Like a dandelion, or tiny, delicate puffs of cotton wool. You apply one coat of your usual mascara - in my case, Benefit Bad Gal Waterproof Mascara in Black, then apply the Magnifibres over it, brushing them on exactly like mascara. This coats your lashes in fine white fluffy fibres which quickly start to form eyelash extensions. Brush another coat of your mascara over the top of the Magnifibres and - voila! - longer, thicker looking lashes. I was expecting this to be the eye make up equivalent of 'miracle' cellulite cream as it really does sound like magic, but Magnifibres genuinely works. Have a look at the before (with one coat of mascara on top lashes only) and after (Magnifibres on top lashes only with no curling or combing) pictures below, taken after my very first attempt. Whilst they have a subtler effect to proper falsies, the difference is still very noticeable and the whole application process took the same time as three coats of mascara ie. a world away from faffing with tweezing individual lashes into place and dealing with the resulting eyelash stubble when you rip half of them off trying to remove withered strays. Quick, portable and with noticeable effects, apparently adding up to 5mm - this is a great purchase for party season beauty kits.
Related