Within minutes of arriving in Hong Kong, I was told my home town of Shanghai was only 'almost as good' as this former British colonial town.
I wasn't surprised by the comment. The Chinese are very competitive when it comes to their cities and Hong Kong is fighting to maintain her lead over the fast-growing economic hubs of mainland China.
So I gave myself 48 hours to discover how Honkers fared in a competition with my favourite newly adopted city...
With oodles of money available for investment, the world of contemporary art in the East is always overblown, often impressive and occasionally very daft.
However, The Hong Kong Contemporary Art Awards 2012 exhibition at the city's leading art museum offers a fine example of high quality, circumspect modern art at its best. The work is delicately understated and deeply expressive. Quite a feat when you look at the current competition.
Multimedia artist Au Shek-yan perfectly captures the suffocating experience of sharing a three-bed dormitory with two roommates on film, while photographer Tsang Ka-wai sneaks tantalising aerial shots of hidden rooftops.
Another fascinating exhibition, Bonds Of Memory, reveals how artists can explore recent political history history in China, without censorship.
In May 1967, painter Wan Qingli was imprisoned in the "ox-shed", a makeshift prison at the Central Academy of Fine Arts for counter-revolutionaries -- defined as ox demons and snake spirits. There he met collaborators, teachers and friends, who went on to inform one another's art and reveal the unintended consequences of artistic suppression.
Little tip: The museum is free on Wednesdays.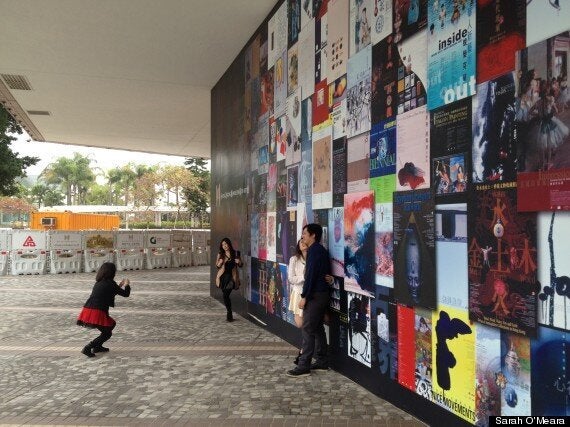 Visitors outside The Hong Kong Museum Of Art
Hong Kong might still be the world's 9th strongest trading economy with lots of cash to spare, but in certain parts of town, it feels as though little has changed since the boom years of the '80s.
For tourists who stay in the original colonial settlement of Hong Kong (formerly called Victoria City, now Central), the vibe is a little more Dalston than international commercial powerhouse.
Yet it's precisely the area's tired feeling, with its shabby apartment buildings sprouting washing from every window, and anachronistic wooden trams, which lend it an air of dilapidated glory.
As you walk east from the direction of Admiralty towards the centre of Wan Chai, you'll encounter regeneration projects, dated office blocks and pavements now dominated by Chinese faces, rather than swarms of expats.
Bar styles range from 'holiday resort' chic, complete with fluorescent lettering and palm trees, to hyper-cool design.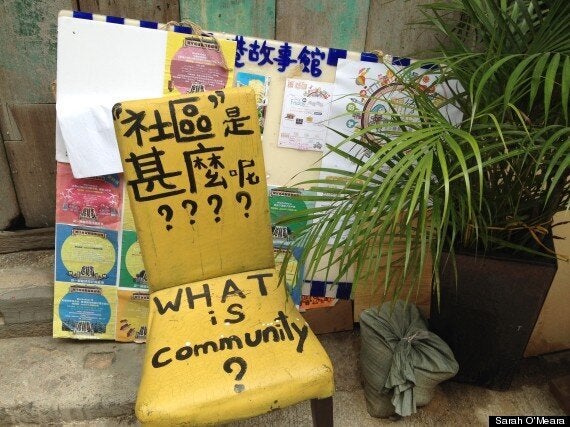 Even if you only have a couple of days in Hong Kong, there's no need to spend the whole time in the shadow of a office block. To get a measure of why locals like their island lifestyle, hope on the train away from Central, under the South China sea to Kowloon and pop out at Univeristy station in the New Territories.
Urban cycling tracks and grounds are available in 10 districts across Hong Kong and one of the best tracks runs from the town centre of Sha Tin to Tai Po Market via the Hong Kong Science Park around Tolo harbour.
As well as appreciating how much locals love fresh air, great sea views and outdoor living, you'll also have a spectacular view of an Ozymandias-style development by a local property tycoon.
Locals say self-made man Ka-shing will use the 467,000-square-metre Chi Shan Buddhist temple (with the world's tallest statue of the Goddess of Mercy) to pray for his family's continued wealth, although his publicly stated aims for his cultural contribution are rather more altruistic.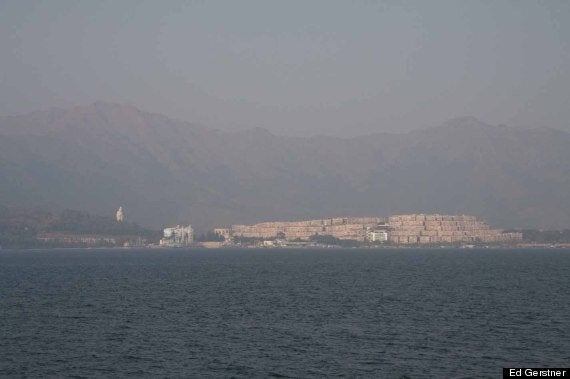 "You're funny, you should drink more. Tomorrow we starve." Just one comment overheard at Speakeasy 123.
For those in the know, the 1920s are alive and well within Hong Kong's supply of covert late night drinking establishments.
Try heading to the Butterfly on Wellington hotel around 10pm at night, turning around and heading down the shabby street directly opposite. Knock three times on a black door on the right hand side, then press the buzzer and if you get the combination right you'll be allowed entry to an underground bar, complete with leather booths, shell-shaped lights and strong cocktails.
An Earl Grey Marteani comes highly recommended.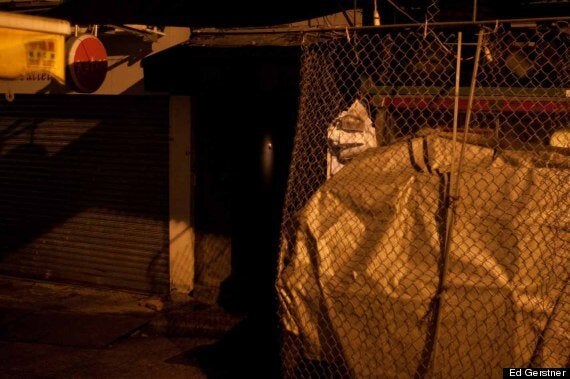 Entrance on the left of the day's garbage
My first experience of eating Dim Sum was in Peckham, London. My second Shanghai. And third Hong Kong. And luckily for cultural purity's sake, the southern China 'Cantonese' staple also known as Yum Cha (which translates as 'drink tea'), jumped straight the top of my steamed snack list.
We visited the iconic art deco Luk Yu Tea House on Stanley Street in Central, which celebrated its 80th birthday last year.
Britain's fondness for puddings pastry infiltrate this Canton cuisine. Egg tarts and roasted dried oyster pie are both on the menu.
We opted for shrimp dumplings, spring rolls and pork meat dumplings in chicken stock, served with red vinegar, mustard and hot sauce. Each dish was juicy, with a crunch of freshness, and perfectly cooked.
We also tried Maxim's Palace at Hong Kong's City Hall. With its chandeliers, white tablecloths and tyrannical waitresses serving from old-fashioned trolleys, it's worth a visit for the theatrical interior alone, but the cooking quality is better at Luk Yu.
A friend once suggested that if you bought a drink in Tokyo, make sure it was in bar above the 50th floor, otherwise it simply wasn't worth the curl-up-and-cry expense. In many ways, the same could be said for choosing your hotel room in Hong Kong.
There are few hotels that come with as many personal recommendations as The Upper House.
The hotel chain has become known for its emphasis on friendliness over subservience. There are no false smiles and empty promises. It's like staying at your friend's house. If your friend had a five-star hotel as a home, of course.
Rooms start on the 38th floor, so you're guaranteed a view. Every suite has a bath with a 180-degree panorama across Central. And the hotel's Cafe Gray Deluxe bar is one of best places to enjoy the city's skyscraper skyline.
The bar has been designed to evoke the sense of wing spreading out, which means that each booth delivers an intimate view of the horizon. The perfect place to watch Hong Kong's cheesy nightly laser show.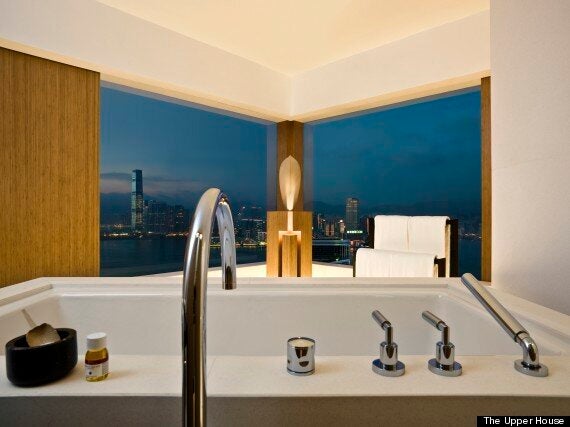 Bath time at The Upper House
The Museum of History's historical journey begins a million years before the present day.
But once you've whipped through the first 99,000 years of Hong Kong's history (complete with life-size dioramas), this museum is definitely a 'must-see'.
Contemporary history is given a thorough going over, with tons of first-hand source material, interactive exhibits and multimedia historical footage.
Don't miss the Bun Festivals exhibit, which explains why locals chose to race up 10-metre stacks of baked goods once a year.
Until 1978, Cheung Chau Island residents used to compete for the high-level 'lucky' buns. But then a tower collapsed, many were injured and the practise was suspended. Happily, in 2005, the event was resurrected with plastic buns.
Other areas of interest include Japan's years of occupation and the island's consumer growth in the latter half of the 20th century.
Foodies glow when talking about Hong Kong. They love the diversity, frightening high proportion of Michelin-starred restaurants, and constant flow of financiers money towards chefs and their kitchens. Self-taught chef Alvin Leung is known for cooking precisely the kind of dishes that annoy people who think great food should be judged purely on how it tastes.
The former sound engineer turned head chef has spent enough time in the world of performance to appreciate the value of theatrics. A spot at the head chef's table at Bo Innovation will deliver monumental 14-course gastronomic weirdness for the tiny price tag of £180 per person.
Leung describes his cooking as "x-treme chinese" cuisine, and my husband and I spent two hours ahhing and eurghing at his bold experiments.
For example: An updated baked alaska called Lap Mei Fan elicited the following reaction.
"It tastes like milky pavement, with notes of baijiu, mixed with rice crispies."
FYI - Baijiu is a popular Chinese liquor made from fermented sorghum grass, which is definitely an acquired taste.
However, there were also some supremely positive reactions. Leung's transformation of a traditional Chinese soup dumpling (Xiao Long Bao) into a bite-size balloon of explosive stock is just fantastic.
Definitely worth a visit, if you've got the money.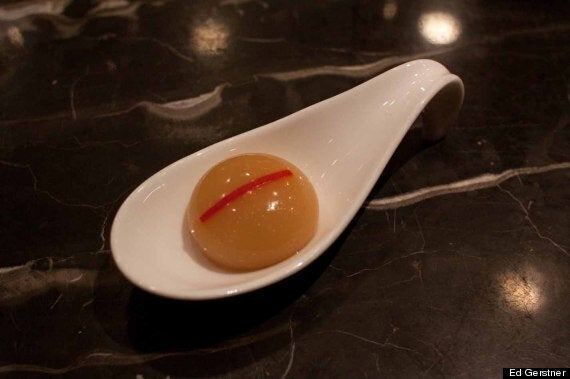 Molecular 'xiao long bao' at Bo Innovation
Related