 When the first lady of China, Peng Liyuan, wife of new president in Xi Jinping (above), waved to the world's cameras during the couple's first foreign trip abroad earlier this year, the words 'Made in China' took on a new fashion hue.
Bloggers furiously googled 'Peng Liyuan style' and discovered she favoured Ma Ke, the award-winning founder of Chinese fashion labels Exception de Mixmind and Wuyong.
While luxury fashion brands from the West have been storming Chinese high streets in past decades, climbing over one another in their attempts to establish their must-have credentials in this lucrative market, homegrown Chinese fashion has been growing quietly on the fringes.
Now, as the Chinese middle-class grows, and the status-led glamour of Alexander McQueen, Balenciaga and Louis Vuitton wears thin (signs of a slowdown are already here), it's time for homegrown fashion, both high-end and high-street, to make its mark.
While affordable shopping in China's capital isn't easy -- the streets are lined with empty Gucci emporiums, rather than heaving Topshops -- there are still stores that hint at a future mainstream sino-aesthetic that will surely appear next to your local Warehouse within the next decade.
To get a head start on the other fashionistas, head to Virgin and check out their direct flights to Beijing from London. In my experience, this is the best airline servicing China at the moment for keen shoppers, as the prices are good value, inflight movies on this long journey (12 hours) second to none and staff hugely forgiving when you rock up at the airport with slightly more than 'one' carry on bag!
Scroll down to see pictures of shops and tips on where to stay
The first job of a keen shopper is to avoid most malls, where middlebrow Italian brands (some of which you may even have heard of) and American country club leisurewear have swallowed up retail space.
Secondly, ignore your hotel manager who will helpfully point you in the direction of good value pearls, pottery covered in painted trees or fantastic quality silk, and head instead for the hutongs, the old narrow passages, which managed to escape the wrecking ball of revolution. Start with Gulou Dong Dajie, in the Dongcheng district.
Most shops are open from lunchtime until 8pm, at least. So get your sightseeing out the way in the morning, and then get shopping.
After you've devoured Dong Dajie, head to the North and South Village for a first-world retail experience. Wander past Miu Miu and towards the 3:3 shopping mall, via the basements of the The Opposite House, to find fashionista Chinese designers causing utter mayhem when it comes to colour, frills, diamante and neon.
Here are my favourite places to shop in Beijing...
From flashy gold T-shirts to subtle textured fabric hoodies and structured, printed dresses (usually featuring their iconic fish design), the Floso range is fresh and brimming with life.
This is a definitely a brand that will travel well and should be popped in the suitcase for your next night out in Shoreditch. And it has the wonderful tag line: 'You were born in China, me too'.
English address 196 Gulou Dong Dajie, Dongcheng district
Chinese address 东城区鼓楼东大街196号
Yes, you'll be transported back to Dalston when it comes to this charmingly designed and carefully curated clothes boutique shop/cafe.
You can easily lose yourself here for a few hours among the range of colourful on-trend evening outfits, casual daywear and elegant accessories by young Chinese designers (from bags, laptop cases and wallets, to vases, gloves and scarves).
But don't forget to look upstairs where there's a buzzing coffee shop. Just walk up past the lyrics to 'My Way' stencilled on the wall and you'll find a large room of Beijing hipsters, framed by artfully draped foliage, pot plants, and chalkboard menus, chatting noisily.
English Address: 141 Gulou Dong Dajie
Chinese Address: 鼓楼东大街141号
If you love the trend for teaming lycra tees with long pleated, flowing skirts, or simply throwing on a tea dress and brogues, this shop will allow you to take your eclectic vintage/end-of-the-month look to a whole new level, providing of course, you've got the tiny waist for it.
Look out for silk blouses, artfully selected handbags, and strong prints that conjure Asian Eighties office wear, plus patterned fabric art-student trousers and dolly shoes of every shape and size.
Forget the knitted cardigans, Eighties sweaters, and cowboy boots that you might pick up at home, Beijing vintage style is retro from a parallel universe.
English address: 241 Gulou Dong Dajie, Gulou, Dongcheng district
Chinese address: 东城区鼓楼东大街241号
Web: mmvintage.blogbus.com/
Ranging from the sublime to the utterly ridiculous, this eclectic boutique contains a few gems, and some rather more bold misfires.
Saying that, you need to spend time with pajama style day suits, with enormous clownish patterns, before leaving China!
Featuring adventurous, young international designers from northern Europe, Canada, America, Australia and Britain (Christopher Kelly's Theatre De La Mode), as the shop front explains, this brand is 'reinventing popular culture'.
English Address: 81 Baochao Hutong, Dongcheng District
Email: triplemajorinfo@gmail.com
Web: triplemajor.taobao.com
If you're not in the mood for the ubiquitous Chinese high-street fashion mall offering of slim hipped jeans, block-coloured girlish dresses and tiny shoes, you might feel more at home in Yahoo.
There are several shops on Dong Dajie that deliver this understated linen look of striped cotton tunic dresses, cream linen tops, faded taupe sweaters and everyday satchels.
Designers to look out for include Gair Whale, Holy Poem and Atelier Equal.
English Address: 303 Gulou Dong Dajie
Chinese Address: 鼓楼东大街303
The Wo2 shop is one of many reasons to visit the sparkingly new retail area of 'Sanlitun Village' in Beijing. This particular shop is underneath The Opposite House boutique hotel, which sits in the centre of the complex (made of up the North and South Villages).
The North Village collection of shops is thrillingly expensive and mostly empty, while the South Village area buzzes with locals buying Uniquo, Mango and Hong Kong daywear label Chocoolate (who surreally decided to make Wallace and Gromit the faces of their brand).
Wo2 could be best described as American Apparel meets All Saints.
Cotton and jersey leisure items in bright reds, blues, pinks, and yellows fill the rails. But these smock tunic tops, draped slash neck T-shirts and unstructured dresses are gently cut, with a gorgeously feminine feel.
This shop is a welcome, and not overly pricey, diversion from the harder lines of other Chinese fashion-led labels.
English address: 4 Jiuxianqiao Lu, Chaoyang district
Chinese address: 朝阳区大山子798艺术区中1街
Also situated underneath The Opposite House is a shop not to miss. This hyper-cool and rapidly expanding homegrown brand manages to combine wearability with edgy Asian technology-influenced design.
If you're not a fan of colour blocking, you might want to don your sunglasses, because designer Alexander Wang offers customers a range of dazzlingly confident pieces, which will definitely draw the eye.
From flowing green yellow pleated skirts, lighter-than-air geometric printed shifts and silk blouses, to fun-loving dresses and shirts, bright tapered trousers and eye-popping anoraks, there's a daywear niche here... and Wang's found it.
English address B1/F, The Village North, 11 Sanlitun Bei Lu, Chaoyang district
Chinese address 朝阳区三里屯路11号院VILLAGE北区地下一层NLG-1
Website: http://www.zuczug.com
Although this shopping guide is not intended to break the bank, it's still worth a look in ambitious newcomer label Nisiss, again situated underneath The Opposite House. Price points are high, with statement dresses hanging around the £500 mark, but the floating, ethereal quality of this beautiful shop will feed your imagination, as well as your wardrobe.
Modern, blunt, shift and smock dresses are reinvented with silk, felt, and sheer fabrics to create a modernist, Sixties aura. The styles are demure, and cuts non-revealing, echoing traditional cuts with Chinese influences. Their reinvention of the Asian brocade house coat into a delicate, floral creation is truly beautiful.
Clothes feature few patterns; it's mainly block colours. And there's a distinctly utilitarian, futuristic feel emphasis to many pieces, such as a muted neon, foam orange sleeveless top, attached to a steely grey skirt.
English address: NLG-0506 Sanlitun Village North, 11 Sanlitun Lu, Chaoyang district
Chinese address: 朝阳区三里屯路11号三里屯VILLAGE北区
Now, the 3.3 Shopping Mall is an odd creature. Stuffed to the gills with neon trousers, lycra sheath dresses, frills, diamante, improbably colourful shoes and garish evening dresses - it's a bit like being plunged headfirst into a Lipsy outlet circa 1998.
But, although the local designers appear to believe that Chinese women want to parade round Beijing looking like dancers in a crazed Korean pop video, this place is still worth a visit. After all, you never know when you might need a need a denim waistcoat, floral leggings and a pair of fuchsia heels.
English address: 3.3 Mall, 33 Sanlitun Lu, Chaoyang district
Chinese Address: 朝阳区三里屯北街33号
This is where serious cheap shopping begins and ends for tourists visiting Beijing.
Decide what you need in advance, whether it's a new shirt, bag, set of specs, luggage, and go in with a picture of the item, so you can receive help from stall owners.
If you're looking for sunglasses, don't be afraid to use their in-market optician (Ocean Optical on the fourth floor). The sales assistant speaks English and will make you up a pair of prescription lenses plus frame for a fraction of the price you'd pay at home.
In general, clothing and bad imitations are relatively well made: 'Paul Smith' shirts won't die at their first wash. However, be aware that buying technology might risky. Perhaps better to buy you new watch in a mall, rather than risk it lasting just four days.
You can also have clothes made up at Yashow, but for that you'll need at least four days in the city and the process might not be particularly easy, unless you have some good basic Mandarin.
English Address: 58 Gongti Beilu, Sanlitun
Chinese Address: 三里屯雅秀服装市场
Website: http://www.yashowmarket.com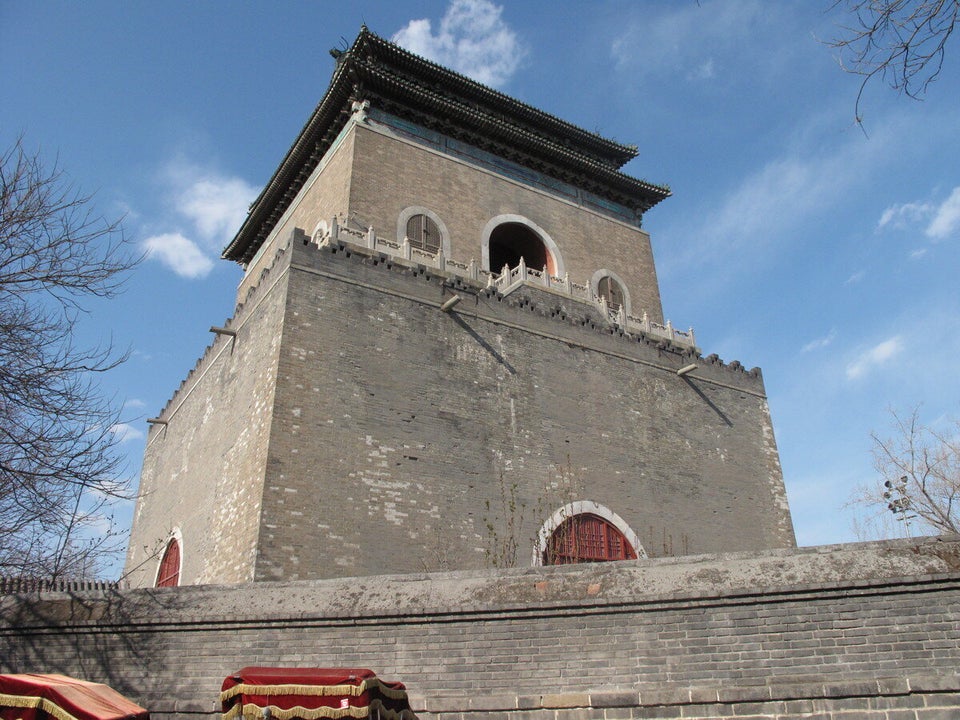 Best Clothes Shopping In Beijing
Best located hotels for shopping..
Fantastically located for the North and South Village, including 3.3 Mall, you can get a real sense of how the children of China's elite are shopping and living while staying here.
From the lobby you can see Miu Miu, Lanvin, Balenciaga, Alexander McQueen and Longchamp shops. And that's just from one angle. And inside, the bar is frequented by the glamourous set of Beijing, who make you feel cool by association.
The Opposite House also boasts an incredibly high level of personal service that is extremely welcome when attempting to make arrangements in the city. Even the bartender is ready to print out a google map, as you sip your apple martini.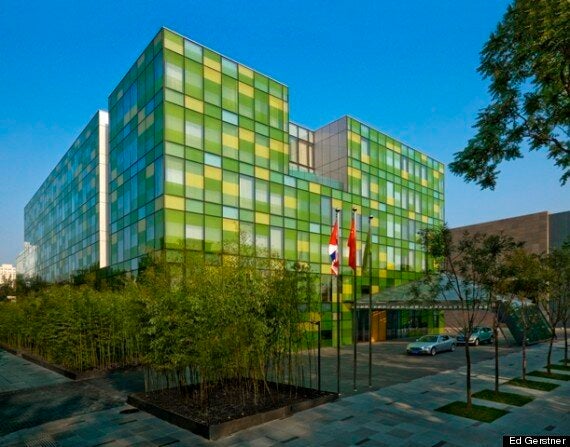 The Opposite House, Beijing
This hotel is ideally located for the more historic areas of the city, including the hutongs and major shopping street Dong Dajie. From the Peninsula, you can easily get a taxi (which is a HUGE deal in Beijing, as these are few and far between) and be at the Forbidden City in 10-15 minutes.
This is also great hotel to relax in at the end of the day and get away from the grime of Beijing pollution. The spa is utterly luxurious, and a fantastic place to de-stress after haggling with market vendors. And the Peninsula bar has fantastic panoramic views of the city -- the perfect place to show off your new purchases over a gin 'n' tonic.