Hygge - pronounced 'hoo-ga' - is a Nordic word that describes 'a feeling of cosiness and content', and 'enjoying the good things in life with good people around you'.
According to studies, it makes you happier, and healthier, and actively encourages you to put down the technology and embrace all things natural, soft, squidgy, cosy, warm and luxurious. The lifestyle trend, that has taken social media by storm, can be applied to all manner of aspects of ones life, from work to home.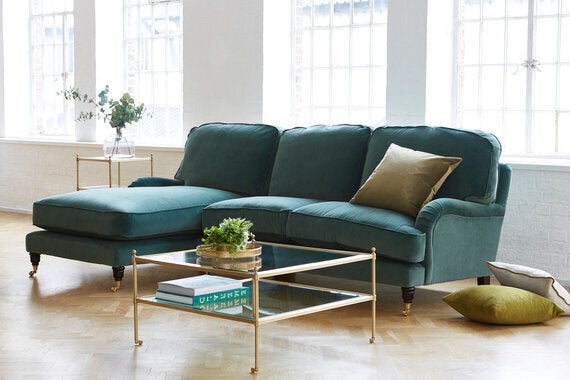 Picture Credit: Darlings Of Chelsea
Top 5 Ways To Adopt The Hygge Trend
Transforming your home into a cosy hub has never been easier, thanks to the hand crafted, luxury sofas from Fulham-based interior specialists, Darlings of Chelsea. Its designer collection of sofas and armchairs are ideal for giving your living room a high-end makeover, helping you to create a retreat that is cosy and warm and creates an ideal space for relaxation.
Reconnect With Friends & Family
So often, life's little stresses get on top of us, and we leave little time to take some time and interact with friends and family. With the Hygge trend, we are encouraged to take some time and book in a coffee or a chat with friends, or family. Bonus points if you have a giggle while you're catching up- laughter relaxes the body and boosts the immune system!
Stay Away From Technology
Put the ipad/iphone/iwhatever down for a day and see if you can survive! No texting, no Facebook and no internet. You can still use your phone to call people (after all, see above!) but you mustn't use modern day technology for recreational use. Instead, why not pick up a good book. Waterstones has compiled a list of the top books for Christmas 2016. Or you could cook some hearty food, paint a picture, or take a long walk outside. Without the noise of technology, you'll be able to concentrate on one thing at a time, and clear your mind of any clutter.
All Good Things In Moderation
Fancy that bar of chocolate? Have it then! The Scandinavians firmly believe in 'lordagsgodis' - Saturday Sweets - and allow children to have a small bag of pick-and-mix once a week. I love the sweets from A Quarter Of- they sell retro sweets that remind me of my childhood! Of It's ingrained in Scandinavians from childhood that you treat yourself on Saturdays, and then for the rest of the week, excess is off the table. That way, not only are you compromising your diet by binging on things you've banned yourself from having, you get to look forward to something at the end of the week!
Regular breaks are great for combatting stress. Just like the Spanish have Siestas, the Finnish have 'Fika', which is a daily break to sit down and have a tea, coffee or hot chocolate. It allows you that much needed breathing space from your work or chores for the day, and is a great way to actually refocus on your tasks when you return.