I'm an accessory girl through and through. Shoes, jewellery and bags. Oh the bags. I think of bags as a real investment, after all, they carry around some of your most precious of possessions. This season there are so many gorgeous bags to choose from I don't know whether I'm in bag-hell or bag-heaven! My most coveted bag of this season, however, is the satchel.
I have two at the moment. A well-worn tan satchel that, I must admit, is looking a bit worse for wear. Originally from a vintage shop, it started its life with me a little beaten anyway. Four years later, however, it's lining has completely come out and the clasp is totally broken. It now sits with my other bags looking quite sorry for itself. My other satchel is a Primark special. The yellow and red one that was featured in every glossy magazine, hailed as the bargain of the season. It's now completely wrecked, but then, that's a given really, isn't it?
So, my decision is this: an investment piece needs, well, an investment. I need a satchel that can give me everything I want in a bag. I want something beautiful yet practical. Something I can carry around my Macbook, notebooks, makeup and all the other essentials I take with me on a daily basis and not fall apart on me while I'm on the tube, leaving me scrambling around desperately trying to not lose anything amongst the commuters.
I think I've found it. Ladies and Gentlemen, I introduce you to this gorgeous tan satchel by Uberbag.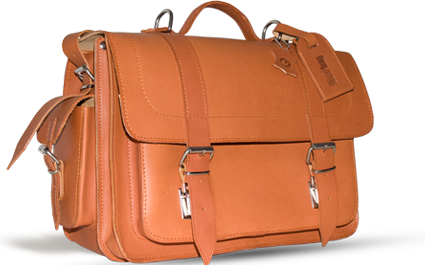 Made with the most sumptuous of vegetable-tanned leathers it ticks all my boxes and is the perfect colour of the season. Uberbag also do amazing leather messenger bags for men and women. They're well worth their price and craftsmanship is exquisite.
To find out more about Uberbag and to browse their gorgeous range, visit their website They're launching their own blog very soon, so keep your eyes peeled. In the meantime, visit them on Facebook or follow them on Twitter