What a week it's been in showbiz - The EE Baftas, Grammys, Elle Style Awards and now London Fashion Week.
I've sat down with the man who styled the main mane of the Baftas, non-other than the iconic star of Sex and the City Sarah Jessica Parker - who sent bloggers into meltdown with her fashion forward Bafta do.
It takes a brave man to challenge SJP. Step forward the British hair whisperer who dared to, and succeeded.
Charles Worthington, the official Bafta stylist to the stars, also created that sci-fi quiff on Alice Eve, you know, the Star Wars babe, who I hear was grinding with Bradley Cooper. Charles also spruced up Call the Midwife star Jessica Raine and Emilia Fox for the event.
So, how does one coax a jet lagged SJP into ditching her trademark bed of bouncing curls to go (gasp) poker straight on the biggest red carpet night of the year so far?
"I wanted SJP to look a bit London. But she's so used to waves and fuller hair, she knows how she looks good and she's very clear about that. So I sat down with her and said we should go for something smoother and sleeker.
"Initially she said she didn't want that and said she needed her volume. But the secret was as I was straightening it, she was like, 'Ooh, I'm loving this.'
"It evolved from there and she said 'Let's go really smooth and sleek.' It really worked. And when she tried the jumpsuit on, it just looked fantastic."
So what's the low-down on another Sex and the City?
"We certainly got talking about the show. SJP is absolutely lovely. I'd love to do the hair for the next SATC. Do you know they filmed the very last episode of the series in my New York salon?"
The second act of Sunday's star studded celebration of film saw A-listers Ben Affleck and Paloma Faith, both looking hot in Dolce and Gabanna, heading to Grosvenor House in London for the exclusive Disaronno Official After-Party.
They really know how to throw a bash as I joined guests including winners Daniel Day-Lewis, Anne Hathaway, and Quentin Tarantino, who were treated to Disaronno Bafta Originale, Sour, and The Godfather cocktails, before some good old fashioned embarrassing uncle dancing at the party.
Inside, Quentin was seen scarpering from a bunch of overzealous fans - who kept trying to grab his Bafta and persistently called him Harvey Weinstein, mistaking the D'Jango Unchained director for the Miramax mogul.
British Airways, official airline for the night, flew over a bunch of stars in luxury who had to fly back early the next day after being pampered for the awards by sponsors Escada, Lancome, Asprey, 88 Rue du Rhone watches and Hackett.
But Silver Linings Playbook star Chris Tucker was keeping it real. He joked: "Another Rush Hour? Sure, only if my boy Bradley Cooper's in it." Ladies, form an orderly queue.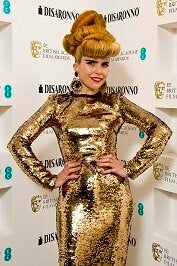 *Copyright House PR-Disaronno. Paloma Faith.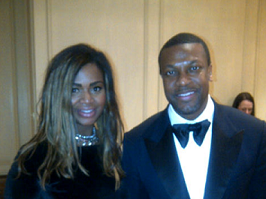 *Copyright Sarah Tetteh. Sarah Tetteh and Chris Tucker.
*Copyright House PR-Disaronno. Jessica Raine and Emilia Fox.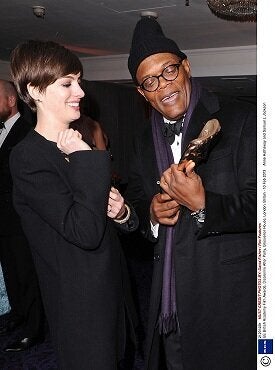 *Copyright House PR-Disaronno. Samuel L Jackson and Anne Hathaway.