It's been 15 years since I stepped foot in Ghana.
Caught up in the glitz and glam of the first world, the likes of Miami and LA were way more appealing to a seasoned club hopper and showbiz girl.
This time I returned as a mother, and it was honestly one of the most humbling experiences of my life.
My mission was to raise awareness of the extraordinary story of the street kids of Accra, how they are surviving and I am determined some of them will become the future stars of tomorrow.
Inspired by a video my dad showed me of a visit to the Universal Wonderful Street Academy last year, their talent was out of this world as they put on a showcase for him.
So I boarded the plane to see firsthand the plight of these kids - and boy was I inspired.
As I approached the tin roofed shack where these children aged six- 17 go to school - taught a basic curriculum to gear them up for secondary - there is an air of happiness that overrides their reality of extreme poverty.
Overjoyed their foreign visitors have arrived, the kids emerge from their run down classrooms in customary grass skirts to perform a show for us of traditional dancing and drumming that would, no joke, put Artic Monkey Matt Helders out of business it was that good.
As I saddled up next to Seymour the lead drummer, he put me through my paces as he taught me to drum the Pan Logo- like an old school version of Azonto dance that has taken the world by storm and that the Premiership footballers love so much.
Behind Seymour's beaming smile and impeccable manners that all the kids have, is a heart-renching story.
Mr Wonder, the founder of the charity - a musician and former street kid himself - told me: "Seymour's mother died when he was young, so he has just his dad. I found many of the kids wondering the street at 2am or 3am in the morning looking for food, all sleeping at the train station, hundreds of them.
"They often turn to crime, offering to help carry someone's bags then take some of their shopping. So I met their parents and some of them didn't know how old their children were and said I should calculate their ages for them. They come from hard lives, I did too. I'm so proud to see them here and doing well. When many of them come here they cannot read or write but they have progressed so much. I trained Seymour to drum myself and now he is better than me. He's world class. The kids need more help so we can get books, computers and food for them so please let's all pull together. I make sure here they get at least one decent meal a day and it is free. At home they do not even know if they will have food to eat."
With a curriculum that includes cleaning at 7.30am, followed 30 mins silence at 8am, drumming lessons and boxing too, I could see it was going to be a colourful visit. As well as English and Maths they also had Information Technology on the curriculum - but it dawned on me they did not have any computers to teach them. A poignant reminder of the help that is still needed.
It's been a magnificent and eye-opening day, but just as we leave a rock is thrown by a street kid and gashes a girl just above the eye - blood streaming down her face and a look of sorrow in her beautiful eyes. Just moments earlier this same girl had been the lead dancer doing a routine that would put Beyonce to shame in a smashing cultural dance. As I comfort her, I can see the help we have given will only make a small dent in improving their conditions and that there is still massive work to be done: welcome to the ghetto.
To see how you can get involved and help the kids go to: info@universalwonderfulstreetacademy.org
Osu Children's Home was our next stop - a centre which launched in the sixties which my grand-aunt used to work at as a children's nurse.
There, inside its paint cracked walls housed 160 kids who had been subject to abuse or orphaned without a hope in the world. This really hit home for me living in the first world where help is more readily available, where there is an NHS. There, if you can't afford medicine, you die, basically. A staff member said: "The problem of child abuse is still going on. The children come to us from the police, hospitals and social services."
The silver lining is that this sanctuary provides a safe haven of love, safety and education for these kids. They have a house for the two to six year old tots with a playground, where goats and sheep roam the vast land.
But they still need things like nappies, medication, computers on a wish list they rely on the kind generosity of strangers to help fulfil.
I'm not the first person whose headed to Africa to see firsthand what is going on. During my stay I learn Spice Girl Mel C's here to raise awareness of water aid, and BA chief executive Keith Williams also rolled up his sleeves to get involved visiting their charities including the Gliffe Community Outreach programme and Ussher Polyclinic Maternity Home in Ghana - one very close to my heart as so many women still die during childbirth.
So if you want to get involved, whether it be a donation or if you want to volunteer, the gap year opportunities will change your life forever. If anything you'll pick up a few choice dance moves to show off at the next family wedding!
*Sarah flew to Ghana with British Airways. Flying Start is their global charity partnership with Comic Relief, which helps children living incredibly tough lives in the UK and around the world. For donations visit ba.com/flyingstart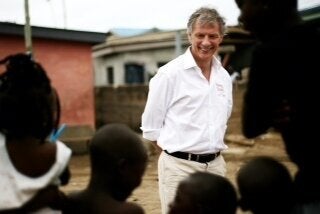 Kids go crazy for BA's Keith Williams at Gliffe Community Outreach programme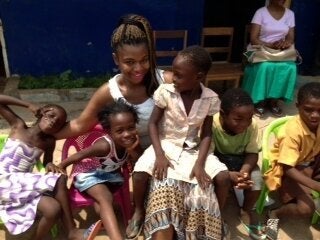 Showtime - kids shine during cultural dance show at
Universal Wonderful Street Academy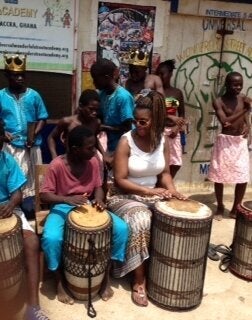 Seymour teaches Sarah to drum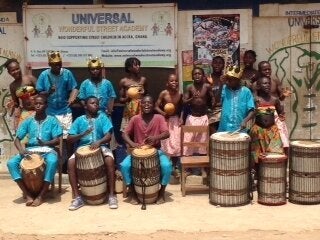 Sarah steps aside for the pros...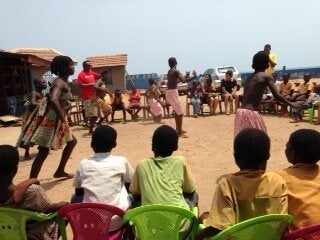 Watch out Beyonce- these kids can move!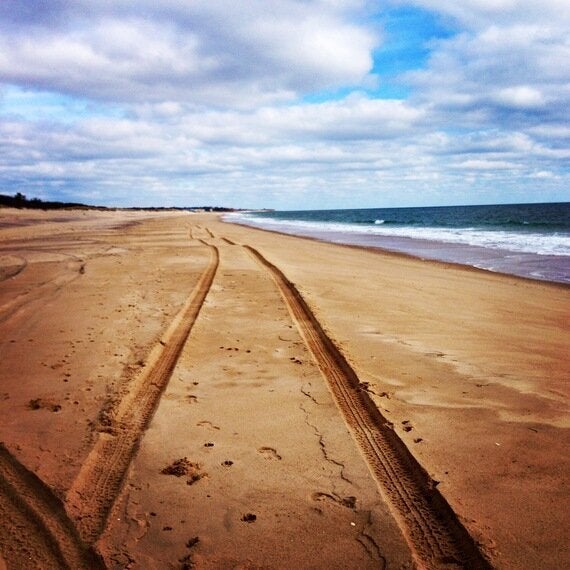 Couldn't resist Ghana's hidden treasure Bojo Beach