As a child I was told I could never have pets... My dad, from Ghana, said he'd eat them.
Fair play. Still don't know if he was joking or not.
So now I'm faced with the dilemma of whether or not to join the 13million households in the UK with a pet, after my tot has fallen in love with his Grandmother's cat.
So I thought I'd try before I buy, and my little man got to take home the nursery pet for the weekend.
Albeit of the fluffy, cuddly toy variety it was still a test of how quickly he'd get bored of the thing.
And low and behold, within 15 minutes poor Snutchy was tossed aside in favour of his favourite Netflix pet shows Clifford's Puppy Days, Disney's Up, and good old fashioned Garfield and Friends.
We made a meal of it too making lunchtimes more fun by making a 'rabbit sandwich' and 'dog sandwich' just by cutting the bread into the shapes of their favourite animals.
Give it a go this half-term.
If you, like me are increasingly worried about the amount of time your child likes to spend on technology, then you might find some relief in a study I have found at the launch of the new Maynards Discovery Patch app.
I was invited to London Zoo to meet child psychologist Dr Amanda Gummer, who reassured me that being flexible with your child's schedule and play time is not such a bad thing afterall.
It's all about encouraging their imagination, and while traditional forms of play like arts and crafts - not to mention the retro new Little Miss Hug book from the Mr Men collection, remain the primary choice for 65 percent of parents, 60 percent of parents admit that when used in the correct way, technology has become increasingly important for both play and education.
With exciting shapes, fun facts, and my favourite Augmented reality, this app is a fun way to spark the imagination so you can get some quality time interacting with your child too.
Dragging the little ones away from the IPad and TV with all these fab new apps about can be a struggle.
We recently tackled the jungle that was our garden and guess what, it's not half bad for a bit of fresh air for kids and adults alike.
I used to (and still do) love the swings at the park, but what's caught my eye
is the Eco- friendly Little Tikes woodland play range from Toys r us.
It's got that natural look and maintains responsibility for the environment - so cute to look at too, check out the Warsaw Slide and Woodside Cottage Playhouse plus sand box.
With all that going on, there's no excuse for just staying inside.
Keeping fit shouldn't be a chore either - and stretching a child's imagination can often be a hurdle in itself if they want to diversify from just playing chase.
Step forward the Britain's Got Talent Diversity lads who have teamed up with Cadbury Dairy Milk Marvellous Mix-Ups, to teach children of Britain their unique dance illusions.
And some creepy ones too - like a body that doesn't belong to your head, and a two metre long arm.
If that doesn't keep the kids entertained this half term I don't know what will.
Summer festival fashion/Girl's Night Out.
The sun's out - and it's time to shake off those winter blues and put some summer blush to our lives.
With the Virgin Media V Festival and Yahoo Wireless festivals upon us, I'm inspired by some of the most fun and fabulous looks that have come from the 80s/90s, so I chose Clueless:The Remake for my make-over.
Channeling Dee, my Brandy braids fixed into place, I turned to Fashion Fair International and Vogue make-up artist Delita Pintos, to work some magic.
To achieve the look I had some serious Kim Kardashian style contouring with earth illuminating powder, naughty eye shadow collection - Amerthyst, and my pout was perfected with storm lip liner and this season's Divine pink lipstick.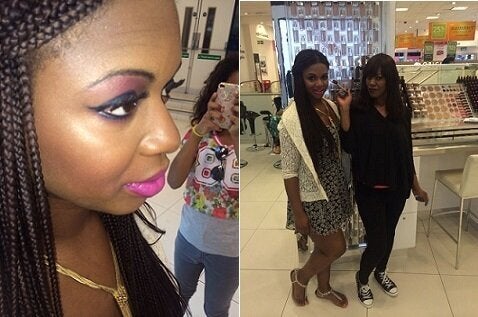 I replicated the style for the exciting launch of Geordie Tours with stars of the MTV show and Towie's Lauren Goodger, and also for the elegant Pandora's #MyRingsMyStyle launch party.
My look was completed with a forever unique frock from amazon's launch of it's fab new fashion collection, for an ultimate girl's night in sushi heaven at Kim and Kourtney Kardashian's fave London hang-out Aqua Kyoto. Delish!

The weekend was topped off celebrating Arsenal's big win at the Jurys Inn, Islington - which was just on the doorstep of the big victory parade.
The sun was out, and the staff were friendly and fantastic - on hand to offer champagne and ice-buckets, at our beck n call for the big night out, giving directions, fun facts, and just all round fabulousness in creating that party vibe.
In the words of Dee, 'Cher, I'm outtie.'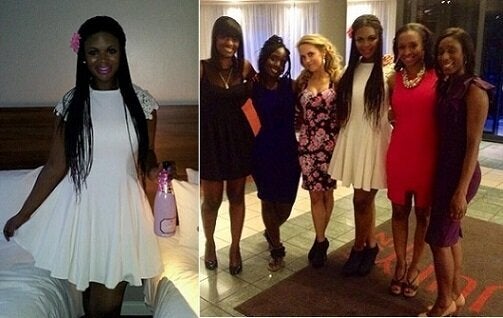 Jurys Inn celebrations Copyright Sarah Tetteh
Popular in the Community