Clinging on for dear life to the side of the carnival catamaran in the middle of the Caribbean ocean, my rollercoaster that was the St Lucia Jazz and Arts Festival was off to a rip-roaring start.
With my snorkel and my life jacket fastened, I, who you'd have to drag kicking and screaming into your average swimming pool (it's the weave you see), was about to plunge into the bobbing blue waves.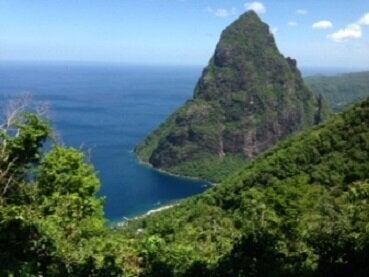 With Bob Marley blaring from the speakers, and also having regularly seen shots of celebs like Kate Moss diving off yachts into the open sea, it didn't look that tricky. You'd think.
Even with a couple of rum punches in me, I'm ashamed to say the furthest I got was clinging onto the steps as the fellow festival goers swam around me like a pool of fish, congratulating me for at least dipping my feet in.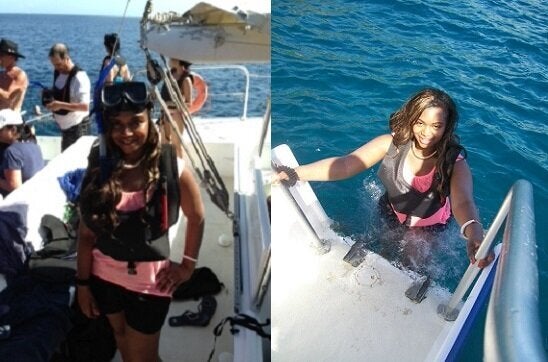 Back on board the party boat was one fantastic and unrivalled experience lounging on board as the captain took us on an oceanic tour taking in the famous Piton mountains. It made me wonder why the Caribbean and Africa are so often portrayed as 'just third world'?
On the contrary the 'Island time', the can-do attitude, the incredibly kind local people and hotel staff, the mad talent at the Jazz Festival, the exquisite creole food with plantain and saltfish for breakfast at Smuggler's Cove hotel and the swim-up bar, just added to the allure.
Taking part in the soca dance class at Smuggler's Cove seemed like a good idea at first, until the more rhythmic seven-year-old next to me bogled me out of business. Fun times!
And then there was the Jazz Fest.
Stereotypes were thrown out of the window as steel drums were swapped for violins as the local people displayed their jaw-dropping talent.
It was a good job it was a 'jazz festival' in the loose sense with headline acts including music legends The Jacksons, The O'Jays (who were the highlight of the weekend with their hits For the Love of Money and Love Train), R Kelly, who incidentally saw nothing wrong with a bit of Bump and Grind, as he ordered 'women only' to the front of the stage before he performed... and then there was Akon.
Bless Akon, his several attempts to crowd surf were rather too well received by his fans who almost pulled him under. But he got everyone up and dancing to hits Smack That, Great Escape, and massive David Guetta track Sexy Chick. He was a crowd pleaser (when he sang live), and told me before his set he was off to Hollywood to produce movies. Of the Konvict variety...who knows?
Watching The Jacksons from the side of the stage is not something you do everyday.
I was transported back to the good old days of Motown as the grand-daddies of pop put on quite a show, with sharp and stunning routines that would leave their young rivals quaking in their boots.
Tito explained to me earlier: "It's years and years on stage that makes us who we are, the fact that we are brothers and we just like to have a party makes it easier."
Tito, Marlon, Jermaine and Jackie were having themselves a ball on stage recreating classic routines for Can You Feel It, Blame it on the Boogie and their special ABC medley. There wasn't a dry eye in the house during their touching Michael tribute, but before we got too soppy, it was time for more rum punch and the Don't Stop Till You Get Enough ten minute finale that had Marlon sliding across the dancefloor and sending fans all a quiver with every turn.
Michael's court case, his mother Katherine, 82, is suing AEG for billions accusing them of contributing to his premature death, aged 50, couldn't have been further from their minds.
In fact they are still mourning their brother and Jermaine told me performing brings them closer to him.
Holding back tears, he said: "We feel him on stage. I keep expecting Michael to jump up and slide across the stage. He was always to my right followed by Jackie, Marlon and Tito. It's healing for us because we are still mourning his passing, and are overwhelmed by the reception from our fans."


St Lucia Jazz and Arts Festival with Akon, Ginuwine and The Jacksons.
After a weekend of partying, it was a good job we could retire back to the luxury family friendly Smuggler's Cove hotel, with its private beach, all you can eat barbecues daily, afternoon teas, not to mention several on site restaurants serving Creole and Italian cuisine too, it was little wonder we were lingering when it came to checking out.
But popping to Sugar Beach resort was a touch - no wonder Matt Damon booked it out to renew his wedding vows- this resort was luxury on legs, with bedrooms boasting their own infinity pools. The six course all inclusive menu which included gigantic creole shrimps and succulent mahi mahi catch of the day wasn't too shabby either.
Windjammer Landings, with its more relaxed feel, is the place to go for a true taste of the Caribbean with the best chicken roti on the island.
Coconut Bay had junior suites to die for, newly refurbished and all ocean view.
Stunning caribbean fusion meals were all inclusive- but more like the standard of plush Asia de Cuba, than your £10 a head buffets.
Smuggler's Cove as well as Coconut Bay had my favourite kid's facilities.
Super friendly staff will even take care of your children in the creche for free throughout most of the day with exciting activities such as making tie-die shirts while you have some well deserved couple time or book a massage in the spa.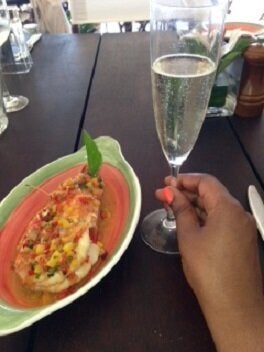 Now if this local cuisine doesn't entice you to visit next year, I'm sure the local beauties will!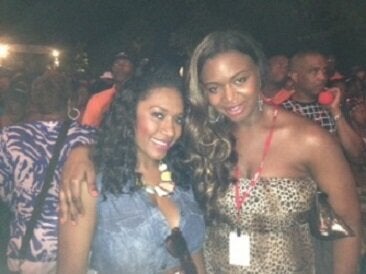 Tourist Board information
Saint Lucia's unique landscape - a mix of idyllic beaches, miles of unspoiled rainforest and the majestic Piton Mountains - a UNESCO World Heritage site. Offering a variety of award-winning hotels, B&B's and spa resorts, restaurants and adventure tours, there's something for everyone.
For more information on the island, log on to www.stlucia.org.
Saint Lucia is easily accessed from the UK with weekly non-stop flights from London Gatwick to Saint Lucia Hewanorra Airport operated by British Airways. www.ba.com
Smugglers Cove Resort and Spa - http://www.smugglersresort.com/
Coconut Bay Beach Resort and Spa - www.cbayresort.com
Saint Lucia Jazz and Arts Festival - http://www.stluciajazz.org
Carnival Catamaran - http://www.carnival.com/Activities/Excursion/432043
Delirius, Rodney Bay - http://www.deliriusstlucia.com/
Sulpher Springs - http://soufrierefoundation.org/discover/attractions/sulphur_springs_park/
Tet Paul - nature trail from Paradise Excursions - www.stluciasguidedtours.com
Zip Line Adventure in Babbaneau - http://adventuretourstlucia.com/
Segway tour - www.lucianstyle.com
Related