About a month ago I returned from the most extraordinary trip to Kenya. I had the honor to bring a small group of young widows from America to visit widows in the slum of Kibera. It was a journey of courage and of new beginnings. Most of these women from America had not met each other prior to the journey, let alone the women we would be spending time with in Kenya. They had put their trust in me and in the organizations, such as Tirzah International, which we were joining with.
The flight to Kenya went smoothly and we got to know a bit about one another along the way. Our commonality of being widowed young instantly connected us, as did our desire to experience purpose.
We landed on Kenyan soil relatively easily and were greeted by one of the women from the organization that we had partnered with. She had such warmth about her and I smiled thinking of how smoothly this trip would play out. The following day we were introduced to Judy Mbugua, a woman with a large smile and an even larger presence. Judy founded the Ladies Home Care Fellowship, as well as, the retreat center that we were staying in. She shared with us her story and we connected over large plates of grilled meat at the famous Nairobi restaurant called Carnival.
The following morning the widowed women that are served by Home Care and Tirzah were brought to the retreat center to join us. We were divided into small groups that included a translator so that we could share our stories easily. I was given my group of five women and we found a table in the garden. The women were quiet at first, which was partly because of language difference. I fiddled with my hands as I went first in sharing my story of becoming a widow. It was met with silence and blank stares. I wondered how effectively it was translated. Then, one by one, the women went around and shared their own stories. I went into this experience knowing that our lives were very different, but I had thought we would connect over being widows. I was incredibly misguided on this. I had lost a best friend, lover, and someone I ultimately looked up to. I mourned the loss of who my husband was as a person and the companionship he provided. They talked about the financial devastation of losing a spouse and the vulnerability that resulted because of his death. It would be rare for them to remarry as no one wanted a widow. Their own in-laws and family took property and left them alone. Often their spouses had left them HIV positive as well. Not one of the women mentioned the grief that they felt in missing a friend or lover. Instead, they shared about the grief that they felt in feeling isolated by the community and losing hope in the future. We were miles apart in geography and in experience. My heart sank.
For the first time, I began to wonder if perhaps this trip was a waste since our primary grief clearly didn't connect us. This was my seventh trip to Africa visiting Non-Profit organizations. How could I have been so naïve? All the details for the trip were planned and organized. It was supposed to run smoothly.
The next morning we traveled to the slum of Kibera to meet again with the 21 widowed women. They welcomed us to the retreat center with hugs and smiles. We spent time having lunch and singing songs. They explained how Homecare and Tirzah had helped them to earn money and gain confidence. They shared their work with us and we purchased some of their beautifully crafted items such as sweaters and jewelry. It was an inspiring to see the pride in their creations and to see that they were beginning to provide for their family.
We were led on a tour of Kibera and visited some of the women's homes. It is always incredibly difficult for me to put this experience into words. How can one describe the sights and smells of the largest urban slum in Africa? The residents live in extreme poverty without access to clean water and electricity. It is dire and the situation challenges all the more when you began to put faces to it. The faces of our friends. I hurt for them and not just because of the extreme poverty that they live in, but also because of the loneliness that they experience.
That same day we had come up with the idea to take a Polaroid of each woman with her team. We pasted it on a piece of colorful construction paper and had the entire group write personalized words of encouragement. That afternoon we presented it to the women and read out loud the words that were written. Such a simple activity turned out to be a huge blessing. It began to make sense as I though of the pure isolation and rejection that they have felt. They need people to build them up. We all do. We all want to feel worthy. Certainly living in the slum and being isolated as a widow makes it difficult to feel such.
The women told us how grateful they were that we flew all those miles to be with them. They felt loved and validated by that. One of the women from my group put her arms around me and didn't let go. She stroked my hair and told me she loved me. My eyes were opened to the connection that had taken place that I did not originally see or feel. I had a picture in my mind of what our trip and our connection was to look like and true to most travel experiences, it didn't play out that way. I looked for it in one way and yet it happened in another. Perhaps we didn't connect as widows, but we did connect as friends. Women who support one another. Friends. Allies.
So often we have such grandiose pans and need to have projects that yield visible results. The problem is that sometimes you do not see the results. I was reminded of this. Showing up is what counts. I don't think you can ever truly regret showing up and trying. When you reach out to touch someone, they inevitably end up touching you.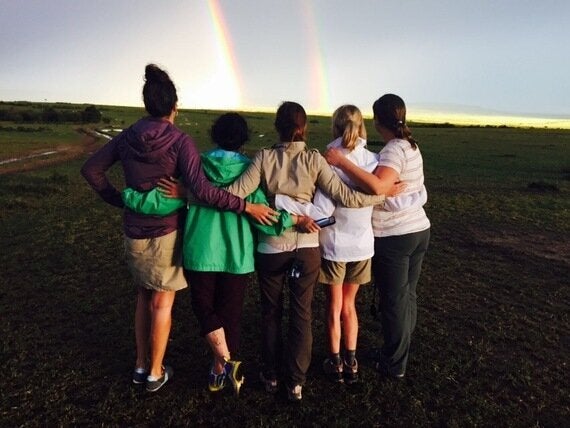 Women from our group looking out at a double rainbow during our safari at the end of the journey
Related