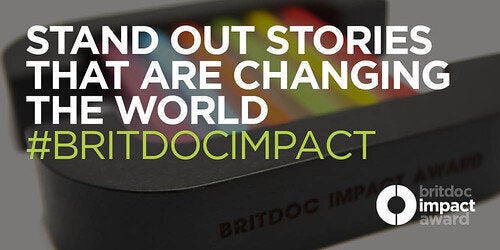 I remember my first time like it was yesterday.
I was 21 years old, and it was an incredibly emotional experience. Over the course of an hour, I had laughed, cried, and, believe it or not, my life flashed before my eyes. It was my first time watching a documentary that jumped out and moved me to the core - and compelled me to want to do something.
The film? The New Americans, Kartemquin's epic documentary series that follows several immigrant families as they leave their home countries and settle into their lives in the United States. As the child of immigrants--and as a student who had written my undergraduate thesis about Iranian-American identity--I thought I already knew all there was to know about "the immigrant experience." But The New Americans tapped into a deeply human part of that story, capturing universal feelings of hope and opportunity, while uncovering the pain and anguish of leaving everything you know. As I was immersed into the lives of immigrant families from Nigeria, Palestine, and Mexico, my eyes were simultaneously opened to the massive infrastructural challenges that affect immigrants' ability to live a good life, secure a job, attain the education they need, and access quality health services. And I wished I could do something to make it better.
In the 11 years since I watched The New Americans, the field of social issue documentary has grown exponentially, as more and more storytellers and changemakers embrace the power of film to engage, inspire, and motivate audiences in ways that no other medium can. The New Americans had a national broadcast on public television, reaching millions of people around the country, and triggering countless eye-opening moments like mine. The film also had a campaign designed around it, led by Active Voice and other community engagement strategists, with the intention of harnessing the emotional power of the film to advance real changes that could improve the experiences of immigrants everywhere.
But how? Well, first off, we started by partnering with organizations that were already doing that work. Groups like the PTA, the National Immigration Forum, and the Lutheran Immigrant and Refugee Service. And we worked with them to use the film to conduct trainings for teachers working with immigrant students, to sensitize social service providers in areas with large immigrant populations, and to foster dialogue between immigrants and long-term residents in communities that were rapidly changing. These organizations were critical in ensuring the film could actually be a catalyst for change.
In fact, over the course of the 2-year campaign, we saw local municipalities institute special programs for immigrant integration, urban organizations that reached out to rural communities for the first time, and heightened volunteerism from native-born Americans who wanted to help.
There is no doubt the emotional, powerful, and fly-on-the-wall storytelling approach of The New Americans served as a catalyst for these outcomes. But if it hadn't been for those groups on the ground, the advocates, policymakers, and service providers who tirelessly work on these issues every day, none of it would have been possible.
As I reflect on the many films that have made a difference on our society--including BRITDOC Impact Award contenders like Budrus, The Invisible War, and Trouble the Water--my mind drifts toward those organizations on the ground that incorporated those films into their work to propel forward a vision for change. It's an important reminder that even the best, most powerful films rarely, if ever, make change on their own. These impacts are true manifestations of strategic collaborations with organizations that are already striving to address a need, change a policy, or build a movement. These are unsung heroes that provide real meaning and opportunity for action when someone like me has that unforgettable experience of watching a film, being moved, and wanting to do something.
This is part of a series of blog posts ahead of the November 20th announcement of the winners of the BRITDOC Impact Award, which celebrates annually the documentary films that have made the greatest positive impact on society. www.britdocimpactaward.org
Shaady Salehi is Executive Director at Active Voice, a nonprofit leader in the use of film, television, and digital media to put a human face on public policy. http://activevoice.net/
Popular in the Community