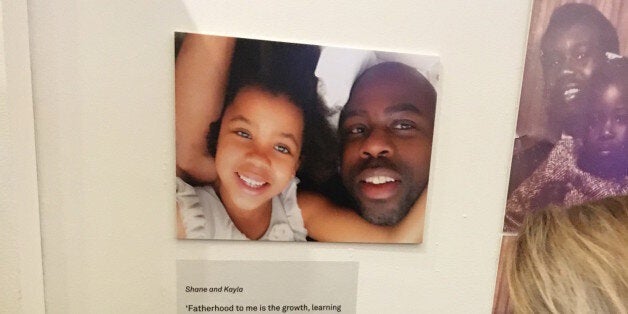 Fatherhood, a role that is life-defining, brings massive rewards and can inspire us in troubled times.
But fatherhood also poses huge challenges to those trying to do it well. And I would argue that there's a lot more we could be doing to help them and, I would like to use this platform to begin a wider debate.
Obviously, there are lots of fierce debates about the very concept of fatherhood. But let's not forget what a big factor it is in our world. The global campaigning group MenCare conducted research in 2015, which showed that a staggering 80% of all men will become biological fathers at some point in their lives. Each of them could have the chance to make a big and positive contribution to their child's development.
And as more studies are done around fatherhood, the clearer it becomes how important dads are to that child's development. Father-child relationships, positive, negative or absent, have wide-ranging effects on children going on into adulthood, with father involvement having a big impact on children's physical, emotional, social, cognitive and academic development. Low father contact is correlated with many negative outcomes for children. Last year, the Parliamentary Inquiry into Parenting and Social Mobility concluded that "fathers are an important resource in early year's child development, which is conducive to bringing about social mobility." And children themselves tell us how important Dad is to them.
A lot can go wrong for children who see little or nothing of their dad, with those from disadvantaged backgrounds the most vulnerable. A report by the Prison Reform Trust last year found that 76% of all men in prison in England had an absent father.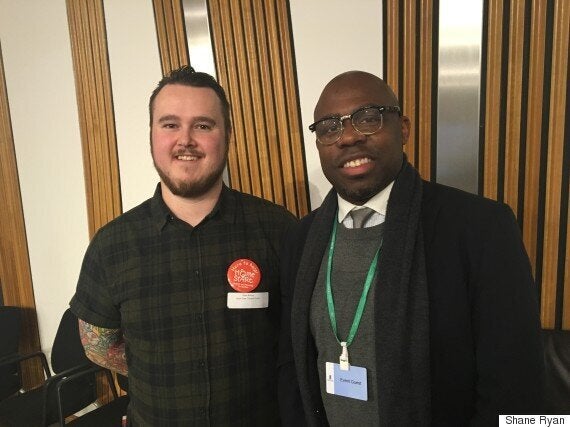 Shane with Ryan at Scottish Parliament
And what about the problems facing some of our most marginalised young men when they become fathers? The figures may surprise you. As many as 12% of offenders aged 15-17 have children. Furthermore, nearly half of those aged 22 and under, are (or are about to become) fathers.
Imagine that you are one of those young men, perhaps a 15-year-old excluded from school. You are in the care of a local authority and, you find out that you are going to be a dad. After more than ten years working in the field, my organisation, Working With Men, has first-hand experience of many such young men. You might say that this young person has already been failed to some degree by the services and the influences around him. But that is nothing compared to what he will face if he tries to remain engaged with his child, or be a support to Mum.
It is logical that developing pathways of support for this young man and thousands like him could change the life chances for both father and child. In turn, that would bring cost benefits to service providers like local authorities, as well as creating a positive social value in breaking the negative cycles we have seen for so many years.
There's also a social gap in the way we provide information for expectant dads, especially those most in need of it. A report released earlier this year by the Centre for Social Justice suggests that attendance at parenting and antenatal classes is increasingly a middle-class preserve. Only a third of low-income fathers attend antenatal and parenting classes, compared to nearly three-quarters of middle earners. While more than half of low-income Dads say they did not receive information or guidance before becoming a father, the figure for those with higher incomes was less than a third.
And the workplace still poses problems for people who are trying to be a good father. A report released this year by the Fatherhood Institute think-tank showed that fathers in the UK spend less time with their children than in other developed countries. Some journalists unhelpfully labelled us "the worst fathers in the world". This it obviously not the case, but the publicity around the report did echo the fact that our systems around child care and equality are far from robust and that employers are far less likely to be sympathetic to fathers wanting to take paternity leave or share a larger role at home. Worryingly, last year's Modern Families Index told us that "younger fathers are more involved with their children, and want to be even more involved but are finding workplace culture is out of sync with this''.
So it seems that even with all of the mounting evidence that positively involved fathers change the lives of children, mothers and themselves, development for fathers is still seen as an "add-on" or as a "non-essential" service.
On the positive side, there have been small steps over recent years towards promoting good fatherhood. I am one of a team of professionals formulating a Fathers Development Foundation. Its focus will be to highlight cutting edge work with fathers and do research into improving life chances nationally. I mentioned that times are changing and last week I was invited to Scottish Parliament as it is the year of the dad there. I heard more about the steps they are beginning to take in the direction of father inclusive support with organisations such as Homestart and its workers like Ryan Warren leading the charge. On arriving back in London I attended the launch of a great exhibition on black fatherhood at the Being A Man Festival at London's Southbank. The exhibition is the brainchild of Shasti Lowton. Shasti is trying to create a space for black fathers to express their truths in relation to fatherhood and the exhibition was warm and uplifting. So what else needs to happen to get fathers more involved?
Facebook is allowing equal time off for all parents, and Virgin is offering a full year off to parents, regardless of gender, including adoptive parents. Some companies are realising that they could lose many of their best employees in the long run if they are not family-friendly or father-inclusive.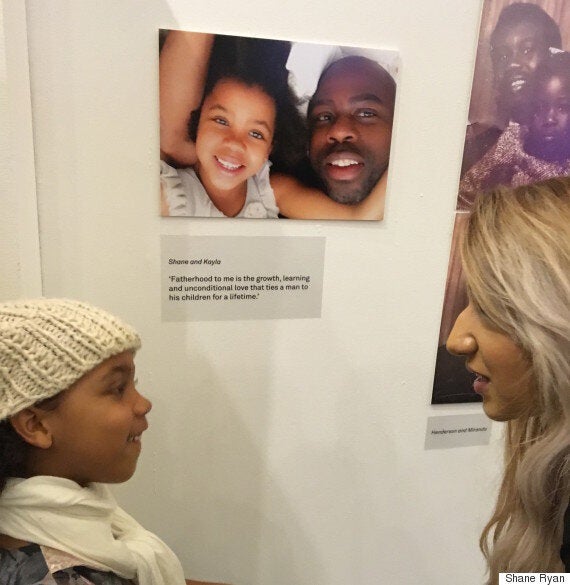 The Fatherhood Project' at BAM Festival, Southbank
Progress is being made, with the right to Additional Paternity Leave and Shared Parental Leave being written into our law. But barriers still exist. A survey commissioned by the Southbank (organisers of the Being a Man festival) found that fewer than 2 in 5 men are aware of, and understand Shared Parenting Leave. Other reports anticipate low uptake of Shared Parental Leave unless there is a shift in attitudes and perceptions of employers. So one of my suggestions of what ministers could do to promote a change in those attitudes is an extension of the Protected Characteristics legislation contained in the Equality Act to paternity discrimination at work and outside the workplace in such places as higher education. It would send a signal that the Government really wants to promote the importance of the role of the dad.
As times change, fathers are also beginning to express their emotional worries around parenting. Quite rightly, services have finally recognised the need to support mothers with post-natal depression. But there are virtually no equivalent services targeting fathers. Last year a survey for the parenting charity NCT found as many as 38% of the fathers questioned during their baby's first year were worried about their own mental health. A recent poll by the men's organisation, Campaign Against Living Miserably, highlighted that 3% of both new mothers and new fathers consider suicide in the first year of parenthood.
Changing attitudes towards fathers involves showing schools, social work, and maternity services the way, using methods they can understand, and establishing a robust "core offer" for fathers that can be inspected by OFSTED and the Care Quality Commission. It means exploring how these fathers can develop their own lives and have a positive impact on the family as a whole. It's cost effective, helping to keep many families out of poverty, and prevents some children from entering the care system, by engaging fathers and the paternal extended family.
So as the Being A Man festival finishes and November draws to a close it's time for a paternal pledge to support the role of the father in the UK.
The parenting shifts we are seeing in childcare arrangements and other areas offer us a big opportunity to shape the future of families. It's our chance to create a sensitive and thoughtful future, which our young people, as the next generation of parents, can buy into.
HuffPost UK is running a month-long focus around men to highlight the pressures they face around identity and to raise awareness of the epidemic of suicide. To address some of the issues at hand, Building Modern Men presents a snapshot of life for men, the difficulty in expressing emotion, the challenges of speaking out, as well as kick starting conversations around male body image, LGBT identity, male friendship and mental health.
To blog for Building Modern Men, email ukblogteam@huffingtonpost.com. If you would like to read our features focused around men, click here
Related