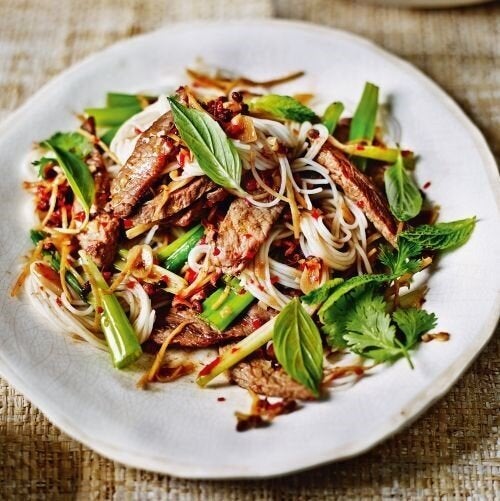 I've been constantly running around with work recently and it's been an exciting year already. I've worked on incredible projects and it just feels like I haven't had much time for anything other than my work.
When it's like this, it's really hard to be creative after work with recipes - even for someone like me who loves writing new recipes and experiments so much with flavour. That's why I love this recipe so much: it's the perfect blend of speed, one pan (or wok!) cooking and more importantly, full of flavour to make you feel like you've accomplished something very delicious in no time at all!
The key flavours to this dish are lemongrass and Sichuan pepper. In Mauritius we call lemongrass 'citronelle' and we use it a lot in desserts, cocktails and in sauces and in Asian cuisine it is integral to any paste - like Thai green and red curry paste for example.
Lemongrass has an earthy subtle lemony taste with a sweetness to it. The entire stalk is edible, but the older it is the drier it gets which means the top of the stalk tends to get discarded by the time it's used. When you find fresh lemongrass, freeze it! It freezes really well and lasts for up to 6 months.
Now to the key spice in this dish - Sichuan pepper. Despite its name it's not linked to the chilli pepper or black pepper family but in fact the citrus family and is one of the main spices in five spice powder used in Chinese cookery.
Sichuan pepper is amazing. It has this incredible ability to numb the tongue, allowing you to add a ferocious amount of chilli to your dish as Sichuan pepper also has a citrusy type flavour which balances with the heat in your mouth so perfectly. It's no wonder why it is often referred to as 'Chinese coriander' as it has a very a very similar taste profile. By the way, if you want to experience this balance of flavour, I'd recommend Silk Road in Camberwell - the guys there know how to balance crazy amounts of chilli with Sichuan pepper. The stir fry cabbage is a must have. It's a hugely unassuming name for one of the best dishes on the menu!
Per serving : Calories 340 kcal. Fat 10g
• 150g dried rice vermicelli noodles
• 4 garlic cloves, finely chopped
• 3cm piece of fresh root ginger, peeled and chopped
• 1 lemon grass stalk, trimmed and finely chopped
• 1 long red chilli, finely chopped
• 500g lean sirloin steak (trimmed of fat), thinly sliced
• 1 tbsp ground Sichuan pepper (can do this with a pestle & mortar)
• 4 spring onions, coarsely chopped
• handful each of freshly chopped or torn basil, coriander and mint leaves
1. Place the noodles in a heatproof bowl, cover with boiling water and leave to soak for around 5 minutes (or according to packet instructions) until tender, then drain and cool.
2. Heat the oil in a wok over a high heat until shimmering in the pan but not smoking. Add the garlic, ginger, lemongrass and chilli and stir-fry for 30 seconds.
3. Add the beef and Sichuan pepper and stir-fry for few minutes, or until the beef is browned all over - you don't want to overcook it.
4. Add the fish sauce, toss in the noodles, spring onions and herbs, then remove from the heat. Turn out onto a big platter, squeeze over the lime juice and serve.