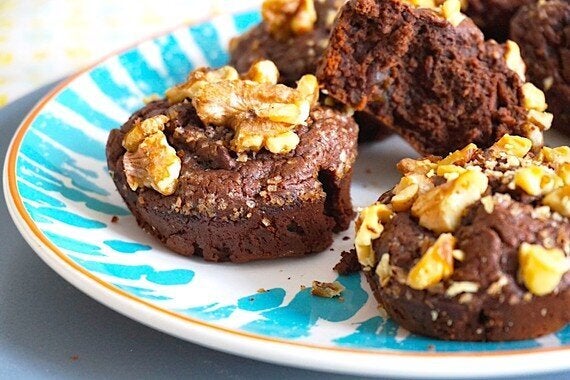 I've been doing a lot of school runs recently helping my sister out and the loveliest thing (apart from obviously spending time with my little rugrat nephews) is giving them a little comic book to read on the journey home & a little treat in the car so Aunty can enjoy a peaceful noise-free drive home!
I think as after school treats go, these are perfect. They're easy to transport, full of nutrients and slow releasing energy and honestly, taste nothing like you think. Plus the kids are TOTALLY fooled. They are dense, chocolatey, fudgy, and sticky, just like any good brownie should be.. But no flour, no nasties, just all the good stuff - packed full of fibre, omega 3 and protein and loads more. Once you master this recipe it'll become a classic go-to treat, so simple and properly delicious. Hope you enjoy.
These will make you 12 brownie cups and a bit extra to lick the bowl.
Gluten & Dairy Free Walnut, Date & Black Bean Brownie Cups
1 x 400g tin pre-cooked black beans, rinsed and drained
3 tbsp coconut oil (can substitute for sunflower if you can't get hold of coconut oil)
3 large free-range organic eggs
1 vanilla pod seeds only (or 1tsp good quality vanilla extract like Neilson Massey)
1/4 tsp baking powder (can use gluten free baking powder if required)
To sprinkle over each brownie cup before baking
You'll need to pre oil a muffin tray ( I use coconut oil since I'm using that in the recipe)
In a food processor blend all the ingredients together except for the walnuts and raw sugar, until you get to a smooth consistency resembling a chocolate cake / brownie batter.
Spoon the mixture evenly into the muffin tray and then sprinkle each brownie cup with sugar and walnuts and bake in the oven for 12-14.
Remove from oven and eat warm or cool completely and transfer into a airtight container. Although the don't last long!
Related