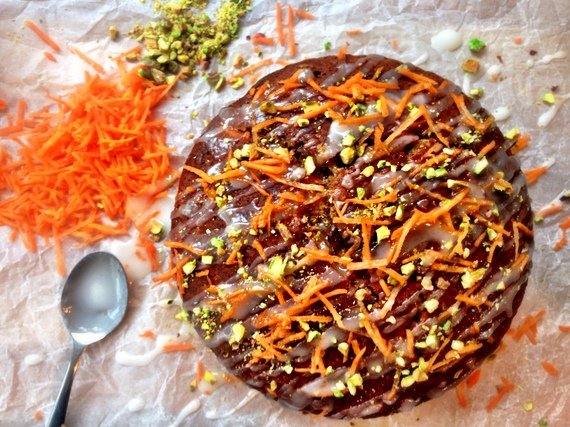 Ramadan is a holy month for Muslims across the globe and it's a month of fasting, praying and time spent with loved ones where food plays an important part.
I watched in awe as Algeria fought ferociously against Germany and reminded myself that many of them were fasting during the match ( along with many other footballers in other teams). Incredible what your body can do if you put your mind to it. Now that lead me to think about the food that would be good to eat for and particularly, food that provides substance, flavour and energy during these times.
This cake idea was inspired by looking at my twitter feed and seeing how many people were preparing for Ramadan this year and the anticipation of Iftar.
'Iftar' which is the meal that is eaten to break fast. Usually starts with a date and some water followed by an array of protein, vegetables, carbohydrates and typical dishes include Halim/Harira soups containing braised off cuts of meat and pulses, and then onto the sweets. My twitter feed and Instagram has been full of decadent desserts and sweet treats so I thought I'd come up with a recipe that would be ideal for this month. A cake full of sweet flavour but containing items that would help during these long fasting days.
So I came up with this...
My Simple Carrot, Pistachio & Raisin Cake
Ingredients
175g unrefined golden caster sugar
175ml sunflower oil
3 medium free range eggs
Pinch of salt
3 medium carrots, grated
100g raisins
75g pistachios, hulled, smashed
1tbsp good quality vanilla extract
175 self raising flour
1tsp cinnamon
1tsp bicarbonate of soda
Method
Pre heat oven to 180 for non fan assisted oven and 160 fan assisted
Pre grease and line a eight inch spring-form cake tin.
In a mixing bowl, mix together the sugar, oil, eggs, vanilla, raisins, carrots, pistachios and salt.
In another bowl mix together the flour, cinnamon and bicarbonate of soda.
Mix in the wet ingredients to the bowl of dry ingredients. Thoroughly mix and then pour into the cake tin.
Bake for around 50 minutes. You can check the cake is ready by placing a wooden skewers into the middle of the cake, if it comes out clean the cake is cooked.
Optional: You can decorate white icing sugar, grated carrots and crushed pistachios.