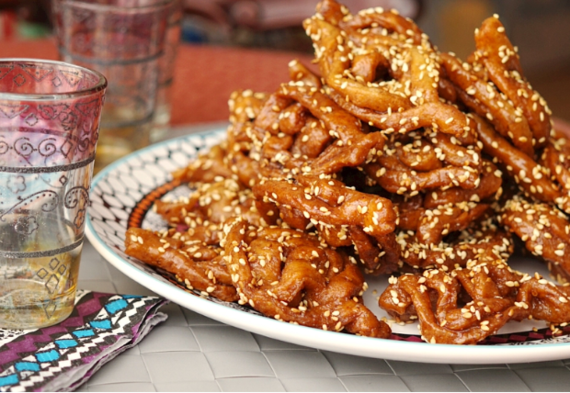 As the holy month of Ramadan started last week, for many Muslims in the UK I wanted to share a recipe that is a staple part of any Moroccan dinner table during this time of year. These uniquely shaped cookies are made typically using a special cutter which creates a beautiful flower which is a skill to do by hand with an interesting approach to weaving pastry in and out to form a beautiful looking flower.
The sweet treat itself isn't meant to be served with tea but actually designed to be the perfect companion to the other Ramadan staple meal which Moroccans break their fast with 'Harira' a rich spiced soup usually with lamb and chick peas equally delicious!
The nature of these cookies are unique in taste as they are seasoned with a mixture of orange blossom, anise powder and toasted and ground sesame seeds so they are indulgent and opulent and its no wonder they also appear on tables at wedding celebrations.
A few days before the start of Ramadan women would gather together in the kitchen with the task of getting masses of chebakia prepared usually by the kilos with a person responsible for kneading and rolling, one for cutting and shaping and then finally, for frying and dipping into the rich honey and orange blossom coating.
This recipe makes approximately 60 don't worry if you don't have a cutter you can just shape these as you wish. Enjoy & Happy Ramadan!
100ml orange blossom water
Pinch of saffron (soaked in orange blossom)
750ml honey mixed with 100ml orange blossom water
1. Toast the sesame seeds in a pan until they turn golden. Remove from heat and grind in a food processor until ground.
2. In a bowl mix together all the chebakia ingredients until well combined and it becomes a soft dough.
3. Divide dough until small balls, and roll out using a rolling pin. Take a cutting wheel and make shapes as you wish - these are the traditional version which resemble a flower.
4. Dip chebakia in hot oil and brown them on all sides until golden brown, from the oil place straight into the honey and orange blossom mixture. Allow to steep for a few minutes, remove from honey mixture and sprinkle over some more toasted sesame seeds.
5. Allow to cool for 4-5 hours before serving. You can transfer to an airtight container and they will last for 4-6 weeks.