Ever since winning MasterChef people often ask me what I'm up to and I'm fortunate enough to say that I'm getting to do things I never dreamt I'd do! I recently filmed some 'how to' videos which I love doing as they are always fun days and it's great to see firsthand the behind-the-scenes action of what really happens in order to make these videos look as good as they do!
Before I was involved with filming I always assumed that it would be a simple one shot wonder and voila! When you see food prepared on the screen it's really easy to forget the logistics behind filming food - I've since learnt that there's a lot of planning and thought before the shoot and a lot of preparation before each shot. Filming can never happen without a home economist - these people are the lifeline behind food programmes. Home economists prepare all those lovely little bowls of the pre chopped garlic, chopped onions etc - so when you see a TV chef say "all you have to do is add the garlic to the pan" there is someone behind the scenes frantically de husking the garlic and chopping it up ready for the shot!
While you are filming, you need to be able to read a script, listen to instructions from the director, make sure you're doing all the actions that are needed for the shot, the whole while making sure the recipe is making sense to the audience. I do love these filming days but I have to say every time I hear a director say the all famous "action", it always makes me think that I'm about to start filming my very own Hollywood blockbuster! Talking down the lens of a camera takes a bit of getting used to but I always like to think I'm doing a one-on-one demonstration to someone just the other side of the glass and am talking direct to them, rather than a big piece of equipment. I think the best tv chefs are the ones that make you feel like they are talking to you directly and that's what I always try and aim to achieve.
When I last filmed it took about nine hours to shoot four videos which last around two-three minutes each, which just goes to show the level of hard work and detail that goes into food filming and how the process of making the food look delicious and sexy as well as effortless to cook and prepare takes some work! I really enjoy filming and it's great to work with different directors and crews and I get to discover new tips and skills on each shoot I do. It's an on-going learning process which is one of the reasons why this job is so much fun - I'm meeting new people all the time and always working on something different, to coin a John and Gregg phase "MasterChef can really change your life!"
With the nights still dark when I get home after filming, I've been thinking about cooking dishes that are quick, easy and full of colour and goodness - dishes that will help fight off the winter blues and give you a good head start on avoiding all the colds flying about! I cooked the below dish using tofu which I love cooking with and added to it my favourite condiment at the moment - Sriracha which is an all round fiery chilli sauce. This dish was great at warming me up on the chilly winter nights and I discovered it was delicious eaten cold the next day for lunch - I'm a big fan of meals that give you enough for the next day too. It's healthy and the colour looks great on the plate - hope it helps get you through to spring too!
Baked Tofu with Sriracha and Soy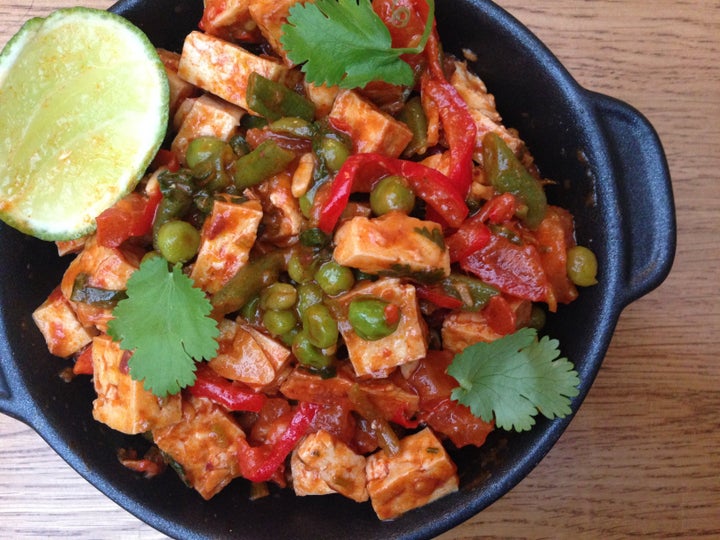 3 cloves finely chopped garlic
2 inches ginger cut into thin matchsticks
2tbsp finely chopped coriander stalk
1/2tsp freshly ground schezuan pepper
Fresh lime juice squeezed over before serving
Chop the tofu into 2cm squares and place on a baking tray and cook for around 35 minutes. This will dry out the tofu and ensure it doesn't break when it cooks.
In a wok, add oil over a medium/high heat and add the garlic, ginger and coriander stalk and cook until fragrant - around three minutes.
Add the Sriracha and soy sauce, followed by szechuan pepper, pepper, onion, tofu and cook for approximately three minutes - keep stirring.
Add the green peas and cook for another two minutes.
Garnish with fresh coriander and squeeze over fresh lime juice.