This week several years ago I had to drop out of university. The student finance system was hit with severe delays and students couldn't access their maintenance loans and grants for months after enrolment.
For many, the Student Finance delays were a big inconvenience but could be covered by informal loans from family and friends. For some of us, it meant packing up our things, moving back home, signing on and saying goodbye to Higher Education; if only for a year.
Truth is, if you are working class, the student finance system is not set up to support you. The level of bureaucracy involved is astonishing. Coming from a single parent family, reliant on benefits, the 'household income' evidence process was completely bewildering. The fact that funding is also only released once enrolment is confirmed meant securing housing, physically moving my belongings and other associated costs all had to be met upfront.
That term, shamed by the delays and drop-outs, two directors of the Student Loans Company resigned over the chaos. This move proved merely symbolic though, as the system remains in need of serious overhaul.
It is now mainstream opinion within the student movement that the loans system used to pay for tuition fees is redundant, and should be replaced with a model of free education. The current form of funding is not only marketising education but dissuading many from further study: especially those accessing part time courses. What is rarely covered in the arguments around student debt though is the price tag that comes with the cost of living. Many students take out an extra Government maintenance loan of between £5,000 and £8,000 for living costs, not to mention the overdrafts and credit cards many more rely on. These maintenance loans are the main form of funding used by students to pay their rent, transport and materials costs and are a further debt burden.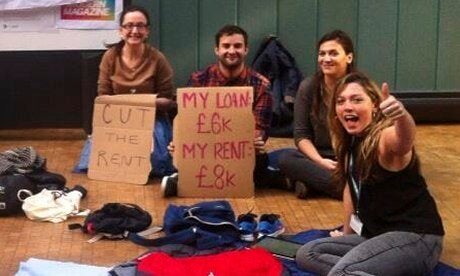 With student housing prices rising well beyond inflation year on year, as well as transport fares up - the cost of living is fast overtaking the money students have access to. Students at my institution tell us they are using food banks and pay day loans to make ends meet. One, a student parent, has had to leave her child with its grandparents abroad because her funding package does not meet childcare costs. Another has had to access an emergency loan to pay to get home for Christmas. Students are also forced to take on insecure work, often for so many hours it has a huge impact on their study. Free education should mean freedom from poverty, not just tuition fees. In Scotland, the National Union of Students is taking action on this with campaign days of action; we need the same calls made right across the UK.
There are several things a Government could do to deal with the student funding crisis. Simply installing a larger loan package will not address the root issues of debt aversion and the need for a well-funded education. A new model should acknowledge that time in study is time away from work, providing students with a grant to sustain themselves. A grant that actually meets the cost of living, not undercuts it or assumes generous parents will meet the gap.
The Government could also lift the arbitrary exclusion of students from the benefits system. Currently, welfare payments are limited to people whose working hours exceed 16 hours per week. Students are included in this because our courses are 'full time' - however, our incomes nowhere near match what a full time salary would. The receipt of Housing Benefit, Carers' Allowance or Child Benefit could be the difference for many between dropping out and staying put. There is no reason why the student funding system could not be a component of a well-funded welfare state, besides a Government which views students and working class people with contempt.
The timing of payments could make all the difference, too. Instead of waiting for enrolment confirmation, Student Finance could use UCAS confirmation as a trigger for releasing funds (as banks currently do). The Government would likely think this risky, but it would mean expenses like deposits on halls or upfront childcare costs required before term starts could be met with grants, rather than more debt. This would give more working class people the agency to access Higher Education. Though of course, these grants should be made available for every level of education, not exclusively for undergraduates. At UAL, we have partnered with 3 other Students' Unions to make the case for a grant for our Further Education students.
There are a number of ways the student funding system can be made more accessible and complementary of a model of free education. We need to keep grants and benefits in our demands and force the Government to act before another year of would-be graduates delay or avoid education altogether.