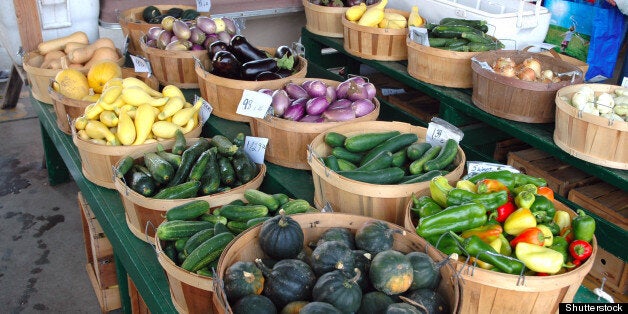 Something wonderfully and brilliantly provincial is happening in force right now in London: the Saturday market is back. Morrisons and Sainsbury's may be just around the corner, but communities across the capital are ditching their local all-singing, all-hours, all-in-season-whatever-the-weather supermarkets to buy their food and ingredients directly from the producer, meeting likeminded neighbours and indulging in a lazy cup of freshly brewed coffee while they're at it.
As a street food trader, this is good news. This is what we all quit our nine-to-fives for: properly engaging with the people we feed - more than a quick two mins during the ever-shrinking lunch hour - is what we thrive off. And the move to set up new, local Saturday markets not only eschews the soulless chain stores lurking on every corner selling food from who knows where; it also provides the capital's new wave of talented and passionate street food entrepreneurs and artisan producers with more opportunities to trade. For as more and more of us step up to the kerb and sell our homemade delicacies, markets are saturated and trading opportunities harder to come by.
Ben and I are delighted to be part of a new Saturday market funded by the GLA and run by street food collective KERB in Granary Square in Kings Cross, starting on June 29. As Petra Barran, KERB's founder says, "this is the London farmer's market, 2.0. A market that is truly relevant to the area it operates in, bringing all the people that live here to use the space together". There will be seven of us kicking things off: affectionately dubbed their "sauciest seven", we are all traders with strong sourcing policies and an emphasis on transparency across our products. The opposite, I can't help but feel, of chain food stores. If I shop in the local Morrisons, where or who my fish or steak or milk or kale comes from, I know not. Who grew my cow? Where? On what? And what's really hiding in my hoi sin sauce or streaky bacon? Whether you eat organically and seasonally or not, these are questions we have all started to ask ourselves daily. With good homemade street food you know what's in every bite and that, to me, is how eating should be. And Granary Square is bringing it back to central London.
"If this works, we hope to roll it out in other sites across the capital, widening our reach and bringing more people together. More markets need to happen, there aren't enough in London. We have this new wave of amazing entrepreneurs and nowhere for them to trade. I really feel that this is the summer that London sits up and says 'wow - look at how amazing our food is.' Culturally, socially, there are big things going on with food in our city and this is a real opportunity for London to establish itself on the global stage of food culture. But the licensing laws need to change considerably if we are to reach our full potential and the people from above need to recognise this," says Petra.
Someone who has blazed something of a trail in creating one of London's most widely-loved and visited Saturday markets is Toby Allen, who set up Brockley Market in the car park of Lewisham College a few years ago "as a frustrated shopper. We had no local produce in the area (butchers, fishmonger, veg shop, etc) so decided to set up the market." Boasting an endlessly tempting mix of fresh veg, fish, meat and cheese alongside some of London's best street food, charcuterie and coffee, Brockley has become a weekend destination for anyone and everyone living within reach - families and trendy kids alike. We traded there in March and were blown away by how engaged and friendly the customers were. They had read our website, knew our story, and became instant friends, not just customers. Not to mention the fact that it was freezing and snowing, and still they came flocking to support the traders. Their commitment is inspiring. As Toby says, "not all people want to support and shop in the big supermarket chains - people want to get out at the weekend, have a tea or coffee, grab some breakfast or lunch and do some shopping whilst interacting with the local community".
Inspired by Toby's resounding success, Melissa Hayles (of ethical food and farming alliance Sustain) has just started a similar market over in Brentford, with help and funding from the National Lottery, Mary Portas's High Street regeneration project and local collective Brentford High Street Steering Group. Open only two weeks ago, it has already proved a very popular move. "Hounslow council were really supportive, creating a whole tailored structure and plan for the new market, and we have a six month trial period to see how it is received. Toby also gave me some really good tips on how to present the market to the locals", says Melissa, "and we have had great support from KERB, street food traders and the community." Passionately community-minded, like Petra, Melissa wants the market to be more than just a farmer's market like so many across London and the country: "we have two stalls set aside every week for community projects. Last week it was Brentfod School for Girls selling beaded jewellery for Africa. We also have funding available to help food startups. I am currently working with a new couple doing street food and helping them to think outside the box and get the best start possible".
Melissa sees the success of these new markets as the result of people's craving for an experience. "People used to have the option of going to the fishmongers. Talking to them, engaging in a proper experience when shopping. Mary Portas has shown that this is still what people want. Roman Road is a great example - it shows that food can excite - now more than ever." And boy are we excited. And we're not alone. Other new Saturday markets are popping up all over London, including West Norwood Feast, Cally Road and Haringay to name but a few. So, if you're planning a weekend supermarket shop and can scrape together and hour or two extra, ditch the chains and come join the fun. I'm sure you won't regret it.