April 2012 marks the centenary of a disaster that still haunts us. Shortly before midnight on 14 April 1912, the maiden voyage of the White Star Line's beacon of luxury and progress, RMS Titanic, ended in tragedy when she struck an iceberg and sank in the early hours of 15 April with the loss of 1,517 lives. Less than a third of the vast liner's passengers and crew survived. This maritime catastrophe maintains a grim fascination for generations of filmmakers drawn into the tangled web of fact and fiction embedded in our popular culture: a near-mythical tale of heroism and hubris.
Filmmakers embraced poetic license from the start, partly through necessity: next to no footage of Titanic prior to her maiden voyage existed, and (less surprisingly) no footage of life on board or the disaster itself. Titanic's sister ship Olympic, whose maiden voyage was completed in June 1911, had stolen her thunder. The BFI National Archive holds incredible footage of the construction of Olympic at Belfast's Harland & Wolff shipyard in 1910: if only the cameraman had filmed what was going on in the neighbouring berth. Such regrets are perhaps academic given the two ships were virtually identical.
Less than two decades after the birth of cinema, western audiences were hungry for actuality records of current events. Newsreel companies scrambled to relay the gravity of the disaster and its aftermath to a stunned world, using some ingenious, albeit morally suspect, methods. Footage of Olympic at sea and Captain Edward J. Smith on deck (Smith captained both vessels), was frequently presented as if it depicted Titanic, though one version of Gaumont's 1912 newsreel opens with a tantalising shot of the real thing. For true 'Titanoraks' Stephen Bottomore's book The Titanic and Silent Cinema offers a fascinating deconstruction of these filmic sleights of hand.
Various dramatic reconstructions appeared during the silent era, including In Nacht und Eis (1912), but among the most fascinating of the early Titanic films was made at the dawn of the sound era. Based on Ernest Raymond's 1915 play 'The Berg', British blockbuster Atlantic (1929) was directed by German émigré E.A. Dupont and was the first sound film to be made in multiple languages (English, German and later French). Forbidden to reference Titanic by the White Star Line, Dupont's all-but-forgotten entry in the canon is a costly curate's egg which, despite focusing on a rather dour group of fictional First Class passengers, boasts gripping climactic scenes to rival James Cameron's 1997 epic. Incidentally, Cameron's box-office behemoth has now been 'rebooted' in 3D - that cutting-edge yet oddly retro flavour of the moment.
Challenging Atlantic in the curio stakes is the budget-busting 1943 Titanic, championed by Nazi propaganda minister Joseph Goebbels and almost as troubled as the disaster it depicts from a fervently anti-British and anti-American perspective (complete with fictional German hero). Original director Herbert Selpin died in custody after failing to toe the Party line, while its star Sybille Schmitz's post-war decline was later immortalised by Rainer Werner Fassbinder in Veronika Voss (1982). By the time anyone saw the 'Nazi Titanic' Berlin was under constant siege; dead in the water, it remained out of circulation for decades.
Hollywood finally got in on the act in 1953 with Titanic, starring Barbara Stanwyck, a typical example of the tragedy being co-opted as a backdrop to fictional narratives of romance and melodrama. But for many audiences and historians Rank's A Night to Remember (1958) has never been bettered in its exciting yet exhaustively researched portrayal of the sinking. Based on Walter Lord's book, this classic of British cinema shifts focus from First Class, drawing on the experiences of crewmen like Second Officer Charles Lightoller (played by Kenneth More) while exposing the rigid class structure that shaped events before and after the fatal collision. By the close of the 1950s, the putative heroes and villains of April 1912 were instantly recognisable to filmgoers, from the privileged - J.J. Astor IV, J. Bruce Ismay, the "Unsinkable" Molly Brown - to the white-bearded Captain Smith and humble crewmen such as Lightoller.
Raise the Titanic (1980), based on Clive Cussler's bestseller, has gone down in film history for all the wrong reasons, scuppered in part by the expense of recreating the ship (which almost derailed Cameron years later). As the film's backer Lew Grade famously quipped: "It would have been cheaper to lower the Atlantic". Raise the Titanic was savaged by critics and recouped barely a quarter of its $40 million budget. Various filmmakers have failed to launch their own Titanic projects, not least Alfred Hitchcock when he moved to America in the late 1930s. Producer David Selznick intervened, and work began on the relatively modest Rebecca instead.
The small screen has played its part in the legend. SOS Titanic (1979), starring Helen Mirren, was originally produced for US television before being re-edited as a feature. Most recently ITV produced a four-part serial written by Julian Fellowes to coincide with the centenary, mischievously dubbed 'Downton-on-Sea'. The BFI is marking the anniversary with a season of films and an exhibition of original posters, scripts and ephemera from the archives. Working on this season has offered a timely reminder that among the defining events of the 20th century - the century of cinema, after all - Titanic endures as the most potent symbol of man's fallibility, and the compelling cinematic allure of the sea.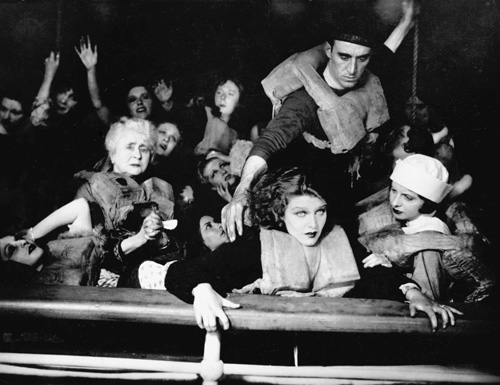 Image: Atlantic (BFI)