Sadiq Khan has pledged to be "the most pro-business Mayor yet". He could start by taking a bold new approach to regeneration.
When planning regeneration, it's important to look beyond the surface material: shopping centres emerging from abandoned warehouses; rusting dockyards born again as conference centres; crumbling power stations converted into soaring office blocks.
All of the above certainly give the impression of healthy neighbourhoods and prosperity, but this can be misleading. What sort of businesses are filling these new spaces, and what are they paying to be there? Are they earning enough to hire more employees and expand once the rent is deducted? Do they have long-term interests in the area? What happens if they decide to pack up and go? Who then is the real beneficiary of the redevelopment?
These are the questions that the Mayor and his team need to be asking as they draw up the London Plan. They have no doubt begun to receive proposals for ambitious and exciting property development schemes. Finding something sleek and cool-looking to invest in will be easy. Finding a scheme that delivers genuine long term economic benefits to an area will take a bit more work, and require the Mayor to weigh up whether property owners or business occupiers are the true beneficiaries.
It's the business occupiers that create jobs, and it's the start-ups, entrepreneurs and innovators that create the jobs of tomorrow. This group should be the target for public investment in regeneration.
London is the start-up capital of Britain and home to a number of SME clusters for Britain's growing tech industry and the creative industries, a sector that now generates nearly £9.6 million per hour. Last year, over 200,000 start-ups were created in the Capital. Imagine the boost to the city's economy if each were able to hire just one more employee this year.

But start-ups face many challenges that stand in the way of this. Eight out of 10 fail in their first year for a variety of reasons including lack of private sector finance and lack of affordable workspace. These are areas where public investment could help.
What could this look like?
In Camden, the Collective project renovated the abandoned National Temperance Hospital into offices to help young entrepreneurs develop their business, exchange ideas and innovate. Charity funds and rent raised from the building's leased offices helps to pay for subsidised hot desking space and training academies for creative start-ups. The start-ups benefit from being able to operate in one of London's prime creative industry clusters and share learnings with other innovators, something which local rent prices would otherwise prohibit. In turn, the area benefits from their presence and is primed as one associated with enterprise and innovation. Since Collective arrived other workspaces have followed suit, with Interchange and Work.Life bringing in further startups and small businesses that promise to boost the local economy and the area's reputation.
The example of the National Temperance Hospital also highlights the benefits of the 'meanwhile use' of abandoned buildings. The National Temperance Hospital is due to be demolished when HS2 construction starts. In the meantime, it has been repurposed for the use of 125 businesses. Before the building is lost Collective will have made a mark on the area, with members spending money in local shops, bars and restaurants. The establishment of a young vibrant community will change general perceptions of Euston, which would benefit from a reputational boost as much as from
physical improvements. A similar initiative could be undertaken in the unused auction rooms on Buck Street, due to be demolished as part of the Camden Town Underground Station upgrade.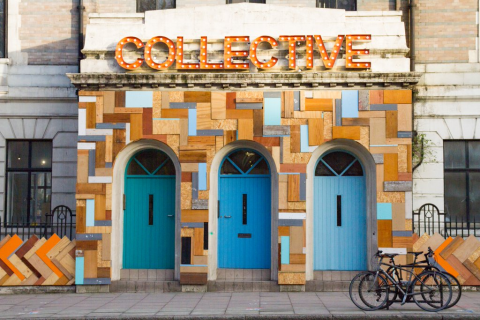 That's regeneration for innovation - breathing new life into neglected property to create opportunities for promising businesses, boost entrepreneurial skills and enhance the environment for creativity in the surrounding area.
The benefits in terms of visible area transformation, and tax returns, might not be as immediate as many of the proposals sitting on the Mayor's desk. But the long-term return on investment of targeting regeneration spending at start-ups and entrepreneurs will more than justify itself. London is a global city, always vying to maintain and grow its standing in an ever changing business world.
Investing in an environment for entrepreneurialism and innovation will ensure that London continues to have a competitive edge and stays ahead of the curve.
So when choosing regeneration proposals to back, we hope Mayor Khan will live up to his pro-business pledge and look beyond the easy wins that appear great on the surface, but do little for long-term economic growth. We hope that he will explore how the Greater London Authority's hectares of land can be put to use for meaningful long-term regeneration, and opportunities for 'meanwhile use' as in the example of the National Temperance Hospital.
When planning regeneration, it's time to be bold and invest in innovation.