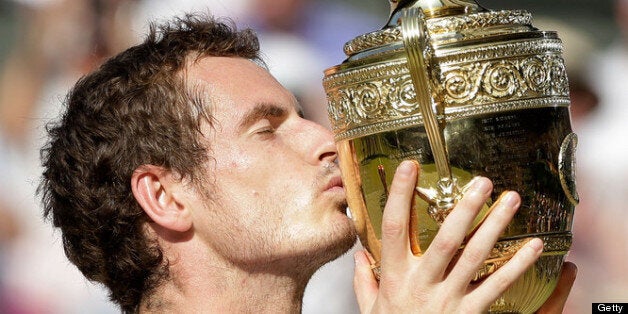 The last time a Brit won the men's singles title at Wimbledon, Edward VIII was on the Throne, FDR was in the White House, and a Hershey bar cost a nickel. In the same year, 1936, Jesse Owens won the 100 meters at the Berlin Olympics and Gone With the Wind was published.
Seventy-seven years is an awfully long time to wait for a male British singles champion, particularly in a sport that - in common with soccer, rugby and golf - was first played in its modern form in Britain. When Andy Murray finally won his fourth Championship Point to take the third set and match against his formidable opponent, world number one Novak Djokovic, crowds of fans, some 20million of whom are estimated to have watched the match, erupted in cheers. They were at the Centre Court, of course, but they also gathered together outside on the grassy terrace known to Brits as 'Murray Mound'; next to London's iconic Tower Bridge; and, perhaps most poignantly, at the Dunblane Centre, in the small Scottish town of that name where Murray comes from and where 16 of his schoolmates lost their lives in a primary school massacre in 1996.
The new champion was promptly invited to Downing Street, where the Prime Minister pronounced him worthy of a knighthood (although the PM will of course have to ask Her Majesty first). The Times of London was more specific, dubbing Murray a "Knight of the Holy Grail." He bagged the coveted 8.10 am slot on the BBC's flagship Today radio programme, arousing the (pretend) jealousy of a less prominent interviewee, one Tony Blair. And in waters off the Isle of Wight, one yachtsman's celebrations became so vigorous that he dislocated his shoulder and had to be rescued by a lifeboat.
I was not at Wimbledon, of course - 3,600 miles is a little far to go for a tennis match, even one of such historic significance. But last year I did have the pleasure of watching Murray defeat Djokovic at the US Open to win his first Grand Slam, following the gold medal he took in the London 2012 Olympics just a few weeks earlier.
Needless to say, expectations are high of another successful run here at Flushing Meadows next month. Rugby followers may have noticed that two days before Andy Murray's achievement the British and Irish Lions won their first Test series victory since 1997, in Australia. So after a long drought we Brits are beginning to enjoy the taste of victory.
No other sporting event quite matches the Olympics for prestige and glitz. But one of the most important legacies of the Games is the boost they give to sport in the host country. We've worked hard to make sure that the world-class London 2012 venues don't go to waste, and that school children have the opportunity to play new sports they saw in the Games. We've also used the Olympics as the impetus for providing more than $210 million of funding for hundreds of local sports clubs.
These investments are worthwhile because of the way sport transforms people's physical and psychological wellbeing. And who knows? One day they may even produce another Andy Murray.