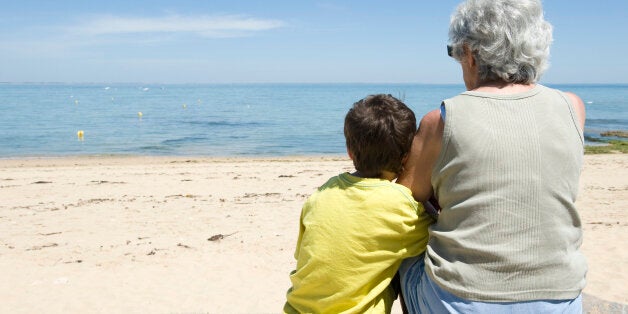 You never wanted to be my mom. You wanted to be my grandma. When my dad brought home his pregnant young bride, you probably never anticipated that the next three decades of your life would be spent raising that child. Those days were behind you. Your kids were grown. Your job was done. It was time to spoil grandkids rotten with pumpkin bread and lemonade and trips to Dollywood.
You did that, too. But you also stepped in when my mother walked out on us. You stepped up when my dad had that motorcycle accident. You raised me as your own, teaching me about the alphabet, about the presidents and the kings and queens of England, about kindness and compassion and how to sing "You Are My Sunshine." You made me feel safe and loved until the day my dad and his second wife were able to take me back.
But you didn't stop being a mom to me then. When things at home were rough, you made sure I knew there was always another home I could run to. When you moved to another state, I wept harder than I've wept at any point in my life. You knew I was scared. I was seven and the only person who had ever made me feel secure was leaving me. So, you made sure to call me every couple days. You wrote me letters telling me how much you loved me and how the house was coming along and that you'd bought me a dog called Buster. You took me for summers, for Thanksgiving, and for Christmas. And when things finally got to be too hard at home, you took me in again, putting me through high school, through university, and frankly, through most of my 20s.
I have a shawl you made in 2002. It's draped over my sofa. I also have a decoupage portrait you made in 1972. They remind me of high school, of home. Even though I was bullied every day for being gay, I still count those days as some of the happiest of my life because I got to come home to you. I'd pull into the driveway, pet our dog, and get a hug from you. There was always a Diet Coke and a snack waiting. You'd ask about my day. I'd say it was fine. You knew this was a lie but didn't push. You didn't have to. We'd watch CNN and bitch about George Bush.
You taught me how to cook, or at least you tried. You taught me how to do my laundry, how to get a stain out of white pants, and how to drive on both curvy mountain roads and busy city streets. You told me to pursue my dreams but never forget the more practical requirements of day-to-day life. Never let your car get below a quarter of a tank, you said. I listened to that one. Always pay your bills on time, you told me. I should've listened more to that. Never settle for someone who treats you poorly. And wherever I went in this world, you said, I could always come home to you.
In the thirteen years since I left home, I've not yet had to come back - but only because you have supported me every step of the way. You sent me money for rent and groceries when I could afford neither. You sent me to Britain for the first time, making a lifelong dream of mine come true and setting me down a path that has led me to interviewing MPs and Lords.
You helped me move to my university town, and later to Chicago, and sent me to both with your blessings. You knew I needed to do what was best for me and my future, even though I know it broke your heart to see me go so far away. I know it because I remember being seven when it broke my heart to see you go so far away. I know it because being away from you scared me back then. It still does.
I've never told you this, but that first night in my dorm room, I cried. I was so frightened, so terrified that I wouldn't be able to survive without you. But the thing I didn't know then was that despite the distance, you'd still be with me. You called me almost every day - and yeah, it was annoying to an 18-year-old trying to spread his wings and find his own place in the world. But it was so reassuring. You knew I needed to hear from you, whether I wanted to or not. A mother always knows.
Grandparents don't expect to raise grandchildren. You never thought you'd be my mom. But you are. And that's why I'm writing this now, sweet Mamaw. There are a lot of people who eulogise their parents when they're gone. They say all the great things their parents did for them, or all the great things their parents taught them. But the parent never gets to hear it. They never get to hear just how much they were appreciated and loved.
So I'm writing this to you now. I want you to know that if I am anything in this world it is because of you. Because you loved me, because you stepped up when no one else would, and because you taught me how to be an intelligent and successful but ultimately decent person.
Thank you for the years of laughter, of corny jokes at Republicans' or even family members' expenses (I won't tell if you don't). Thank you for knowing how to make me smile. For the thoughtful cards, letters, cakes and pies through the years.
Thank you for teaching me compassion. Thank you for instilling in me a sense of justice, for telling me at an early age that I wasn't better than anybody because of my skin colour of bank account or the clothes on my back or grades that I made. Thank you for teaching me to be kind and to stand up to bullies, whether on the playground or in the White House.
Thank you for always telling me my dreams were valid and achievable, no matter how many times I thought they weren't. Thank you for showing me that intelligence isn't dependent on education. Thank you for teaching me to take an interest in world affairs and to think both of my neighbours and those across the globe. Thank you for making me believe I could do the things I've done and am yet to do.
Thank you for picking me up when I fell down. Thank you for never judging me. Thank you for never losing your patience with me. Thank you for always encouraging me, helping me, and comforting me - even now at 31. Thank you for answering the phone at 1:00 AM the night my boyfriend strangled me. Thank you for answering it when I was drunk and upset that I was single. Thank you for calling me just to check in, even now. Thank you for the money you've spent and the sacrifices you've made and the sleep I know you've lost so I could pursue this crazy dream of being a writer in the big city.
But most of all, thank you for loving me. Thank you for being my mom, even though you didn't have to. I love you so much that all the words in the English language will never be enough to explain. I just hope this letter can maybe show a little of my gratitude for everything you've done, and continue to do, for me.
I love you Mamaw. Happy birthday.
With all the love in the world,