In a difficult week, when a reality TV star became the president of the most powerful country of the world, and snow started to land in parts of the country, we welcomed the happy news of Russel Brand becoming a Dad.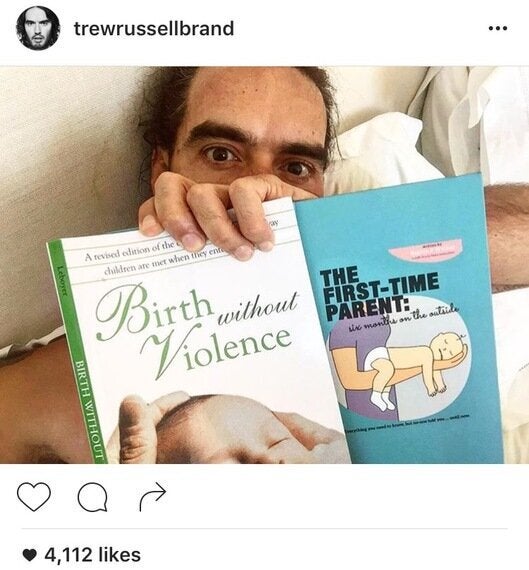 (C) Russell Brand/ Instagram
At 41, the comedian-turned-actor and literary Junkie (subscribe now if you don't already follow 'trews' on YouTube for a refreshing look at the world) announced the happy arrival of baby 'Mabel' with girlfriend Laura Gallacher (sister of Kirsty). A great name we must add - and as we predicted, bygone generation names such as Edith, Edgar, Charlie, Mavis and Mabel are all making a comeback.
Already a few days old mini Mabel is already proudly following in her fathers footsteps by courting media controversy, following Russell's comments to raise her 'gender neutral'.
Speaking on the Jonathan Ross show, Brand said: "We don't know the gender, I may not even ever impose a gender upon it, let the child grow up and be the whatever the hell it is, never tell it there is such a concept."
The comments seem playful and throwaway, yet seem to have sparked media interest, with the Daily Mail contingent all 'up in arms' about the 'absurdity' of the situation. But it's not really, is it.
Raising a child equally and without prejudice - I'd say that's pretty progressive, no?!
Absurdity is naming your daughter 'Dream' as the Kardashian brother and his girlfriend 'Blac Chyna' did this week, and without anyone batting a false eyelash. This didn't pass me by, and on Twitter 41% of followers agreed that it was the most silly baby name, eclipsing other nonsensical choices 'North' and 'Saint'.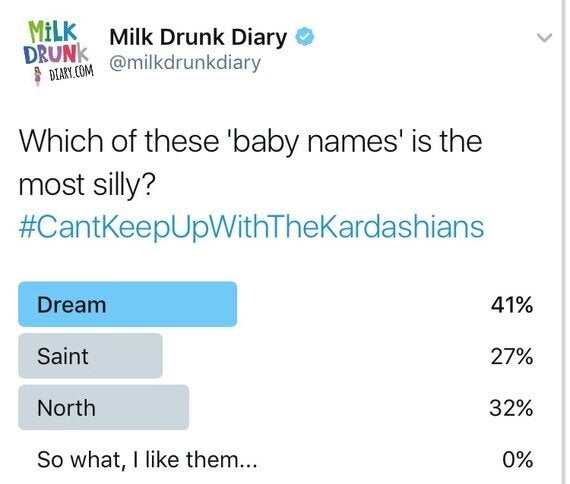 But I digress. Gender neutral - what's it all about? Well in brief, it's bringing up your child without preconceptions assigned to its gender. In effect - raising your child without a bias, making all things available to them.
And as a concept I like it. You have to agree that the sea of pink that comes with raising a girl is at best nauseating, at worst stereotypical. But why should girls be subjected to pink and not boys? And why do boys get to play with dinosaurs and trucks, while girls get Hello Kitty, princesses and dolls?
Thankfully, the world is slowly waking up to this. Last year Jo Jo Maman Bebe invited me to see their new collection for kids which included a blue tshirt for girls with a dinosaur on it. It was created in response to a letter from a little girl who sketched the drawing in the hope that they would make it for her. And they did, not just for her but for all other little girls that just happened to like stuff we pre-assign to boys. It was the right step in a long road ahead.
At my son's daycare they have lots of different sections to bring their little imaginations to life - from a 'dress up' area, to a kitchenette' and an allotment style garden. When we visited, they told us that they don't influence children's play in any way. All toys and all areas are open and encouraged for all children to experience. I found it positively refreshing and not long after we signed him up.
Even now when I go to collect Boo from nursery and they tell me he dressed as Cinderella and had a tea party with the other kids, I smile proudly. My son is happy, confident and contented - and in return I figure I must be doing something right.
So sure call 'gender neutral' new age mumbo jumbo and parenting bullshit. Or you can see it for what it is and realise that we have a duty to make the next generation open-minded and inquisitive. You know what, I think Russel Brand might be on to something!
Sophia is editor of leading parent blog Milk Drunk Diary, follow her on Facebook. A copy of her new book 'The First-Time Parent: Six Months on the Outside' as featured on Russell's 'trewlit' Instagram, is now available on Amazon and iBooks.