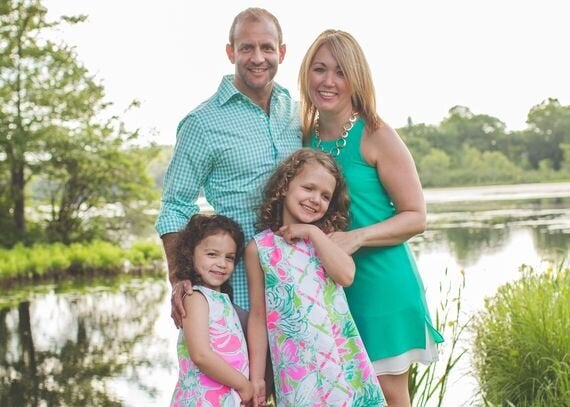 Credit: Lyndsay Hannah Photography
My daughter, Ava, was just shy of three years old when she received her autism diagnosis. I remember sitting in our developmental pediatrician's office and hearing the word "autism" leave her mouth with a sense of unforgettable finality. As a mother, I was at a loss. But three years later, that early diagnosis has changed everything for the better.
It started before Ava's second birthday. Like most parents, we drew comparisons between Ava and her older sister, but my husband and I started noticing some worrisome inconsistencies. Her speech was incredibly limited, she rarely looked people in the eye, and she would stare into space for extended periods of time. She couldn't connect with people in a meaningful way and constantly craved repetition and a sense of control, spiraling into a tantrum when we turned off her favorite song on its 30th consecutive repeat. As time passed, it wasn't getting better.
When my husband and I first sought help from Ava's regular pediatrician, he advised us to give it a little more time, but I knew I needed to follow through on my concerns and seek out help. We pushed to get her in to see a developmental and behavioral pediatrician to be further evaluated. Simultaneously, we used an app called Cognoa that gave us an analysis of Ava's behavior, identifying her as high risk for a developmental delay, which helped validate our worries. We ended up receiving her diagnosis about two years before most children do, and that made all the difference. From that day forward, it felt like a race against the clock to find Ava the treatment she needed in a window of time where intervention would be most effective. After learning Ava was on the spectrum, we enrolled her in an integrated pre-school and assembled a team of wonderful applied behavior analysis and speech therapists, who provided over 20 hours of therapy on a weekly basis and implemented daily therapeutic activities into our routines to help her navigate the world.
Looking back on the journey our family has experienced, from first hearing the word "autism" to where we are today, I cannot stress the importance of early intervention enough. It wasn't easy then and it's not easy now, but exposing her to early therapy gave our family the resources we needed to help Ava. Now five, she has worked so hard and flourished in ways I couldn't have imagined. She has developed into a dynamic, high energy little girl with an incredible amount of love in her heart. Today, she looks people in the eye, expresses emotions, behaves with some flexibility, plays with friends and has proven she has the tools to get through each day.
While early diagnosis may not be an option for everyone, each parent deserves the chance to follow their intuition when it comes to knowing what does and doesn't feel right - and it's different for all of us. Ava is high-functioning, and on the surface, may seem like a neuro-typical kid. She doesn't represent what a lot of people view as autism. I was reminded of this last weekend while we were out to dinner. There was a teenage boy rocking back and forth in his chair, while his mum carried on a conversation with a family member, rubbing his shoulder to calm him. The grandfather so kindly brought him a bagel and a chocolate milk from Dunkin Donuts while everyone else enjoyed sushi.
Ava is quirky and often mixes up her words, getting anxious and distracted with peers and losing eye contact easily, but her outside appearance can often mask her disorder, which manifests as a daily internal struggle. Her outbursts and fierce tantrums often come out at home or when she's overstimulated in a busy room or crowded place. She often internalizes her struggles and emotions, which is characteristic of girls on the spectrum. She tries so hard to fit in and make friends, even making lists of activities and planning out play dates to prepare in advance.
I often think about how easy it could have been for Ava to have fallen through the cracks. It's easy to dismiss the fact that your child isn't really connecting with you, or that they're missing some sensory milestones. We can chalk all of these things up to a passing phase, believing things will get better, but leaving it up to chance could result in future hardships. Follow your heart, take note of everything you see, and bring challenges up to your doctor. Ava has come such a long way in the past three years, and I'm so thankful I trusted my instincts and sought early intervention for her. I encourage other parents to do the same.
Related