By the end of the five hour concert everyone was on their feet. All 30 acts had come together on stage to join with the audience for a rendition of Heroes led by the nine-piece "mass karaoke" band, Massaoke.
The atmosphere was an emotionally charged maelstrom of celebration and mourning. Nine hundred Bowie fans - some music legends in their own right - singing their hearts out in the dimmed Gothic beauty of the Union Chapel in north London. It was always going to be moving but what made this five-hour gig so powerful was the fact it was held just six days after Bowie's death. People were still reeling. Emotions were still raw.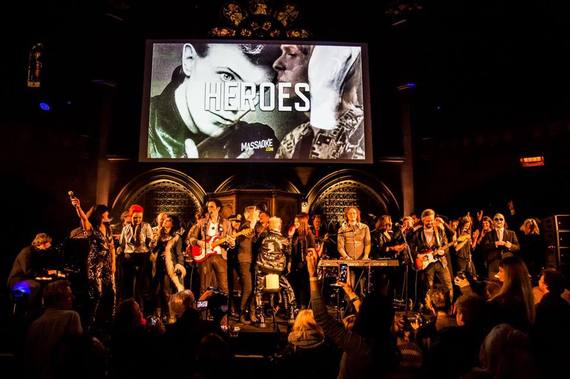 "Listening to Bowie songs and celebrating Bowie with people who knew and loved him has been so special," said Dougie Cunningham, one of the organisers, at the end of the show. "There's nowhere in the world I would have rather been this evening than right here and I'm sure the same goes for every single person in this audience."
Performers, all of whom played Bowie tracks, included a Sex Pistol, a Bad Seed, the Magic Numbers, the Egg, The Feeling lead singer Dan Gillespie Sells, Maggie Ronson, David McAlmont and David Pratt who has played with the likes of Pink Floyd and Madonna. There was comedy and cabaret, reminiscences and eclectic interpretations of Bowie classics. Kooks was played on the electro harp, Where Are We Now on the saw.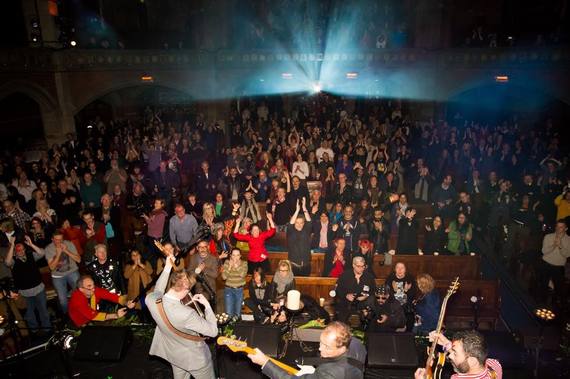 It was a world away from the hype and glamour of the two Bowie tributes, the first of which kicks-off tonight in New York. Tickets for the sell-out Carnegie Hall and Radio City Music Hall gigs are reportedly exchanging hands for thousands of dollars. By contrast, tickets for the Union Chapel gig, which sold out in two hours, cost just £4. All profits were donated to MacMillan Cancer Support.
"Within days of the sudden and devastating news that we had lost David Bowie, this event was held at London's beautiful Union Chapel, both as a cathartic performance by some of the many artists who loved him, and were inspired by him, and also as a way of raising thousands of pounds for cancer charities. recalls Clifford Slapper, the pianist who worked with David Bowie on Ricky Gervais' TV comedy Extras. "Despite the logistical difficulties of such rapid co-ordination, it was a great success."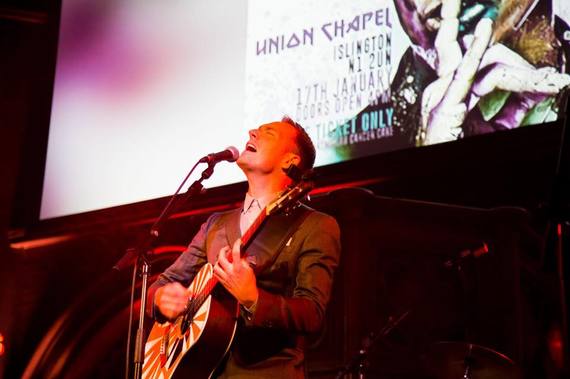 What was perhaps most remarkable about the gig is that it was entirely put on by a small bunch of Bowie fans, all of whom had full jobs and none of whom had experience in large-scale event organising.
It had all begun on the previous Monday, hours after the unexpected news of Bowie's death from cancer had broken. I was sent home from work with a nasty cold, and from my sickbed I went about booking the venue, setting up a Twitter account, drafting a press release and contacting a few dependable friends.
By the time I was back in the office the next day, the story had been picked up in the media, a stunning poster had been designed by artist, Christina Mikelis based on work by Patrice Murciano, and a flood of bands and volunteers came forward with offers to perform or help.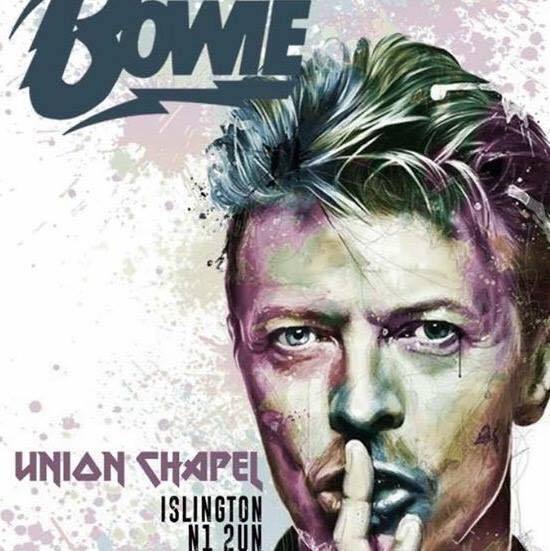 "What came together was nothing short of miraculous," recalls Sophia Mikelis, one of the organisers. "Within days we had put together a top line-up of performers supported by a professional production team including technicians, visual and sound engineers."
Whilst the massive response from musicians and from the public was staggering, in many ways it was not surprising. Bowie fans of all descriptions felt a distinct need to say goodbye to a man who had had a profound impact on their lives and this event gave them a way of doing so.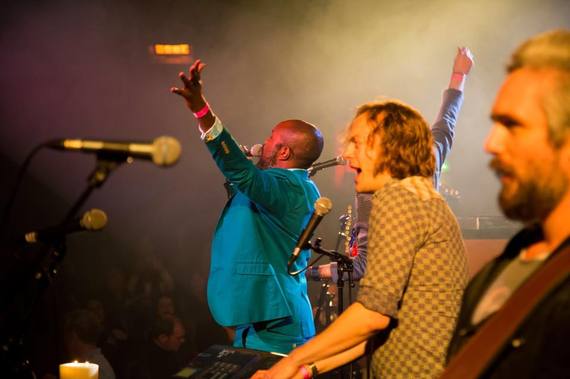 By early Sunday afternoon crowds had started gathering outside the venue, many dressed extravagantly for the occasion. Fearful that thousands of fans might turn without tickets, the pub across the road, The Library, had agreed to accommodate any spill over. They changed their name to the LiBowie for the evening and screened the concert on a large screen. Around the world others tuned in to watch the concert, livestreamed on Youtube.
At 4pm the massive wooden doors swung open. Inside the organist played Life on Mars as people took their pews in the ambient candle-lit space of the Grade-1 listed building with its high wooden ceilings and huge stained glass windows. Images and videos of Bowie were projected onto a massive screen above the stage, whilst a team of face painters decorated faces with Ziggy Stardust-style lightning bolts.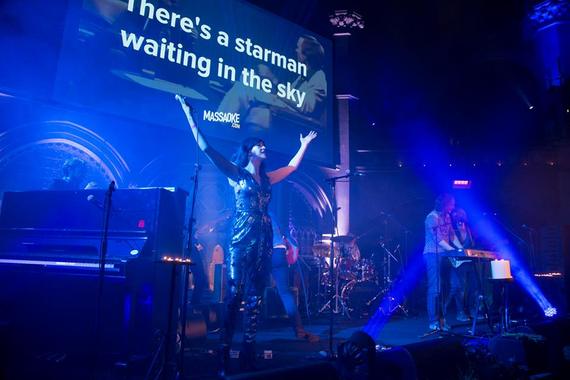 The show kicked off at 5pm with the band Massaoke leading a mass sing-a-longs of Starman and Let's Dance, the words projected onto the screen. This was followed by performances including Ziggy Stardust sung by Maggie Ronson, sister of the late Mick Ronson - the guitarist in Bowie's band Spiders from Mars. "We've all been very affected by the passing of David," she told the crowd. "Whoever we are, all over the world, we've all been affected by David in some way...I'm fortunate to have had him in my life."
Other highlights included Queen Bitchperformed by Glen Matlock (Sex Pistols), Philip Rambow and Malcolm Doherty, a version of Boys Keep Swinging played by George Vjestica (Nick Cave and the Bad Seeds) and Dan Donovan (Big Audio Dynamite), and a spine-tingling version of Lazarus by Boe Huntress. Singer David McAlmont (McAlmont and Butler) premiered his version of Sweet Thing accompanied by Clifford Slapper on the piano. "To me David Bowie is the Starman," said McAlmont. "He was is one of the greatest of all time."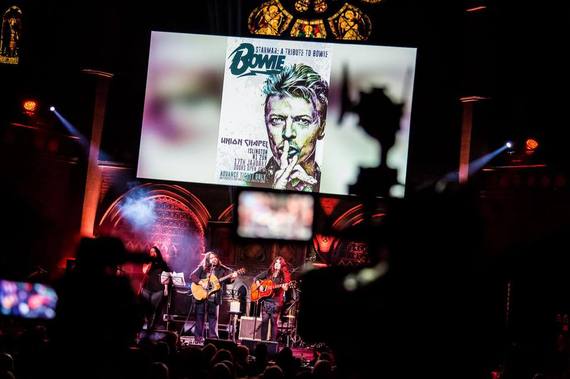 In the months since his death there have been umpteen tributes to Bowie ranging from impromptu streets parties on the damp streets of Brixton to Lady Gaga's overblown medley at the Grammies. Whilst the New York shows promise to be historic with line-ups including Debbie Harry, Pixies, Michael Stipe, Cyndi Lauper, Mumford and Sons and Laurie Anderson, they are unlikely to match the rawness and beauty of the Union Chapel tribute. "There was something magical about tonight," musician John O'Sullivan (Aloysius) said to me the end of the show. "It was almost as if someone was watching over us."
A full length documentary of the Bowie Tribute is currently being made. If you would like to get involved in helping to make this film contact stefanowitz2@hotmail.com or visit @bowie_tribute
Photos by Gary Moyes (www.garymoyes.co.uk), Simon Paparazzi (https://www.paparazzivip.com/) and Gaz de Vere (http://www.gazebow.co.uk/).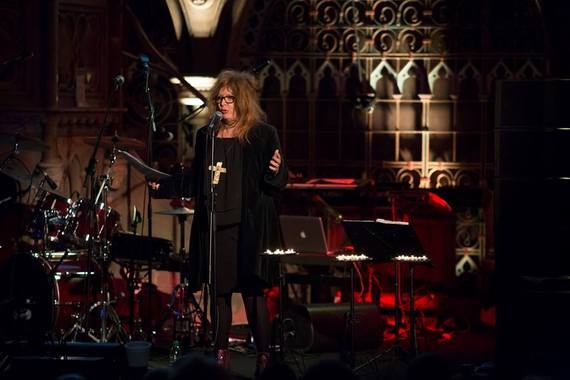 Suzanne Moore speaking on what Bowie meant to her. Watch video here.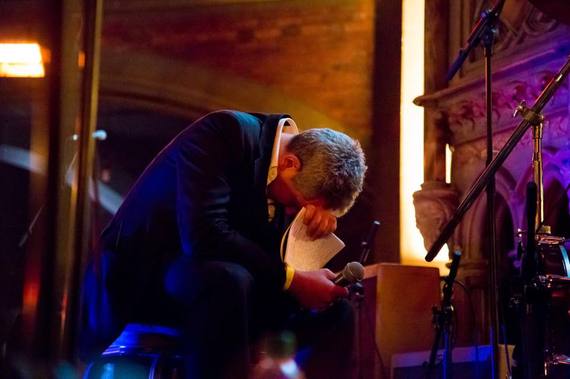 Warsawza was played. The lights were dimmed. And Stefan Simanowitz invited the audience to think back on their memories of Bowie.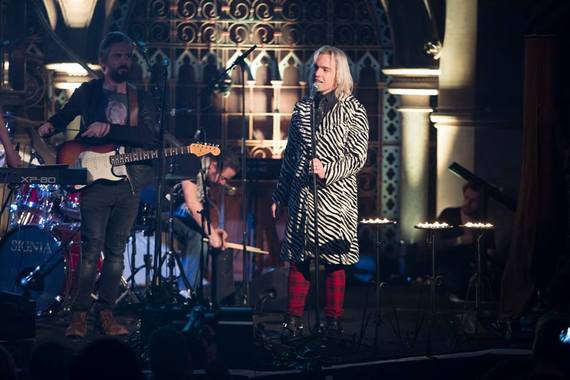 The compere for the evening. The brilliant comedian John Robertson.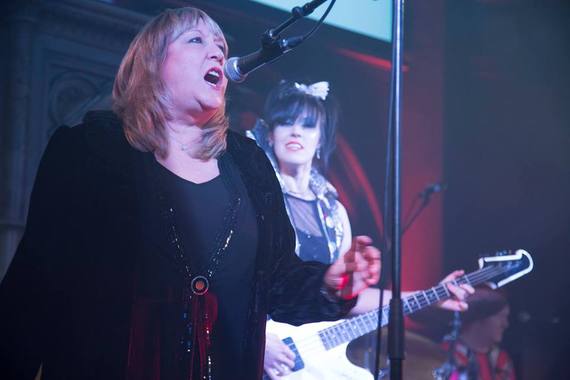 Maggie Ronson playing with The Featherz (photo by Gary Moyes)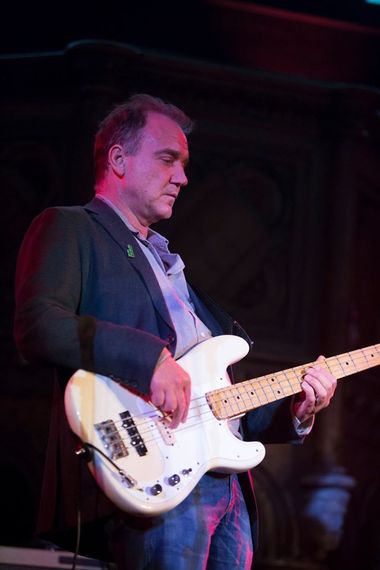 Guy Pratt playing Life on Mars (photo by Gary Moyes)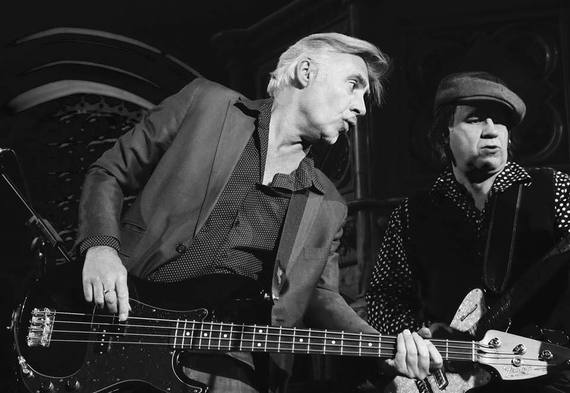 Glen Matlock plays Queen Bitch (photo by Gaz de Vere)
Tremble like a flower (photo by Simon Paparazzi)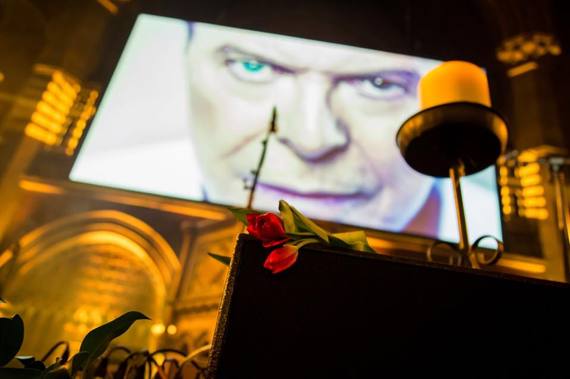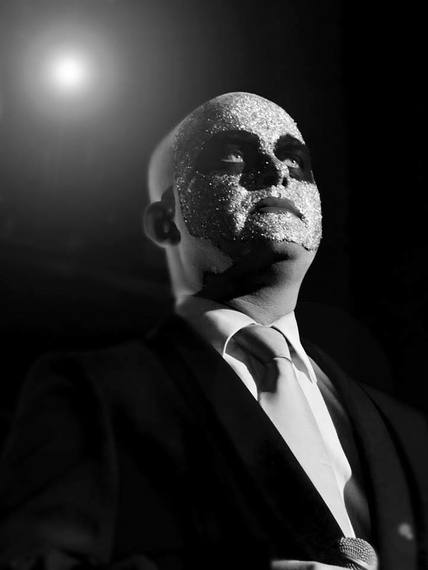 Marcus Reeves sings Lady Stardust with Clifford Slapper on the piano (photo by Gaz de Vere)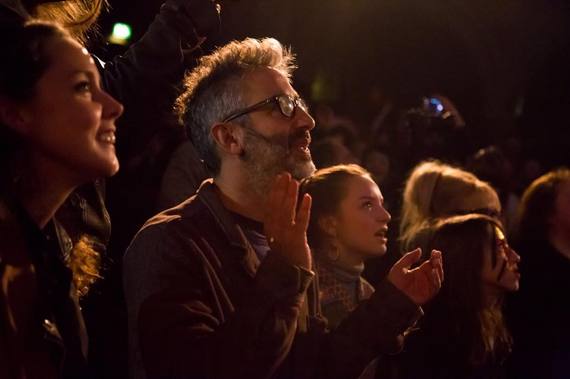 "I thought David Bowie was immortal." David Baddeil spoke at the tribute (photo by Simon Paparazzi).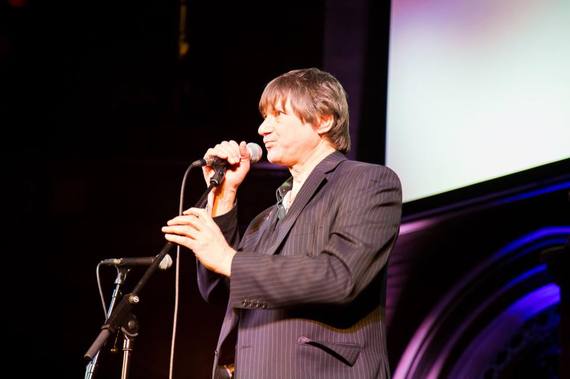 Clifford Slapper talks about working with Bowie on Extras (photo by Gary Moyes).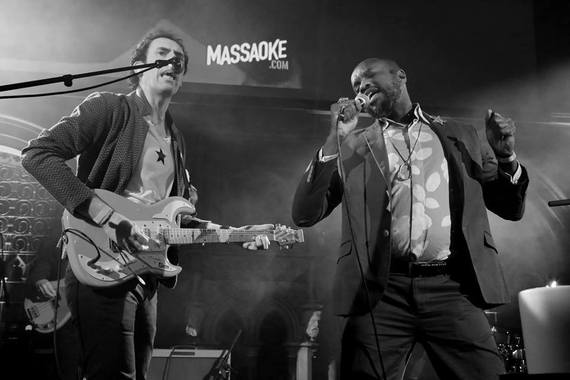 David McAlmont (Photo by Simon Paparzzi)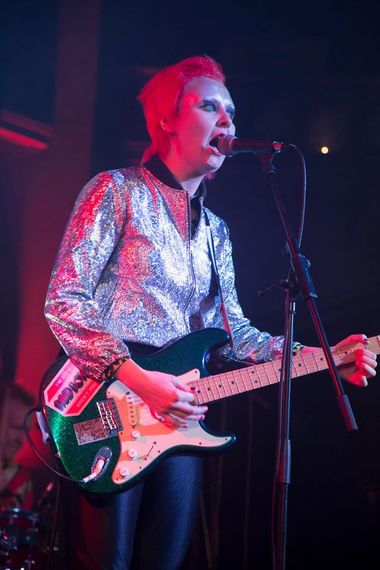 The Featherz playing Ziggy Stardust (Photo by Simon Paparazzi)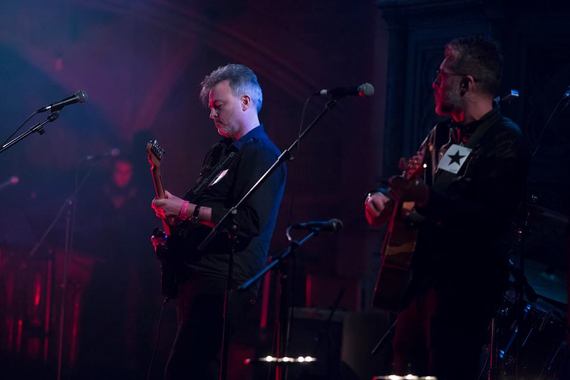 Aloysius playing Heroes (photo by Gary Moyes).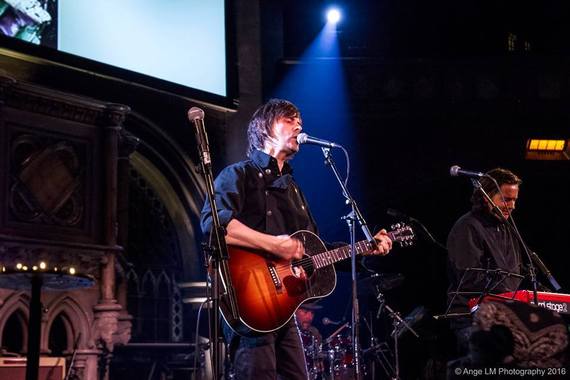 George Vjestica and Dan Donovan (photo by Simon Paparazzi).