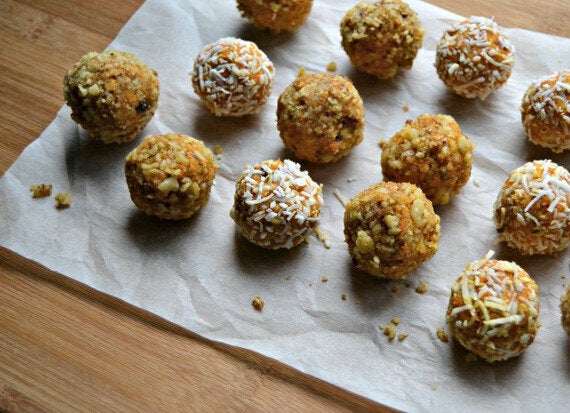 Spring brings about embracing the lighter side of things and these carrot cake bites are a total treat! Not only are they incredibly easy to put together, they're also raw, vegan, and gluten free! They take no time at all and are as delicious as a freshly baked carrot cake.
The difference in these though is that they are considerably a much more healthier alternative. A little note on using organic carrots:
Choosing organic products means better health benefits for you and the environment around you. The soil our food grows in these days is seriously lacking nutrients and is depleted by the use of different pesticides and herbicides as well as conventional farming practices. I don't know about you but I like my carrots to taste the way carrots are meant to and know that they've grown as nature has intended them to.
Organic carrots make up the bulk of this recipe giving you a dose of Vitamin A, an antioxidant that maintains our vision and healthy skin. They also contain Medjool dates for added sweetness and a dose of fiber, and walnuts, which have essential fatty acids. These are the kind of healthy fats we can't make ourselves but that are necessary in supporting the body's hormone production, reducing inflammation, and aiding in the proper development and function of our brain and nervous system (to name a slight few reasons as to why they are essential). Not to mention, I've added a wicked raw cashew "cream-cheese" frosting to drizzle over as a final touch.
Makes approx. 18-20 balls
For the carrot cake bites:
4-6 Medjool dates (depending on your sweet tooth)
1 cup unsweetened shredded coconut
¼ tsp. ginger or freshly grated (add a little more with fresh)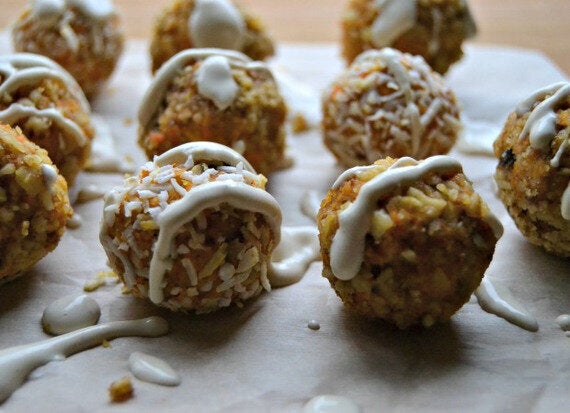 For the cashew "cream-cheese" drizzle:
1 cup of cashews, soaked for 4 hours or overnight
6-8 tbsp. of coconut milk (depending on how thick or thin you want the drizzle)
1. In a food processor, add about ¼ cup of the walnuts, pulse until crumbly then set aside to roll the balls into later. Add the carrots and the rest of the walnuts and pulse again until fine.
2. Set aside about ¼ cup of the shredded coconut then add the rest along with the dates, vanilla, cinnamon, ginger, and salt and pulse to combine everything.
3. Take ½ tbsp. amounts of the mixture, roll into balls then alternate rolling them in the ground walnuts or shredded coconut until covered. Place on a lined baking tray then pop them into the fridge.
4. Make the cashew cream cheese. Drain and rinse the cashews then add to a high- speed blender with a few tablespoons of the coconut milk. Add the maple syrup, vanilla, lemon juice, and salt and blend until smooth. Depending on how thick the mixture is, add more coconut milk, tablespoon by tablespoon until desired consistency is reached.
5. Drizzle the carrot cake bites with the cashew cream cheese and enjoy!