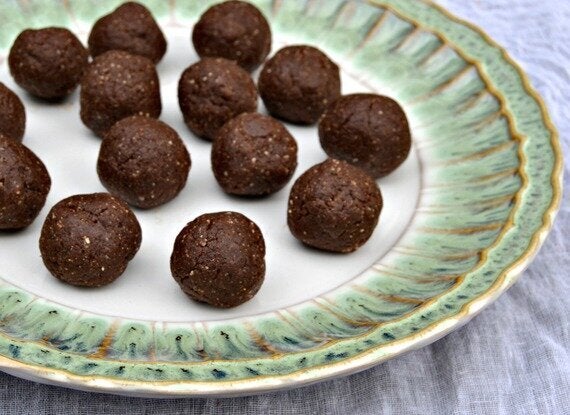 Although these came about by mistake, they turned out to be a great healthy snack. If you're looking for something simple to make that still tastes delicious (and happens to be good for you!) try them out for yourself.
I've named them my yogi energy balls because I love having them on hand for a quick bite before or after class, but really they're perfect as an afternoon pick me up or even for dessert.
If you're focusing on trying to make some healthier food choices this month (and hopefully longer than January!) you'll be pleased to know that these are raw, vegan, gluten free, dairy free, and refined sugar free.
I promise they taste chocolatey, indulgent, and are super easy to make.
2½ tbsp. raw cacao powder
Optional: 1 tsp. coconut sugar if you want them on the sweeter side for dessert
1. Soak the cashews and hazelnuts overnight (or minimum 4 hours)
2. When ready to use, drain and rinse the nuts then blend in food processor until fine and crumbly. Add the dates and pulse for a few seconds before adding the rest of the ingredients, blending until fully combined.
3. Make the balls by taking tablespoons of the mixture and rolling into shape. Place on a lined baking tray and pop in the fridge until ready to serve.
Makes approx. 14 energy balls