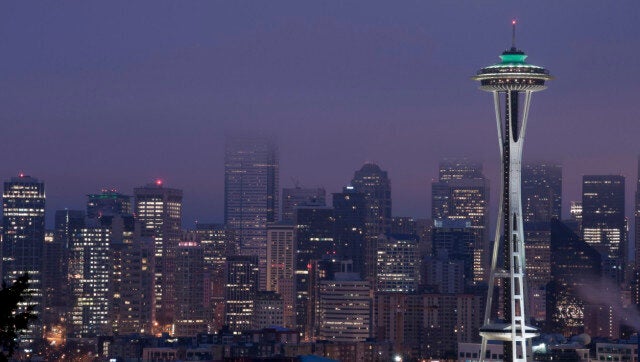 "If you find yourself near Pike and Broadway before I see you, you need to try the fries at Pike St. Fish Fry," emailed my friend Erik, 46, from the Madison Park neighbourhood after I announced a long weekend in Seattle. Kind of a little weird that the only thing he mentioned was fries. Little did I know that was a sneak peak into the weekend ahead; a hedonistic exploration of Washington State's finest produce. "The best fries are at Pettirosso on 11th N Pike St," says Ursula, 30, from the Capitol Hill area. What is it about these fries!
First things first: Once you've done Pike Place Market, the Seattle Art Museum, the Space Needle etc (lots of urban jungle), and re-played episodes of Frasier in your head (knowing, mind you, that only one episode, the 1000th, was actually filmed on location), you're ready to get a real taste of Seattle. With coffee on every corner (it's the birth place of Starbucks), cupcakes galore, Asian food bursting from its seams, and seafood e-v-e-r-y-w-h-e-r-e, you can't but gain a few loveable handles in this walkable American city.
Coffee and cupcakes are not hard to find. You can binge on sugar and caffeine till your heart's content. You can't go wrong with Asian food either: there are probably as many Japanese, Thai, and Vietnamese places for every day of the year. It's the fish, though, that's the real star of the show.
With six types of salmon fresh from the Ocean, I tried the Wild King Salmon at Ivar's on Seattle's historic waterfront. Grilled with lemon and olive oil, it was creamy, soft and delicate. Only a week into its season, however, it was Alaskan halibut that stole the weekend crown. At Anthony's Homeport Shilshole Bay I had it it Alder Planked (i.e. with Beurre Blanc). My response: "Oh MY." My friend's response: "Oh GOD." That's pretty good for a piece of fish. Bookmark these two venues and you'll fall in love with fish all over again; I have it on good, local authority that these are some of the best places in town.
Refresh your palette with some gelato at The Fainting Goat for dessert in Wallingford, heading next door for some World Peace tea at Teahouse Kuan Yin. Now you're ready for a night on the town: head to Neumo's of The Comet Tavern in the rowdy Capitol Hill neighbourhood, and get rowdy yourself.
Let's not forget brunch. When in the Rome.......Head to The Sexton in the gorgeous café/ boutique-filled Ballard neighbourhood for baked eggs with chives, asiago, and sourdough toast, or bacon waffles with scrambled eggs and a mimosa. (Never you be minding about the fig and gorgonzola sliders for dinner, now!) Perfect to taper off your grunge-infused, music-drenched night before (it's not the birthplace of Nirvana for nothing). Go on a Sunday and you can sample a zillion goodies at the farmer's market right outside, too.
There is more to Seattle than meets the tastebuds. Seattleites are wildly passionate and opinionated when it comes to the "best of" in their home or adopted town (the town adopts you quite readily, and it seems even temporary residents leave their hearts there). It's the stuff of fisticuffs. They all agree on one thing, though; their love of a complete 24/7 immersion in nature. Backdropped by Mount Rainier and cosied up next to Puget Sound, an inlet of the Pacific Ocean, everyone soaks up the relaxed, outdoor lifestyle that the postcard perfect landscape promotes. Ursula says:
What I love most about Seattle is how green it is year round and that we have so many beautiful parks. I love the bicycle culture and that I can see good live music almost any night of the week. I love Hothouse Spa and all the good Vietnamese food and sushi. I love how liberal, weed-friendly, and queer-friendly my city is.
As for the fries, Pike St. Fish Fry was our final destination. They didn't have the Ahi Tuna we wanted (but that was just for garnish anyway), so they gave us the fries for free, bless them. Were they good? They were crispy on the outside, soft on the inside, with the slightest hint of saltiness. Dipped in lemon aioli, these were very naughty fries.