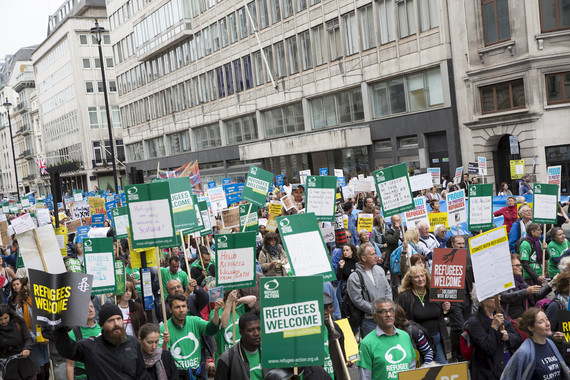 Like so many others, all of us at Refugee Action have been truly appalled by the vicious attack in Croydon. A young person who came to Britain to find safety has instead been left fighting for his life in hospital.
Everyone who comes to Britain seeking protection from persecution and violence deserves our support and respect.
This appalling incident contrasts with much of our experience at Refugee Action. Every day we see the generosity of people in Britain. Individuals, schools and companies contact us to ask how they can volunteer, donate and campaign to improve the lives of refugees living here.
When we advertised recently for two volunteers to support Syrian refugees rebuilding their lives in London - 179 people applied. Every week thousands of people campaign, volunteer and donate to support refugees and people seeking asylum in Britain, through charities and community groups in hundreds of towns and cities across the country from Bradford to Birmingham, from Shrewsbury to Glasgow.
But that's no consolation to Reker Ahmed, the 17-year-old who was the victim of this terrible attack. Our thoughts are with him and with anyone who has been the victim of hate crime.
Britain is better than this. Hate crime has no place in our country. It's been heartening to hear the universal condemnation of the attack. It's come from local leaders such as the Bishop of Croydon and the local Conservative MP Gavin Barwell who tweeted a picture of graffiti saying "refugees welcome", admitting: "I don't generally approve of graffiti but..." It's come from national politicians and newspapers too, with the Daily Mail leading their front page with a condemnation of this terrible crime.
This all sends a powerful message to the few in our society who perpetrate hate crime. It's vital that such incidents are reported and that the police act promptly as they clearly have on this occasion.
Figures show that there was a rise in hate crime in the second half of 2016. The strength of the response over the past few days is a powerful riposte to this.
A brutal attack of this kind is fortunately extremely rare. But even one such attack is too many. It makes it more important than ever for all those who want to see our country welcome and support those fleeing war and persecution to make their voice heard, and to shape Britain's response through their actions.
Many refugees and people seeking asylum do experience negative attitudes. Many do feel isolated. But many feel welcome and touched by the compassion they are shown. Let's do all we can to make this the experience of all who come to the UK seeking to rebuild their lives.