In our endless search for bargains in today's 'click and buy' society, have we inadvertently caused increased instability?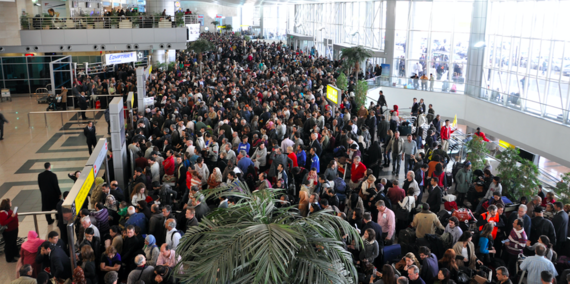 [Open source image]
It was the famous joke of old - how do you make a small fortune? Start with a big fortune and buy an airline.
And yet in a way it was true. Rich people have always wanted to own an airline as with newspapers a hundred years ago. We all know Richard Branson, but only older readers will remember Freddie Laker. Laker was driven out of business by British Airways, and Richard Branson now only owns 20% of Virgin Atlantic, which is barely profitable. And along the way many global names such as TWA, Pan Am, Continental, Sabena, BMI and SwissAir have gone, either bankrupt or swallowed up.
Think back to the old days - black and white films of stewardesses handing around champagne and cigarettes to customers looking like they are dressed for the opera. Now think forward and picture Gatwick North Terminal when flights are delayed and everyone is rammed into Wetherspoons. It's not unreasonable to feel that today's airlines have taken the glamour out of travel.
Or, have we done it to ourselves?
The years of the propeller plane hopping to America re-fuelling in Iceland and Halifax have long gone. The era of the jumbo jet and package holidays to Spain convinced us that air travel was now available to everyone, if you saved a little. The Ryanair/EasyJet revolution changed even that, with flights affordable for the price of a meal out. Okay, you had to have the understanding of a zen master to read the regulations and avoid hidden charges, and the airports were miles away (in one case - Paris-Vatry - 131 miles away from the city it is supposed to serve) but we love a bargain. Budget airlines have grown and grown, with maybe a few bumps along the way. We demand the 'best bargain ever' - and the internet has allowed instant comparisons and gratification. Following on from the recent Ryanair pilot scandal, and the Monarch administration, have the chickens come home to roost?
When you have airlines operating that can only make money from having airports bid for their business, or by flogging scratchcards on flights, then you know that we are skating on thin ice. This kind of business model doesn't mean that all airlines are doomed to immediate collapse, but it does mean that they take a different view to risk management - a lot of times they can't afford to have back-up planes sitting at hub airports just in case, and their Plan B may well be insolvency.
All of which brings us onto Monarch. The CAA has done a magnificent job in mobilising the biggest peacetime repatriation in the world, and is to be congratulated, but it has caused worry among Monarch passengers still abroad, and raises questions for those yet to travel.
What can you do if your airline fails? Insurance covers some costs but not all, and you will have to try the more obvious channels first. Check ATOL protection (although this covers package holidays, not flight-only) and whether you paid on a credit card (the card provider should reimburse your lost costs, but only with a credit card not a debit card). Be aware that budget airlines, even at the best of times, operate on paper thin margins. It can only take a small change in fuel costs or exchange rates for those margins to disappear altogether. As even the big airlines slash costs, the bottom end of the market is looking increasingly overcrowded. And the bargain hunter may suffer.
The arguments here are similar for those about happy meat, or organic produce. If the consumer insists on cheaper and cheaper prices, the consumer loses the right to criticise a drop in quality or reliability. It's like complaining that your £1 for four burgers contain horsemeat. Frankly, you're lucky it contains any meat at all. The great British public loves a good deal, and good for them. But they need to understand and live with the consequences - service issues, delays and yes, occasionally, total collapse. Budget airlines are a great idea; just know what you are getting into.
Horsemeat burger anyone?