Over the summer, airshows are held around the United Kingdom and provide great opportunities to try your hand at photographing aircraft and formation flying.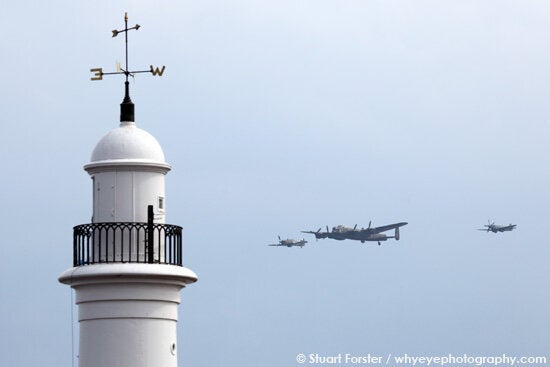 I headed to the country's largest free event of this kind, the Sunderland International Airshow, in order to see what I could capture on camera and understand more about the challenges posed by photographing aerobatics displays.
The 2013 Sunderland International Airshow, held from 26 to 28 July, was its 25th edition and drew some of the biggest names in the business. The show included performances by the Royal Air Force's Red Arrows, the Falcons parachute display team, a Typhoon fighter plane plus the Royal Navy's Black Cats helicopter team.
The Red Arrows opened the show with their thrilling, high speed display of precision formation flying. For photographers the conditions could hardly have been better. The evening light was bright yet soft and the sky was blue and largely cloudless; perfect for a good backdrop.
Despite the optimal conditions, I found that the velocity of the Red Arrows posed a challenge. Even with a high shutter speed I noticed that a couple of my first few close ups of the red Hawk jets displayed a hint of movement blur.
The problem was nothing too dramatic but enough to mean I'd never be able to print them as posters. To counteract this I raised my ISO setting, which controls the light sensitivity of a camera's sensor, to 400. Any higher and I risked making the sky look too grainy.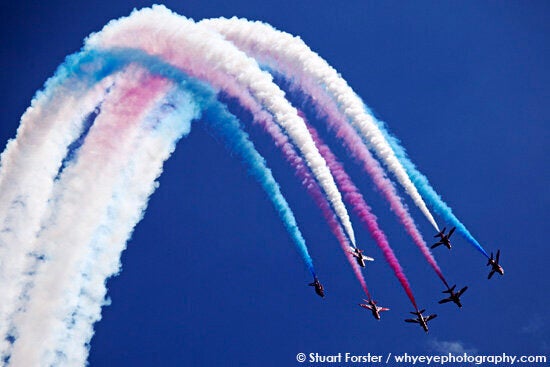 I found that the red, white and blue of the Red Arrows vapour trails helped create patterns that look stunning when they're photographed at the right moment. To do this I concentrated on releasing my shutter at key moments rather than a scattergun approach of clicking hundreds of images throughout their display. This required an element of anticipation. Unlike the pilots above me I didn't get everything right but, overall, I was happy with my results.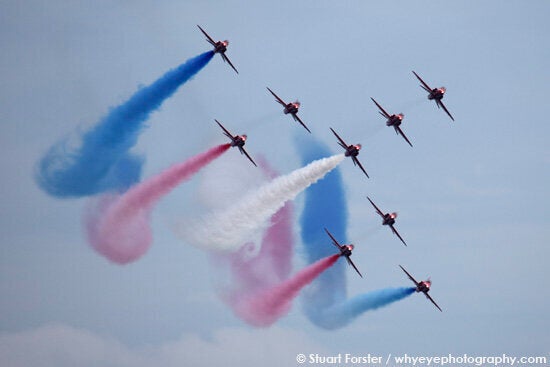 The Battle of Britain Memorial Flight - featuring a Lancaster, a Spitfire and a Hurricane - posed an entirely different kind of challenge. These planes might not move with the speed of today's fighter jets but capturing photos of them, flying in formation, still requires concentration from photographers in order record the optimal moment.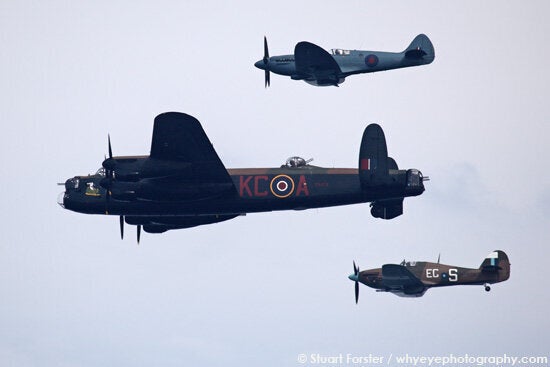 Also, the underbelly of the Lancaster was painted black, meaning the photo would be bland and silhouette-like if I timed my shots badly.
Peter Berry, a photographer from the Sunderland Echo, has been photographing at the airshow for a number of years. Helpfully, he offered a number of useful insights for photographing this type of event.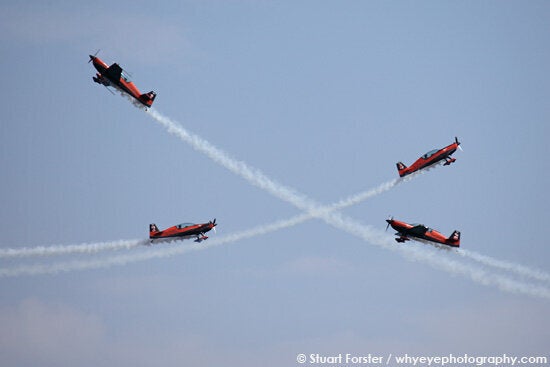 Peter's recommendations include photographing the planes as they move into the shot (rather than away from the camera), and, whenever possible, capturing images of the tops of planes (rather than their undercarriage). Following his tips, I went home with a decent collection of photographs from the airshow.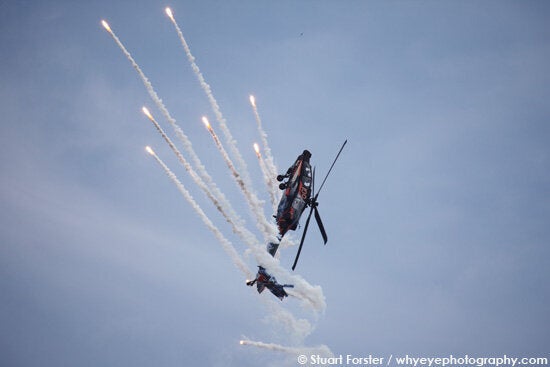 Walking along the seafront, from Roker to Seaburn, I noticed that the Sunderland International Airshow had drawn a decent number of photography enthusiasts. Several were making use of very good equipment, including 300mm prime lenses, 400mm lenses and some of the latest Single Lens Reflex (SLR) cameras. Many had arrived early to grab good spots on the promenade and had set their kit up on tripods. Judging from how they were going about things, a number of these guys clearly attend airshows regularly.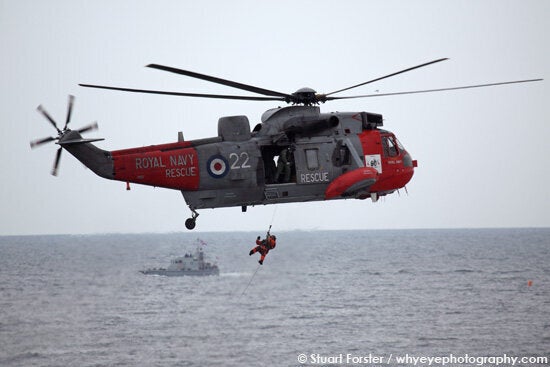 I enjoyed the challenge of photographing the two Red Bull Matador planes, whose colours and mobility made them a joy to watch throughout their aerobatics display.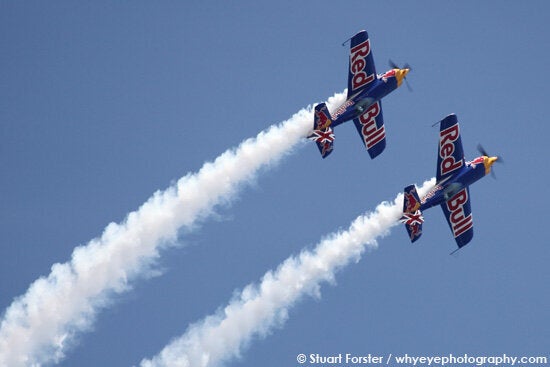 If you think that photographing the RAF Falcons parachute display team is easy, I recommend you give it a go. The parachutists approach the landing spot at speeds of up to 30 miles per hour.
Seeing them swooping towards me meant I had to be quick. Having a camera with a good auto-focus system is an advantage when photographing this kind of scene.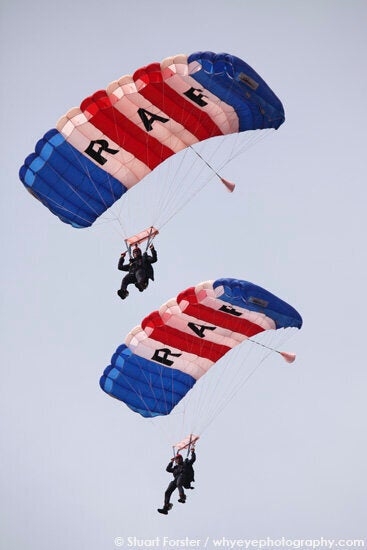 While the main attractions are up in the sky, it's worth keeping your eyes open on the ground when photographing at airshows. The Band of the Royal Marines Scotland and Re-Take That, a Take That tribute band, performed on the main stage, providing good subject matter. The exhibitors' tents also have plenty of interest.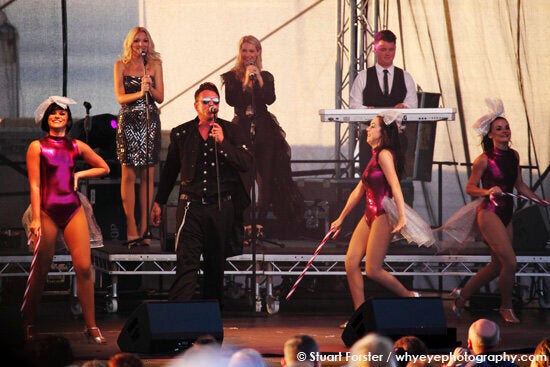 Photographing aircraft participating in an aerobatics display is by no means as easy as it might look. That said, giving it a go can be a lot of fun and, hopefully, you'll return home with a set of images you'll be happy to show.
Read more of Stuart Forster's travel features on go-eat-do.com, his blog.