Light, say artists, is all important to creating a masterpiece. The azure sky over Lisbon, long hours of summer sunshine and golden sunsets are factors that ensure many visitors go home with fond memories and great photographs of the Portuguese capital.
The city overlooking the Tagus river--the Rio Tejo to give its Portuguese name--is accessible enough to be a weekend break destination from around Europe yet also multifaceted enough to warrant longer stays.
You be able to find accommodation suited to all budgets. You can find centrally located luxury hotels, such as the designer Bairro Alto Hotel, and dine at Alma, a stylish modern restaurant run by the star chef Henrique Sa Pessoa. Alternatively you can head any of a number of quality hostels, including the Oasis Hostel. You'll find inexpensive accommodation even in the down town Baixa area.
You don't need to spend a fortune to dine well in Lisbon. Snack on tasty local food such as bifanas (sandwiches filled with slowly braised pork) pao com chouriço (bread baked with spicy sausage). Heading to one of the Ginginha bars in the streets off Dom Pedro IV Square, known popularly as Rossio, offers a chance to sip a traditional cherry brandy liqueur and observe local drinking habits.
Compared with Western Europe's other capital cities, Lisbon is affordable and accessible. You'll be pleased to hear that many of Lisbon's museums and galleries don't charge for entry. Getting around on public transport is relatively easy thanks to the metro system and network of trams, furniculars, buses, ferries and suburban trains that cover the sights and areas of interest. Hopping on and off the network is easy with a pre-loaded, money saving Viva Viagem cards, which are available and rechargeable in metro stations and railway stations. Taxis too, are, in the main, reasonable for trips within the city.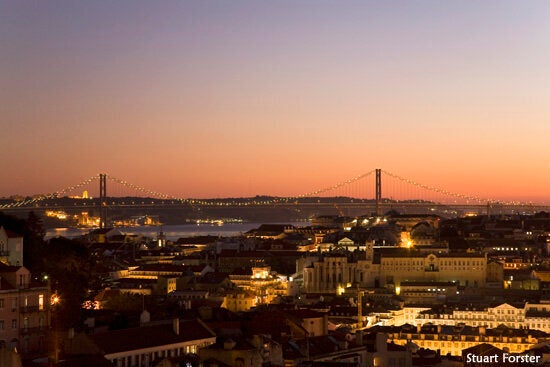 Lisbon has been compared to San Francisco, thanks largely to its hills, vibrant gay scene and Ponte 25 de Abril suspension bridge. Foodies might also argue that both cities are great destinations for seafood lovers. Lisbon's seven hills also bring comparisons with Rome. Lisbon was known as Olissipo in the times of the Roman Empire and the remains of a theatre from that period are being excavated in Alfama.
Alfama is popular with visitors thanks to its winding streets, Fado restaurants and tourist friendly bars. It's also the site of miradouros (scenic viewing points that offer opportunities to photograph great cityscapes) and Castelo Sao Jorge, which Afonso Henriques captured in 1147, a key milestone in the Christian Reconquest of the Iberian Peninsula.
The Number 28 tram runs through Alfama and past several well-known tourist attractions, including the cathedral. It's so well known that it's no longer anything close to being one of those insider tips that make travel all the more enjoyable. It is, though, worth the ride and a pleasant method of gaining an overview of the city, especially of you can get a seat by a window.
Prior to the Great Earthquake of 1 November 1755, which destroyed 85 per cent of the city, much more of Lisbon would have looked the way Alfama looks today. The Marquis of Pombal, Prime Minister Sebastiao Jose de Carvalho e Melo, ordered the city to be rebuilt and reorganised. The rebuilding of Baixa - with its waterfront Commercial Square (Praça do Comercio) and the grand buildings around Rossio - is often cited as an example of Enlightenment rationalisation.
Of course, Lisbon was a key city in Europe's discovery of the world and legacies of that can be seen in the city. The 52 metre high Monument to the Discoveries was built to mark the 500th anniversary of Henry the Navigator's death. Wealth from overseas trade and treasure funded the building of Lisbon's two UNESCO World Heritage Sites, the Manueline style Belem Tower and the nearby Jerónimos Monastery.
The explorer Vasco da Gama, who arrived off India's coast in 1498, is buried in the Jerónimos monastery and the city's 17.2km long bridge, built for the 1998 World Expo, is named after him. The park in which the Expo was held, now named the Parque das Nações - the Park of Nations - is still a popular meeting place for joggers and locals taking riverside strolls. Its restaurants and cafes draw locals and tourists, as do the popular Lisbon Oceanarium and Vasco da Gama shopping centre, a mainstream mall and an alternative to the boutique stores of the Chiado district.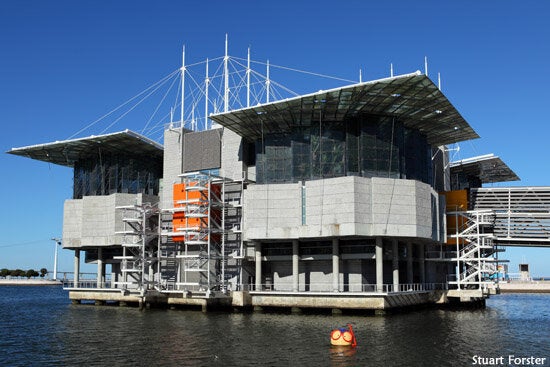 The Oriente Station, designed by Santiago Calatrava and built ahead of the Expo, is in interesting modern take on Gothic architecture and worth taking a look at even if you don't need to take a train.
The modernity of the Park of Nations contrasts with the cobbled, narrow streets of the graffiti sprayed Biarro Alto district, a popular place to dine and to drink until late in the night or early in the morning, when the magical light of Lisbon's day again illuminates the sky, offering further opportunities to explore and photograph.
Find out more about Lisbon via the city's tourist information website.
Related