Apart from Adnan Januzaj, no other Manchester United winger has made a significant impact on the pitch this season.
David Moyes has now started to prefer Shinji Kagawa to play alongside Patrice Evra on the left-wing and together, they have done an admirable job in United's last two encounters, at San Sebastian and Old Trafford.
Can such a partnership continue?
Link-Up between Evra and Kagawa
Against Real Sociedad, United's two most productive passing combinations were between Evra and Kagawa.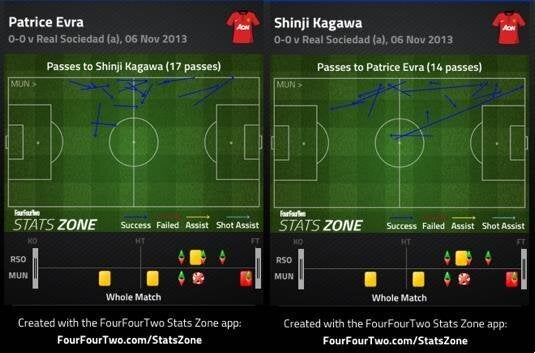 Kagawa's drifting role suits the 32-year-old.
It's important to understand that United utilize their left-flank for the shift of play. It's basically their "under-used" wing. The Plan B. Forty-two per-cent of United's attacks come down the right-wing with the left-flank giving shelter to just 33%.
When the switch of play takes place, Kagawa is generally positioned centrally, also bringing the opposing right-back with him. The midfielder of Evra's side is naturally inclined to the right side of the pitch due to United's congestion there, so Evra gets acres of space to run down when he gets on the ball.
In other cases, Kagawa might also move out on the left. This ensures the right-back is kept occupied and he can't got out and defend against Evra, while also allowing United to create a 2-versus-1 situation (generally, the right-midfielder is unable to make ground and track Evra).
When United start attacks from the left, Evra is very quick to get forward. When Kagawa drifts in, the Frenchman quickly overlaps and in many cases helps in creating a numerical advantage for United.
However, Evra's threat and United's impetus on the left can be restricted if they come up against a disciplined right-midfielder. That is yet to happen though.
Against Sociedad, Kagawa and Evra were pitted against Carlos Martinez and Carlos Vela, with the latter rarely offering defensive support.
Interestingly Kagawa always positioned himself very high up the pitch when United were in/got possession. This forced Martinez to retreat and gave Evra room to run down.
Here is an analysis of their link-up and the possible deficiencies.
2nd minute- Kagawa receives the ball and runs at Martinez. As he drifts in, Evra overlaps. Kagawa passes to him, who in turn, crosses in. Cross gets deflected.
8th minute- United shift play to Evra. Kagawa also moves wide, staying close to Martinez. Vela presses Evra but Javier Hernandez creates a 3-versus-2 situation by moving out wide. The attack ends with Hernandez delivering the ball into the box before Giggs fails to link-up with Evra.
10th minute- United counter. Rooney feeds Kagawa near the half-way line. Kagawa runs at Martinez, until Evra overlaps (unmarked again). With the desired 2-versus-1 situation created, Kagawa passes to Evra who delivers a low ball into Rooney, with Kagawa making his way into the box. Rooney teams up with Kagawa, whose eventual shot is just wide.
17th minute- Kagawa gets the ball on the touchline. Evra under-laps this time. As he does so, Kagawa feeds him. The France international returns the favor to Kagawa by playing the ball behind Martinez (the last defender) for the Japanese to pounce onto. But the pass is mistimed.
This instance shows that Evra might still not be at the same technical level as Kagawa would want him to be at. Leighton Baines, anyone?
19th minute- Rooney passes to Kagawa near the left edge of the penalty area. Martinez tries to close down on Kagawa, but Evra overlaps, distracting the Sociedad defender. Kagawa gets room and space to register United's first shot on target.
37th minute- Rooney shifts play to Evra. Vela was plucked in owing to United congesting the right side of the pitch. Kagawa moves out wide, ensuring Martinez is occupied. Evra runs down the acres of space afforded, passes to Kagawa, who plays in a low ball for Hernandez, only cleared by a last-ditch challenge by Inigo Martinez.
54th minute- Evra and Kagawa again link. Attacks ends with a penalty appeal.
62nd minute- Kagawa moves centrally to collect the ball and start United's attack. Rooney sticks to Martinez and Vela shifts in with Kagawa. The Japan international plays a long cross-field ball to Evra, who is able to make a free, unmarked run out on the left. However, after getting hold of the ball Evra fails to do anything productive, passing it to Giggs on the edge of the 18-yard-box.
Good for Evra, Bad for Shinji?
While the partnership is beneficial for Evra, it's not so for Kagawa.
His ability to take on players is not the finest, so his impact is limited to playing passes to Evra or delivering mediocre crosses into the penalty area. Moreover, Kagawa sometimes tries to link up with his colleagues by playing a pass and then getting into promising spaces. But he never gets the return.
This is primarily because the United players can't pass into the "complex" spaces Kagawa gets into. Nonetheless, maybe if he's centrally situated, the former Borussia Dortmund man can be found with "easier" passes.
"I had an easier time playing as a shadow top [No10] than I did on the left wing," Kagawa told reporters after the Sociedad tie.
"I need to be more involved in the match and I hope I can do so in our upcoming fixtures. I want to play better, sharper and faster."
Contrary to what many believe, Kagawa has helped out Evra very well on the defensive front. Against Arsenal, Kagawa made three tackles and four interceptions. He was rarely caught out of position. But defending is not Kagawa' forte. It's staying high up the pitch and attacking.
The left-wing partnership between Kagawa and Evra is helping Evra but not his counterpart.
As per WhoScored.com' ratings, four of Evra's five best rated games have come when he's partnered Kagawa.
Opponent Rating Left-winger
Bayer Leverkusen 7.7 Kagawa