It all started with one rather confused little owl. A Bit Lost, the first picture book by Irish illustrator and children's author Chris Haughton was published by Walker Books in 2010. That title has earned him a clutch of awards and his latest, Oh No, George!, has the same child-friendly combination of bright colours and a dash of humour. But don't expect to see messy dog George emblazoned on millions of lunchboxes, stickers or duvet covers. For several years Chris has been working with People Tree, the Fair Frade clothing network founded by Safia Minney in 1991. Now he's launching his own range of handmade products that will create jobs and improve lives in developing countries like Nepal.
Which books did you love as a child?
I honestly can't remember! We didn't have any of the classic picture books and I only saw Maurice Sendak when I went to San Francisco. But I was really into non-fiction -- anything with a diagram -- and I wanted to be an archaeologist until I was about ten.
Did you always want to illustrate children's books?
I was aware that there were amazing things you could do with picture books but it really wasn't on my radar to begin with. As a student at the National College of Art in Dublin I looked up to Pentagram and wanted to do what I saw as proper, adult illustrations. Then later when I was working as a runner at Studio AKA, their creative director Philip Hunt had a shelf of picture books and that's what really sparked my interest.
How did A Bit Lost end up being published in Korea first?
In 2007 I went to the Bologna Book Fair because I was thinking about doing a self-initiated project. I was looking for publishers that would fit my aesthetic and I discovered Borim Press was doing beautifully produced books like Yellow Umbrella [by Liu Jae-Soo]. They also had this great set-up in Paju Book City, with a children's theatre, art gallery and bookshop. They offered to bring me out to South Korea for a month on spec. That turned into five and a half months, while I was working on A Bit Lost. It came out there in 2009 as a board book, but when Walker Books published it in 2010 we changed the format and added pages.
How does the illustration process work -- is it a combination of pencil and computer?
I'll draw things by hand, then scan in and block out colours. I often have an idea of the composition in my head when I'm drawing but sometimes that shifts around with the pagination. When I first approached Borim with A Bit Lost I had a story about three birds but I knew there were things we had to change.
Is it tempting to exploit all the merchandising opportunities that go with a successful children's book?
I've worked with People Tree for so long and I love that whole ethos, so I will never do anything with my books that's not Fair Trade. But it is difficult to get my own stuff made. So after A Bit Lost I went to India and Nepal for eight months, to take a break and explore the possibility of doing my own Fair Trade products from scratch.
So the owl toy was designed with handcraft workshops in mind?
It's all about fitting the products to what the production groups can do. With T-shirts you really need a factory, large-scale production and to be located on the coast. Virtually everyone I've worked with in Kathmandu is illiterate and there are no factories. The women at Mahaguthi who make the owls are all deaf or victims of domestic abuse. The set-up there is a bit wonky, and that lends itself to something small and delicate like these toys. It's not a long-term career, but the workers all do some sort of literacy training, which allows them to get skilled and educate their kids.
How did you get the idea for rugs that combine 21st-century designs with traditional techniques?
During my travels I was blown away by the rugs in Nepal, but their traditional patterns are not always to western tastes. So I thought it would be great if I could do some of my own designs, and I was already getting requests for that through my blog. Last year my friend [illustrator] Serge Seidlitz did a big show in London with 22 rugs of his own design. But there are logistical issues working with the Kumbeshwar Technical School in Kathmandu, so I set up Node with Akshay Sthapit, co-founder of the Harilo shipping service. The idea was get 10 or 20 designers to design one rug, and then have an exhibition. Now the Design Museum in London has said it will host this -- probably in late summer 2012. Carpets are much easier to do than owls, because the design is already gridded up and digital art fits in well with all those knots!
Will George the messy dog end up as a handmade toy, too?
I'm going to do a door-stopper. I'd like to have him all big and floppy. My friend had the idea of just creating an unstuffed outer that you can then fill with rice. It saves on shipping costs! I'm also working on an animated trailer for the book now which is a lot of fun.
Are there other book projects in the pipeline?
Yes. I already have a rough layout of something I'm calling "Don't Worry I Have a Plan". It's all about these three birds . . .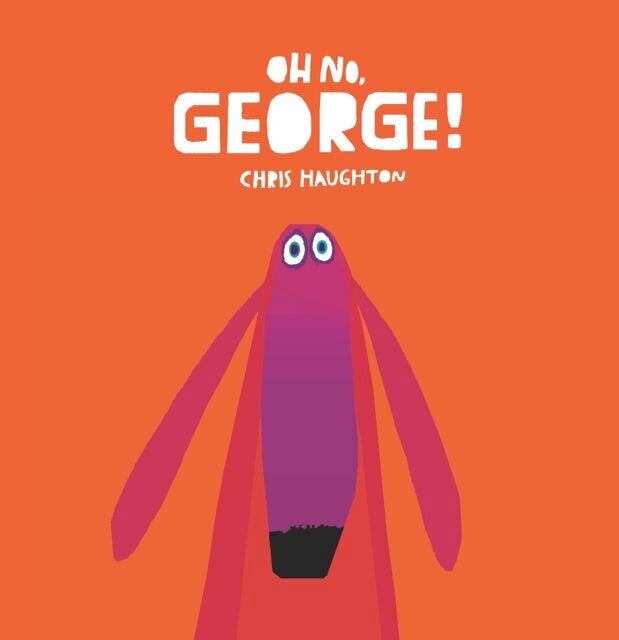 Oh No, George! is published by Walker Books (www.walker.co.uk/) on 1 March 2012.
Find out more about Chris Haughton's projects at his blog (chrishaughton.com/) or on the Node website (www.noderugs.com/).
Related