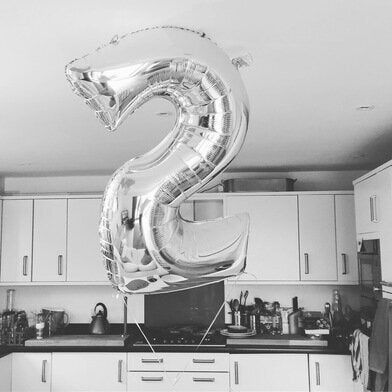 When I wrote my blog about when is the right time to... leave your baby for the night? it got me thinking about how many scenarios to ask the same question.
The two that have cropped up recently is 'When is the right time to introduce kids parties? And 'How many gifts does a two year old need?'
The little man was two recently and we weren't having a party. We didn't ignore the fact it was his birthday but he didn't really know it was his birthday. I invited the family around for a glass of fizz to celebrate how amazing I was two years ago! two of his little play date mates and cousins came round and obviously the family bought him loads of presents, but as far as a party goes, did he really need one?!
When he was 1 we had a 'Glistening' to celebrate his arrival to our family. We celebrated the fact we'd got through year one after our rocky start, had afternoon tea and fizz with 50 wider family and friends, combining that with embarrassing his 'Odd Parents' and letting loads of kids run riot in the grounds of a venue. It wasn't cheap but it was fun. Rocco couldn't even walk at this stage so it was all about us!
Now that he is two we have been invited to his playmates' parties and they have been fun. If I start organising parties for him now, as an Event Organiser I have to go all out. It won't be cheap, it will be over the top and I'm not sure I will know when to stop. Then next year I will have to top that and so it goes on.
So this year we did have a few friends round over the weekend, Rocco thought it was a normal play date but with cake. No party bags, no games, maybe a balloon or two. I'd go without a cake but Aunty J is a professional cake baker so why waste the talent!
On his actual birthday Daddy was at work so Rocco and I will popped up to NICU Bath with cakes and a thank you card - I think this will be an annual thing for me, mummy can't help but regress at this time of year. Then we went to his swimming lesson as normal and had lunch at the farm shop.
I did tie a balloon to his wrist just so everyone knew he's the birthday boy!
As for gifts he had plenty from everyone else. Both sets of grandparents go over board - one set buys toys, most of which I say have to stay at their house, the other set buys clothes from my recommended kids clothing site.
With Christmas approaching, how many toys does a child need? I know in this day and age most kids have everything they could want. My sister used to make my niece clear out old toys that she no longer plays with, to give to charity before new ones may or may not arrive from Father Christmas. I am hoping to put this into practice in our house.
Our friends and family will buy fab gifts for him so we don't have to! I am going to stagger his treats across the year. If I added up what we have spent on him this year on gifts and cool clothes it would actually be more than I would have budgeted for Christmas!
At two do they really understand what's going on? I'm not sure he will even like meeting Father Christmas next week, he cried when we went on the Christmas train in a shopping centre last week.
That said, I do love buying gifts and I make sure that the kids in the family all get cute pressies, whether their mums have said 'no gifts this year', 'don't go mad', I just can't help myself.
Maybe I should practice what I preach.
Photo Credit Author's Own