To say that 2016 was rough going is an understatement. For many people it was a tumultuous year with Brexit, and the alarming ugly rear of racism and populism in politics.
You might feel like taking a look back over the events of the last twelve months, in order to get an understanding of what didn't work out and your successes. This is a good time to define new personal and professional goals, which will sustain you through your unending challenges.
On Christmas Eve J. K. Rowling demonstrated that she is not just another author, she shared an incredible ability to speak to the soul, she is an inspiring leader empowering her followers on twitter. Proving her capacity to relate to the pain of others, through her own experience of life was a great example, when she sent a series of uplifting tweets.








From living as a single mother on benefits to a billionaire today, many a times she has attributed her considerable achievements to her ability to focus all her attention on the things that mattered to her the most. We need leaders like Rowling who can bring light and strength to support a brighter future. Feeling inspired? Just remember nothing is impossible.
This is the time of year when many of us make resolutions for how we will improve ourselves in the next one. Lose weight, exercise more, do more of this, less of that, those are fairly typical. Resolutions are often difficult because if you are not able to keep them, you feel like a failure and the self-critical cycle continues. Don't we all just love the idea of a fresh start?
Presumably, we can take these same characteristics shown by Rowling with us in the New Year. Here are some to consider:
Optimism: Being able to see what's over the horizon and a deep resilience in the face of setback.
Compassion: This attribute seems particularly relevant in today's divisive culture. Having compassion is the recognition of the suffering of another and wanting to help alleviate their pain. A key component of compassion is to seek understanding about the suffering or pain somebody else is going through.
Kindness: It's playing forward that acts of kindness, how you treat others comes back to you.
Gratitude: Having some life perspective gives you more reasons to express gratitude. Seeing how people around the world and at home may be suffering can make you more grateful. It's not the big things it's the little, everyday interactions that we can be grateful for.
Empowerment: Know how to lead and when to follow. In a world of social media, be a leader where you are strong and be willing to be a follower and team player where you are not. Don't confuse power-driven, self-centred people with true mentors. A genuine spiritual mentor or leader will not direct your attention to him or herself, but will help you appreciate and admire your inner self. True mentors are as transparent as glass.
Have you observed how other people may try to wield their power even when it is not necessarily their place to do so. Times when people may try to show off their high IQ by offering random facts that don't necessarily offer anything useful for the situation at hand, but instead just prove their knowledge of esoteric trivia. Try not to buy into other people's displays of power. More than likely, there is a great deal of hype and not much substance.
Networking: Don't misjudge the value of setting aside some time in your monthly calendar to network with new and existing contacts. Networking allows you to be seen, be heard and be remembered by people and gives you the change to promote yourself as well as your brand.
Curiosity: Learn something new that will bring a new dimension in your life. Start a new hobby, explore something you are passionate about or travelling to a new place is a great way to mix things up.
"There is an Indian proverb that says that everyone is a house with four rooms: a physical, a mental, an emotional and a spiritual. Most of us tend to live in one room most of the time, but unless we go into every room every day, even if only to keep it aired, we are not a complete person." Rumer Godden
Those words are a start and deeds must follow, in small moments of kindness and larger acts of standing for justice. At this moment we are being put to a test. We have to show heart and conviction. We have to ensure that our children learn the values some world leaders have forgotten.
Believe in yourself, trust your knowledge, take risks and follow your dreams, nothing is impossible. So, I wish you all a Happy New Year and hope you find your own ways in 2017.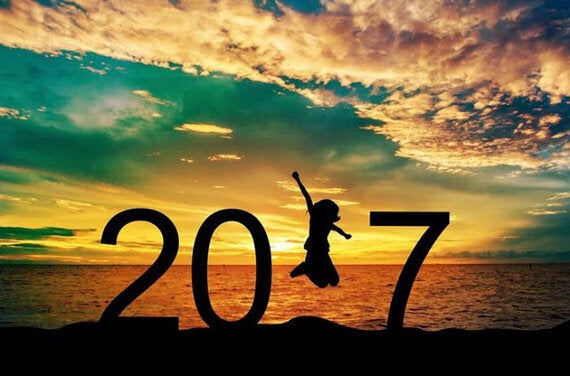 Image credit Shutterstock https://www.shutterstock.com