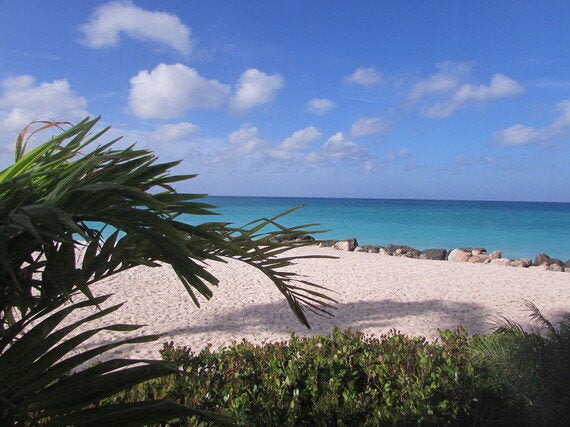 The title of this blog post might make you wonder if I'm about to reveal some horrific tale of betrayal and adultery a la Doctor Foster, but this is a far more positive post. Last year I turned 40 and for my birthday we went on holiday to Aruba, in the Dutch Caribbean. I had been to the island years before on a press trip and had loved the weather (28 degrees all year round), the wide range of activities, and the interesting mix of Caribbean, Dutch and South American influences.
Since this was to be my first holiday with my new husband, I picked an all-inclusive break so that we wouldn't have to worry about carrying around our wallets when on the beach. We wanted the ultimate stress-free beach holiday without the attendant anxiety of more independent travel. I figured we could save that for future adventures; the both of us had been working far too hard and we both needed a fly-and-flop break.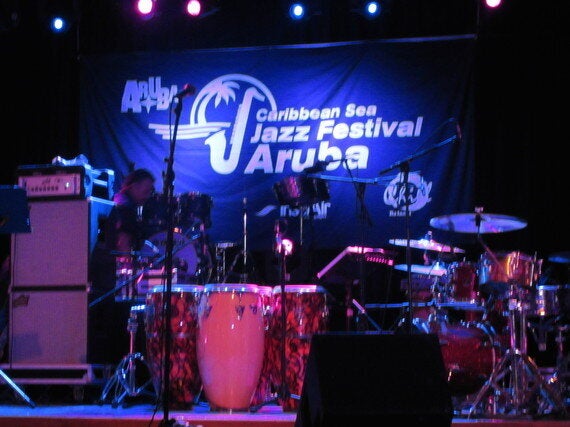 There are certain things I know about my husband. For example, I know that his love of music is eclectic and deep: after all, he's a DJ so music is a huge part of his life. In fact we coincided our visit with the Caribbean Sea Jazz festival specifically because of Gary's love of jazz. He even likes that weird free form jazz that completely and utterly bewilders me. So there were no surprises there and we went along to one of the best-organised and cleanest music festivals I've ever attended. The portaloos were pristine - do these people not know the rules of festies?
Where I started to suspect that I didn't know everything about my husband began when we entered our upgraded suite at the Divi Aruba. This wonderful all-inclusive hotel resort is where I stayed the previous time I'd been in Aruba, but my previous room had been a standard one, while this beachfront suite was stunning. A huge comfy bed, relaxed sitting room, two bathrooms and lots of charming extras such as exotic flowers and towel art. Patio doors opened right out onto the beach (the picture above is one I took from our patio). There was champagne, cheese and fruit in our room, which immediately made me decide that we should become one of those couples who holiday in the same place every year. After the long flight, a glass of bubbly and the beach was just what we needed.
And that's when I realised that I had inadvertently married a merman. He leapt into the sea, swam out a bit, lost his expensive sunglasses, got buffeted by wind-churned waves and, strangely, didn't cry about the loss of the glasses. (He replaced them with an identical Oakley pair the next day and then promptly scratched them by dropping them on the floor of the butterfly farm.)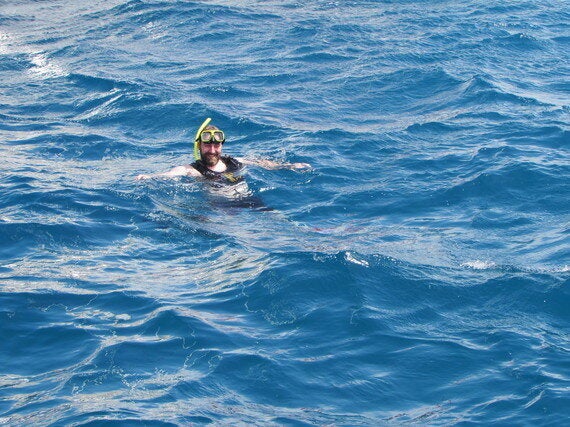 We went on a trip on a catamaran with Depalm Tours and that was when I realised that marriage is about finding out new things about your spouse on a regular basis. Not just the annoying stuff you're told you only discover after you're married and living together, but also the really good stuff. The talents and hobbies and interests they have that you only find out about them by continuing to be curious and attentive.
Gary had never been snorkelling before: I had somewhat unsuccessfully done so in Australia but I'm no big shakes at it. Whenever I had asked Gary about his swimming prowess, he'd simply said he did know how to swim. He didn't say he's the bloody James Bond of swimming. He dove off the catamaran. He swam out to this spooky wreck, the Antilla from World War II, and tried to dive down and touch it (it was around 30 feet down and it sits in 60 feet of water). Luckily he came back to the boat alive and well. I admired his comfort in the water and also discovered he hadn't swam like that since he was a child. But I guess you never forget.
He then gave himself the best version of a first world problem I've ever come across: he split some of the delicious curry we were served on the catamaran on his shorts and decided to go dip in the sea to wash it off. His vaporiser was in his pocket. Yep, he killed his vaporiser battery by jumping into the Caribbean sea. The world's smallest violin played a dirge.