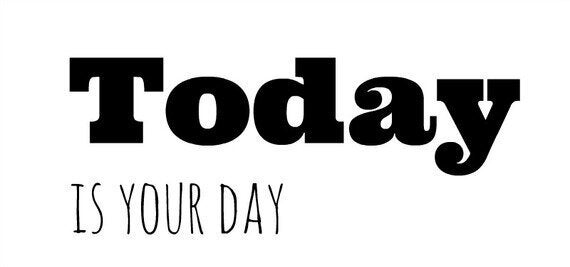 What if I told you that today is your day and actually life going wrong means that life itself is pretty much working out for you? Let me elaborate a little...
I am a mum. People say I have the hardest job in the world! Looking after two little ones whom I love with all my heart is hard right? ... wrong! It's not. It really isn't. I hate the word HARD. It's so uninspiring, so meaningless. It gives me chills down my spine and reminds me why I never seemed to achieve anything worth shouting about until I had children. I always thought life was hard. I thought although good times lay ahead for me in life, life was extremely hard and good things were hard to come by. Lovely right? How bright did my future look.
When I had my two beautiful children, something changed, I changed. I began to see life through my eyes and not everyone else's.
I enjoy watching my children play, I enjoy being in their company, doing whatever we feel like at the time, playing or drawing, sometimes I write (if I can concentrate) and they play. I enjoy telling them a made up story from the top of my head while I put them to sleep. I enjoy cuddling my son to sleep and holding my daughter's hand every night while she falls asleep. And when they are asleep I enjoy sitting in the dark of the night and tapping away at the keys on my Macbook Pro. True story!
So these are just a few of the things I enjoy. But what really matters is that I have learnt to allow myself to enjoy the moment. I no longer feel bad for feeling good because my life is not hard. I always kind of thought 'oh damn life is working out for me I must be doing something wrong?'
Because I seriously can't remember the last time I actually felt like life was going completely wrong for me. That hasn't happened for such a long time I hardly remember what it feels like and good because I don't want to ever go back to where I was. I am happy here. And after lots of careful thought I know why....
It is because I finally accept that I have control. The power (so to speak) is in my hands.
But on a more serious note, yes I am human and some days I wake up on the wrong side of the bed and I don't feel good. Hey, I need those days. I need to remember that on the very good days where the light is shinning out of my every crevice I am so very grateful to be where I am. Because those bad days are not days I want to remember or have many of. Lets all be perfectly honest how much better are the good days. How much happier are we when we are not worrying or down?
I get to thank my children for waking me up to my own reality and pushing me in the direction of my dreams.
So when people tell me I have the hardest job in the world, I have to disagree not because I think I am perfect and alien to this world. But because actually I enjoy being a mum, I feel like it is my birth right and what I was born to do. I am proud of that, and the hard days those are days where I have not slept enough. I take the blame. I own my moods and generally being mum for me is easy, fun and enjoyable. I find a lot of pleasure in the simple day to day life of being mum. When doing the food shop with my two children, Sophia my 5 year old daughter helps me load and unpack the shopping. Archie my 2 year old son he sits in his carrier on my back and holds sweets his sister passes him on our walk around the shop. All the while with the goal of the till in his mind so that he can finally open one of them!
It's all fun, it really is and its definitely all fun when you allow it to be. Take a moment to perceive it as it is. When the sun is shining, your hearts full and you have a cuppa tea close (or coffee or water, whatever you love to drink during the day) ask yourself what is more pleasurable then this? Oh and not forgetting a little 'me' time to reflect on how lucky you are and how grateful you are for all of it. That truly is the time where it all makes sense and you know what you are doing it for.... its easy, its simple... and that is because it makes you happy.
Let life make you happy. Today is your day.