Oh to go into a gallery and just pick a piece of work, to look at it in all its fully realised 3D glory and say, "Yes, you are just what you say you are on the tin, I'll have you."
I deal with proposals from artists and art collectives who want funding to realise dream builds. In short, Secret Arts commissions and funds installations; huge, kinetic, multi levelled, participatory installations. I select them, nurture them, curate them and place them in incredible event locations like The Secret Garden Party Festival for all to interact with.
I dream in fitful sleep, often just before a live event, that I am a gallery curator. I have a neat two piece suit (cream, maybe Westwood, a few impractical frills) and a clean shiny mahogany desk (desks are always mahogany in my dreams, suits are always cream.) All I must do is thoughtfully curate where, in my crisp white cube, these pre-existing works should go. I stand there in my impractical frills while an army of uniformed art handlers place small manageable ceramics on plinths and hang neatly framed oils!
In the cold hard light of reality I roll out of my caravan in crew camping and shove a crew catering bacon buttie down my throat, jump on my golf cart whilst slinging on a 'high vis' bib (so un-flattering) and race through the fields to meet the latest artist to arrive for installation. What follows are days and nights of construction; of scaffolding, fork lift trucks, electricity cables and health and safety meetings. All while trying to ignore the ticking of the clock counting down to when the event goes live.
The truth is curating installation art work amongst 30,000 people all living in a rural temporary community for a weekend is a difficult and many-layered challenge. There is just always an element of the unknown. Picture the scene if you will:
Sunday morning of Secret Garden Party, I get an 8am radio call waking me from another 'Cork Street dream'. Production are telling me that a 16 ft piece of art work is missing...oh Jesus. Is Land, an artwork by a collective called I.Rene, is (was) a post apocalyptic fantasy image of a chunk of land that had seemingly been ripped from the earth and set adrift ignoring the laws of physics. We told the aviation authority it was a MASSIVE helium balloon that looked like an island; we thought it not the time nor place for the conceptual on that particular phone call. So, as I golf-carted my way over the to former site of Is Land I knew in the pit of my stomach that vandals had just cut the tethers of £6,000 of stunning art off into the stratosphere.
Disaster. The artists were devastated, naturally. They had planned for the piece to continue its tour over to America to be exhibited there. My ill-placed joke / hope that it might cross the Atlantic, landing there and saving them shipping costs was not appreciated: It's a nervous reaction, what can I say.
The truth is it was the uncontrollable element, the dark side of that dynamic exhibition space which was to blame.
However, world-wide intrigue for the story instigated a huge search to find the island and the press picked up on the story. The Guardian, the Independent, the Times and the Telegraph all spread the word of the missing Isle and sightings were reported as far as Iceland and Russia. At one, quite bizarre, stage the Thaindian News featured the story! Do you remember reading about Is Land? Did you see the elusive art work hovering overhead? Maybe it landed in your back garden? We would love to hear people's accounts to add to the various communication surrounding the piece.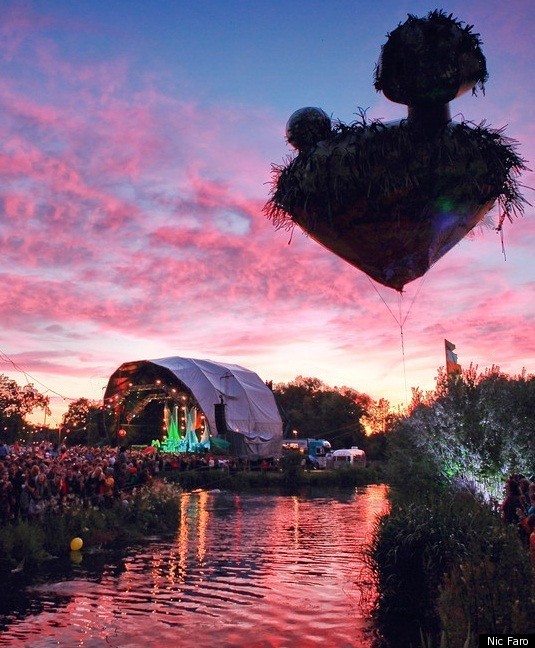 Later that Summer, funds were raised to re-build the Is Land, the Mark 2 did exhibit in America and this piece will now be outside the Saatchi Gallery for the Olympic month of July, all thanks to the narrative that was created. Infact, dusting off the memories of that awful morning, the art collective feel that it was a better piece in concept for the events of its short life. The piece was to look like it was defying the laws of gravity, perhaps it was teaching us all a lesson!
Such was the hunger for the story and the marked residue of the concept we decided to incorporate this as a annual ritual into the festival and in 2012 we will ceremoniously release a similar piece by the same artists (this time with a GPS tracker and blog linked web cam!) called Lune & Tide. As the name suggests the artists have decided to incorporate water into this installation, far from being put off, the artists seek the next challenge. It seems to be that sort of environment; it's challenging but as a result everything is possibly and the work we fund is getting bolder, more ambitious and fully embracing its distance from its white cube cousin.
Deep down I think I am a fan of 'the gamble,' of the risk of the commission and the challenge of putting art in this arena. Things go wrong, you learn from them, you deal with artists breaking their backs to make something incredible and ambitious happen. I enjoy the surprise direction the creative process can take and in essence I think I would eventually tire of the limited option of 'plinth or wall' and of course, no great art was created in impractical white frills.